The New York Times has released Version 2 of its Times Reader, for seamless online/offline viewing of its content. It's interesting from a media perspective, but hardly a breakthrough, since it is not new. What's more interesting to me is that the Times switched from a hybrid approach using WPF (Windows Presentation Framework) on Windows and Silverlight on the Mac, to Adobe AIR. Switches like this are bad PR for Microsoft, since it gives the impression that the developers were sufficiently unhappy with WPF/Silverlight, or so strongly attracted to AIR, that they were willing to throw away much of their previous development effort.
I've been tracking Times Reader for some years. It was presented at Microsoft Mix07 and I wrote up a panel discussion on the subject:
I asked about the cross-platform issue. According to Bodkin a Silverlight implementation is on the way, which includes most of the features in the full version, in "a matter of months."
That was optimistic; but a Silverlight version was delivered and I used it successfully on the Mac; though it lacked some features of the WPF edition. It also attracted hostility from Mac users who are Microsoft-averse, as I reported here, and apparently ran into further problems because of incompatibility with Safari 4.
I tried the new AIR edition and it seems pretty good, though my impression is that it is not quite as smooth as the old WPF version. I might be wrong, since I could not install both on the same machine. The new version does add video support. Here's the old one: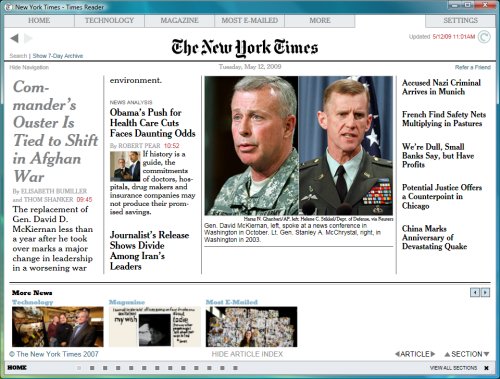 and this is the new effort: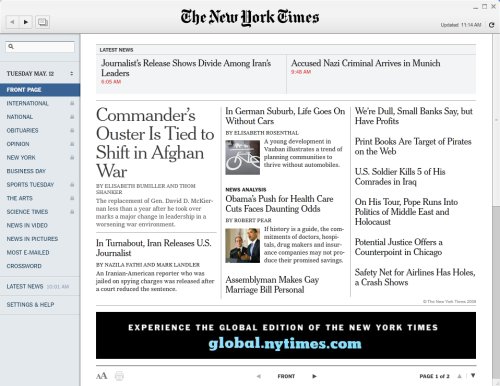 I think this is a fascinating case study which demonstrates a number of things.
First, that cross-platform support is not an optional feature any more (if it ever was) for this kind of public application. Let's assume here that the WPF version was just fine for Windows users, but was not viable long-term for lack of cross-platform support. It was inevitable that the Times would eventually either use Silverlight on both Windows and Mac, or abandon both WPF and Silverlight for a cross-platform alternative.
Second, that Silverlight is not yet mature enough for this kind of application. Although the Times developers were able to deliver a Silverlight version, it required a bit of hackery for offline support (embedded Safari on the Mac) and apparently ran into version problems when Apple upgraded Safari. Silverlight is also known to be poor for text rendering – a Google search for "blurry text Silverlight" brings back plenty of hits. Adobe also made a big improvement to text handling in Flash player 10, with the new flash.text.engine.
Third, that offline support really is a big deal. Would Silverlight 3.0 have been good enough? Possibly, though I haven't seen any suggestion that Silverlight 3.0 offline apps will be able to run in the background while showing just an icon in the notification area, to support continuous synchronization.
It is possibel that these problems may be fixed in Silverlight 4.0. That's a long time to wait though, when you need your application out now (and your industry is in crisis).
It would be silly to extrapolate this case study into a broader statement about the superiority of Flash over Silverlight. For the specific needs of the New York Times though, it is easy to see why Adobe AIR appeals.