A pivotal moment for Microsoft as it attempts to escape its Windows legacy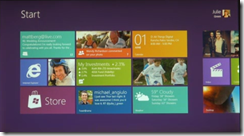 Last year I wrote a piece for The Register on 25 years of Windows. I even ran up Windows 1.0 in a DOS box to have a look.
The surprising thing about Windows is not how much has changed in 25 years, but how little. The WIMP model (Windows, Icons, Menus, Pointer) has stayed the same. Inevitably, Windows was completely rebuilt during that period, in the form of Windows NT, but Microsoft was careful to make the user interface reassuringly familiar. Windows NT 3.1 looked the same as Windows 3.1, but did not crash so often. Windows NT 4.0 used the Windows 95 user interface. Further, as far as possible old applications still ran. In fact, Notepad on Windows 1.0 looks very like Notepad on Windows 7.
Then Apple releases the iPhone in 2007, and suddenly Microsoft has a problem. Apple demonstrates that it is possible to create a touch user interface, without a stylus, that really works. Apple does this by creating a new operating system, iOS, which is incompatible with its existing OS X used for desktops and laptops. Yes, much of the underlying code is the same, but OS X applications do not run. Nobody would expect them to on a phone; but then Apple does the iPad, approaching the screen size of a laptop, but still iOS, touch-centric, and incompatible with Mac OS X.
The advantage of Apple's clean-room approach is that there are no compromises or fudges to make applications built for keyboard and mouse somehow work. iPhone and iPad are huge hits, and users seemingly do not mind sticking with OS X for their productivity applications like Microsoft Office and Adobe PhotoShop, and using the iPad and iPhone for web browsing and for apps that are more about consuming than creating – except that productivity apps like the iWork suite are now creeping onto iOS, and this together with the web application/cloud computing model may mean that OS X gets used less and iOS more over time; but OS X is not going away.
What about Microsoft? It has a big hit with Windows 7, but suddenly it all feels rather legacy. What about the new computing model which is mobile, touch-centric, and enjoyable to use in a way previously unknown in computing? One thing is sure: Microsoft cannot continue with WIMP. It has to break with 25 years of Windows and find a different user interface model.
2010, and Microsoft does Windows Phone 7. This is Microsoft's iOS: same old Windows underneath, though based on the cut-down Windows CE, but otherwise a complete break from the past. The user interface is a new touch-centric effort called Metro and based on sliding tiles. The main thread of continuity for developers is its app platform based on Silverlight, which runs .NET code written in C# and Visual Basic.
You might have thought that Microsoft would follow Apple by using the phone OS for other form factors as well, and making Silverlight its core app platform for Windows (the cross-platform dream is long gone).
Instead, Microsoft embarked on a third strategy.
"We introduced a new platform based on standard web technologies", says program manager Jensen Harris in his preview video. Windows 8 uses elements from the Windows Phone 7 UI, but driven by HTML and JavaScript rather than by Silverlight. Well, maybe you can use Silverlight instead; or maybe native code. Not everything is clear yet; but what Microsoft is choosing to focus on is its use of web technology.
Who will buy touch-centric Windows 8 devices? Microsoft's problem: there is already a touch-centric OS out in the market, supported by countless third-party apps. As it has discovered with Windows Phone 7, it is not enough to do a decent alternative. So what, says the market, we already have iOS, and if we want something non-Apple, there's Android. And WebOS. And Blackberry PlayBook.
Page 1 of 2 | Next page
Related posts: