Adobe Brackets: a different type of HTML and JavaScript code editor. Interview with Adobe's Adam Lehman.
On Adobe's Tools and Services page there is an intriguing remark about the company's plans for a code editor. "We think there's a need for a different type of code editor – we're working on something and will have more to share soon."

That something is Brackets, a code editor written in HTML and JavaScript (which means, as with all the best tools, that you can code Brackets in itself).
Advertisement
Although Brackets is written in HTML and JavaScript, it is not yet a web application. Instead, it runs on the desktop using Google's Chromium Embedded Framework (CEF), which lets you embed the Chrome (strictly, the Chromium) browser engine in a desktop application. In the case of Brackets, the wrapper is lightweight, the intention being that in future Brackets may be fully browser-hosted. The consequence though is that currently you need Google Chrome installed and it only runs on Windows and Mac.
The project is open source under the MIT license; anyone can grab the code from Github. Brackets also depends on another open source project, CodeMirror, which is a JavaScript editor component for browsers. I installed it on Windows and soon had it up and running. Note that you should pull brackets_app if you want to run it, as this brings down the Brackets code as well.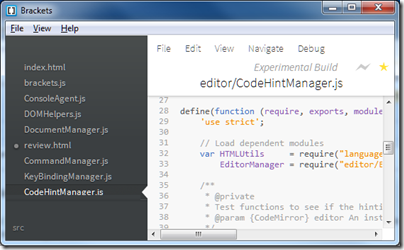 I spoke to Brackets Product Manager Adam Lehman. "This might be the first project we started with the intent of being open source from day one," he said.
"Our general intent is that we wanted to provide an editor that web developers felt that they could own. In the past we might have built something in Eclipse, and there would have been this giant gap between the person who knew HTML, JavaScript and CSS, and then having to write a Java-based Eclipse plug-in to extend the editor.
"When we start talking to developers, they're going back to just text editors, things that don't do much more than edit and manage a document, and as complex as HTML and JavaScript apps are getting these days, it seemed crazy that our tools weren't keeping up with us. So the idea was to start this project, add a little bit of our own ideas, and have the community supply their own ideas."
But how does Adobe intend to use Brackets in its own products, and what is the business model?
"We believe there are two spaces for the editor market. There is the larger IDE, but there's also these lightweight text editors. We're finding that the traditional JavaScript and HTML developer, CSS developer, was heading towards the lightweight text editor and not towards the larger IDE. We don't see Dreamweaver and Brackets as direct competitors because they service two different tastes. It wasn't a matter of could we add a feature here or there that was going to get people to use Dreamweaver. It was that difference between our larger tool and a much lighter weight tool. That's where Brackets come in."
How then will Brackets tie in with other Adobe products?
Page 1 of 3 | Next page
Related posts: