Microsoft Project Siena: another go at the spirit of Visual Basic
Remember Visual Basic? By which I mean, not the current language that is a case-insensitive alternative to C# that does much the same thing, but the original rapid app development tool that democratised Windows development back in 1991. At the time, Windows development was a sought-after skill but rather difficult. VB meant anyone could create an application; pros could build excellent ones, amateurs something ugly and unmaintainable, but nevertheless something that worked. The transition to .NET brought many benefits, but also more complexity. The latest evolution of the Windows client, the Windows Runtime, is also challenging to get right (I am currently writing a simple C# game on the platform).
Microsoft has been looking for a new "VB" for years. 2007: Popfly (now abandoned). 2011: Lightswitch. Now we have Project Siena.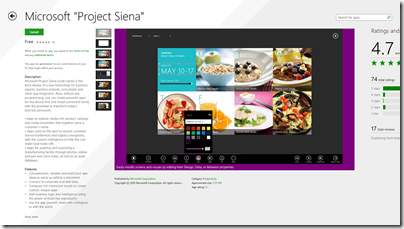 Siena is an app for building apps. An app is a Siena document with a .siena extension. Here is what Microsoft's Bryan Group says:
Microsoft Project Siena (code name) is the beta release of a new technology for business experts, business analysts, consultants, and other app imagineers. Now, without any programming, you can create powerful apps for the device-first and cloud-connected world, with the potential to transform today's business processes.
Building Siena apps is as easy as editing a document. Place some visuals on a canvas. Hook them up to your data. Customize how your app looks and works. Then, if you need special logic and intelligence, write Excel-like expressions. You can use your app immediately, or share it with colleagues or the world.
This sounds great to me. I installed it and set about building an app. I decided to create the same app I have used to try out dozens of programming tools over the years: a to-do list with the ability to add and remove tasks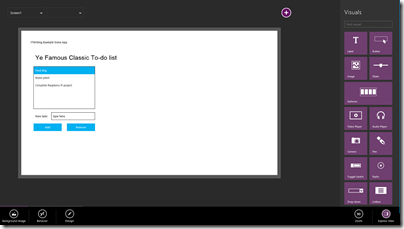 Building the user interface went OK, but how do I add and remove items from the list? I have got as far as figuring out that I need to type the right magic into the OnSelect property of a button: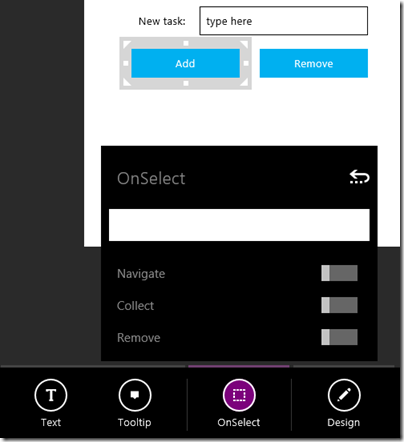 I will let you know when I have worked out what to do next. I will observe that the environment is geared towards data binding, rather than directly updating the user interface, and remote data, such as binding to tables in Azure Mobile Services, a REST API, an RSS feed or a SharePoint list. However you can also bind to an Excel spreadsheet for local data.
Page 1 of 2 | Next page
Related posts: