Hands on with Microsoft's ADConnect
I've been trying Microsoft's ADConnect tool, the replacement for the utility called DirSync, which synchronises on-premises Active Directory with Azure AD, the directory used by Office 365.
It is therefore a key piece in Microsoft's hybrid cloud story.
In my case I have a small office set-up with Active Directory running on Server 2012 R2 VMs. I also have an Office 365 tenant that I use for testing Microsoft's latest cloud stuff. I have long had a few basic questions about how the sync works so I created a small Server 2012 R2 VM on which to install it.
ADConnect can be installed on a Domain Controller, though this used to be unsupported for DirSync. However it seems to be tidier to give ADConnect its own server, and less likely to cause problems.
There are a number of pre-requisites but for me the only one that mattered was that your domain must be set up on the Office 365 tenant before you configure ADConnect. You cannot configure it using the default *.onmicrosoft.com domain.
Adding a domain to Office 365 is straightforward, provided you have access to the DNS records for the domain, and provided that the domain is not already linked to another Office 365 tenant. This last point can be problematic. For example, BT uses Office 365 to provide business email services to its customers. If you want to migrate from BT to your own Office 365, detaching the domain from BT's tenant, to which you do not have admin access, is a hassle.
When I tried to set up my domain, I found another problem. At some point I must have signed up for a trial of Power BI, and without my realising it, this created an Office 365 tenant. I could not progress until I worked out how to get admin access to this Power BI tenant and assign my user account a different primary email address. The best way to discover such problems is to attempt to add the domain and note any error messages. And to resist the wizard's efforts to get you to set up your domain in a different tenant to the one that you want.
That done, I ran the setup for ADConnect. If you use the Express settings, it is straightforward. It requires SQL Server, but installs its own instance of SQL Server Express LocalDB by default.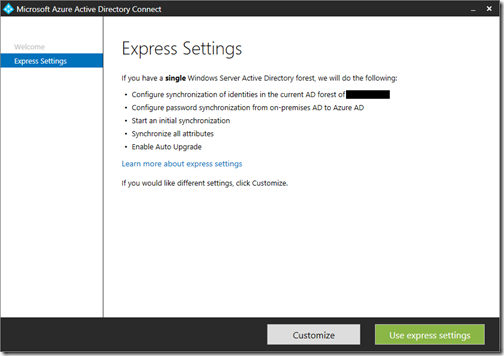 You enter credentials for your Office 365 tenant and for your on-premises AD, then the wizard tells you what it will do.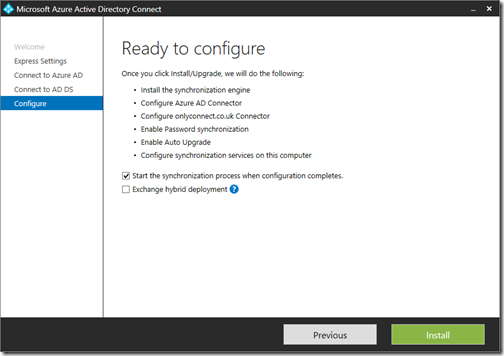 I was interested in the link on the next screen, which describes how to get all your Windows 10 domain-joined computers automatically "registered" to Azure AD, enabling smoother integration.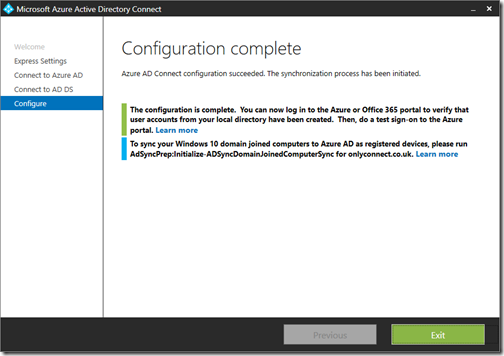 Page 1 of 4 | Next page
Related posts: