An overreaching Office 365 integration from Sage
Sage, a software vendor best known for its accounting software, recently introduced an Office 365 integration in its products called Sage 50C Accounts (the "C" is for cloud).
The integration offers several features including:
Automatic data backup to OneDrive
Contact integration so that you can easily see Sage accounts data for contacts in Office 365/Outlook
A mobile app that lets you capture receipts with your smartphone and import them
Excel reports
A Business Performance Dashboard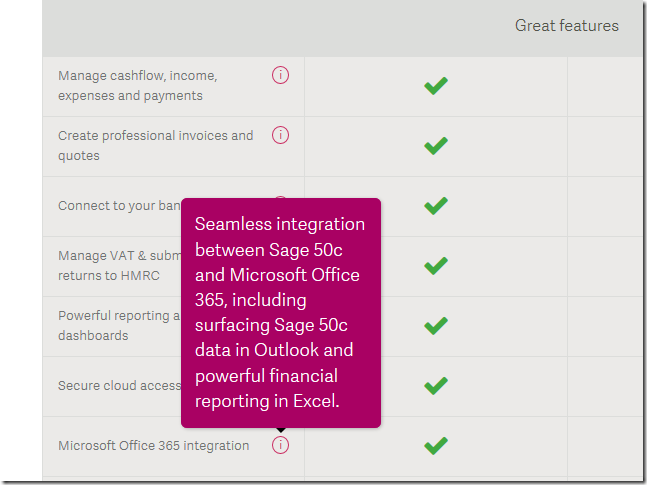 Very good; but how is this implemented? Users get a special Getting Started email which says:
Are you ready to integrate your Microsoft Office 365 account with Sage 50c Accounts? All you need to do is click Get Started and sign in using the administrator account for your Office 365 Business Premium subscription, and we will guide you through accepting terms and conditions, how to sync your data and setup the Sage apps and users
To sign in, you'll enter your email and password for your administrator account. Your email is formatted as follows: xxx@xxx.onmicrosoft.com. If you have forgotten your Office 365 administrator password, please click here for more information.
You'll be asked to accept a provider invitation to give us permission to activate the Sage add-ins for your Office 365 account. Easy.
If you know Office 365 you will spot something odd in the above. Sage is asking you not just to install an Office 365 application, but to "accept a provider invitation".
It is as bad as it sounds. In order to get its integration working, Sage demands that you appoint it as a Cloud Solution Provider (CSP) for your entire Office 365 tenancy. This does not require that you start paying for your tenancy via Sage, as it can be alongside an existing CSP relationship. However it does give Sage complete access to the tenancy including the ability to reset the global administrator password.
While I do not think it is likely that Sage will do anything bad, this is a lot to ask. It means that in the unlikely event that Sage has its systems compromised, your Office 365 data is at risk.
It gets worse. Once you have agreed to hand over the keys to your Office 365 kingdom, you click a "Let's get started" button in Sage 50C Accounts on your desktop. You have to log in as manager (a local Sage administrator) and then enter the credentials for your Office 365 global administrator. These credentials are then stored by Sage for 90 days and used to perform synchronization. After 90 days, it will demand that the credentials are entered again.
And by the way, you will need an Office 365 Business Premium license for the global administrator, even though it down not normally use that license for day to day work.
Why is this bad? First, it is a mis-use of the global administrator account. Best practice is that this account is used only for Office 365 administration. It should not be an active user account for email, OneDrive etc, since this increases the risk of the account being compromised.
Second, end users (such as those in the accounts department) do not normally have knowledge of the global administrator credentials. Therefore to perform this operation, they will need to contact their IT support every 90 days.
Third, the fact that Sage has these credentials on a user's PC, albeit I presume encrypted, adds a possible attack mechanism for your Office 365 tenancy. If the PC became hijacked or infected with malware, some bad guy can now start trying to figure out if there is a way of persuading Sage to do something bad.
Fourth, it is not even wise to enter these credentials on an end user PC. Perhaps I am being excessively cautious, but it is obvious that an end-user PC that is used for day to day work, web browsing and so forth, by someone non-specialist in IT terms, is more vulnerable than an administrator's PC. If a keylogger were installed, then there is an opportunity to grab the global administrator credentials every 90 days.
Page 1 of 2 | Next page
Related posts: