The H320 portable music player and recorder is small, neat and powerful. iRiver proudly describe the device as "multi-codec", and it will happily play MP3, the open source Ogg Vorbis, Microsoft's WMA and ASF. The unit has an excellent colour screen, and it will display images in JPEG or BMP format - JPEG is commonly used by digital cameras, while BMP is the native uncompressed bitmap format used by Windows. If you download the latest firmware from iRiver's web site, you can also play videos in AVI format. You will likely have to create video files especially for the device, since the they have to use the XviD MPEG4 codec and have a resolution of 220 x 176. It's a cool feature but probably not very useful for most people. You can also store and display plain text. There is an integrated FM tuner, which uses the earphone cable as an aerial, and you can also record audio from an internal or external microphone, from the tuner, or from any source via a line-in socket.
This is also a portable storage device. When attached to a computer via the supplied USB 2.0 cable, it appears as an external hard drive. 20 or 40GB is large, plenty enough for most people to back up all their personal data, so you can easily carry around both your data and your favourite music. How much music? Well, a CD at 192kbps usually occupies just under 100MB, which would get you around 200 CDs, or 2500 songs, on the smaller H320. You can vary this amount by juggling with different formats and bitrates.
Along with video, the best H320 party trick is on-the-go USB connection. The H320 can act as a USB 1.1 host, so you can directly connect a digital camera or indeed another MP3 player. Possible uses would be to store holiday snaps after filling up your camera's memory card, or to swap music files with a friend (although this would breach copyright conditions in many cases).
The H320 does not come with much in the way of software. To use it, simply connect to a PC and copy the music you want to use. Music files contain tags giving details like the track title, album and artist name. You can index these on the H320, enabling easier navigation. To create the index, you need to invoke a database scan either on the device, or from a connected computer. The supplied software lets you do build this index by right-clicking in Windows Explorer. A snag here is that only MP3 files will be indexed, though you can get round this with free third-party software created by iRiver enthusiasts. For managing your music on a PC, you simply use your favourite media player and library, such as the free Windows Media Player. You could also use iTunes, though you have to use MP3 rather than the default iTunes format of AAC, and the H320 will never play DRM-protected files such as those purchased from Apple's iTunes store.
Using the H320
Aside from a hold switch on the side, all control and navigation is via buttons on the front of the unit, including a four-way rocker switch, a central action button, and four additional buttons. Navigation is not difficult, but takes a little practice. If you have a lot of music stored, it's hard to avoid some tedious scrolling. Some buttons do different things in different contexts, and different again if you hold them down for longer. Press-and-hold on the home screen brings up the configuration menu, with a wide range of options and functions including formatting the drive, indexing, display and stand-by settings, tone controls and equalization (EQ) effects, and mic sensitivity. You can also enable features like voice-actuated recording and a sleep timer which turns the unit off after a preset period.
In normal use, there are four modes, Music, Radio, Record, Text. Press-and-hold on the Record button brings up the mode select menu. Select the mode you want, and away you go. The FM tuner has presets, and configuring these is a little fiddly but hopefully won't need to be done often.
I give the H320 high marks for its wide range of features, but it scores less well in terms of usability.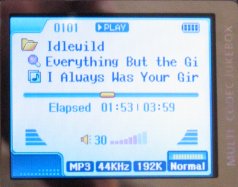 The sound quality is excellent, as good as I've heard from a device of this kind. The supplied Sennheiser earbuds are fine, but the H320 is easily good enough to merit investment in top quality headphones. I tend not to use much EQ, but the H320 has an impressive set of options here if you like a particular type of sound, or need to compensate for deficiencies elsewhere. For example, when playing through a car stereo I found it necessary to cut the bass output to correct an imbalance.
You can also get excellent results from microphone recordings. The internal mic is handy for a quick record of a meeting. A simple but effective tie-clip mic is also supplied with some versions. The mic-in socket appears to support plug-in power, though this is not documented, and worked well with a medium quality Sony Electret Condenser Microphone without the need for a battery.
Battery life is quoted as 16 hours, which is excellent, and you can charge via a USB connection, so travel without the mains adaptor is possible.
Likes
There's plenty to like about the H320. The screen is beautiful, and colour is not just a gimmick: it is much clearer to read than monochrome. It's great to have Ogg Vorbis support as well as WMA and MP3, and there's a full range of features. It performs three functions well: music playback, microphone recording, and file backup. The radio is adequate, and photographers will find the ability to store and view pictures handy.
Gripes
I like this device, so please take this list of gripes in that context. So what's wrong with the H320? First, the design is utilitarian rather than attractive. I reckon iRiver need to invest in a smart contemporary design to have much hope of succeeding against Apple's iPod. Enthusiasts will choose this device for its features, but the rest of the world will pass it by. Similar thoughts apply to its usability. It's not that bad, but finding and playing the music you want is not as intuitive as it should be. The buttons have too many different functions, and it's often not obvious which one to press or hold down.
A big mis-step is failure to support DRM-protected WMA files (except for the US version), and failure to support the Windows Portable Media Device specification. Compatible devices support synchronization and playlists direct from Windows Media Player, which would make this far more user-friendly. The DRM piece is about whether someone can purchase music from an online store and play it on the H320. Currently you can't, even when it is in WMA format.
It's a shame that iRiver chopped some of the features found in the older H140, like digital in/out and the ability to record to uncompressed WAV. It's also a shame that iRiver has not fixed long-standing issues like the inability to index WMA files, and the annoying gaps that appear between tracks that should run together without a pause.
The great colour display seems a missed opportunity. For example, you would have thought iRiver would make it easy or at least possible to display CD artwork when playing a particular album. As far as I can see this is not supported.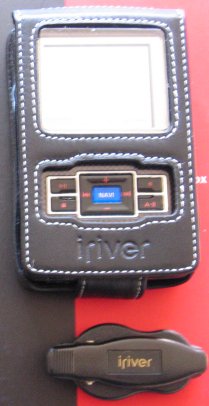 A nice leather case is supplied, but it features a bulky clip. More than just a belt clip, this will also attach to something like a thin shelf; my hunch is that iRiver is thinking of in-car use. However, the clip can also get in the way. If you remove it, a hard metal stud remains. Either way, the H320 in its case is not kind to pockets. Worth investigating third-party alternatives.
Finally, there are several variations on the H320/340 bundles, some of which exclude the remote control, which is a step too far. You can get it as an optional extra, but iRiver accessories are often not easy to obtain. It is often more convenient to use a remote rather than digging the entire unit out of a pocket in order to change track. Look for a bundle that includes the remote. Other sometimes-bundled options include a docking cradle and an external mic.
The mystery of the US version
The US version of the H320 is nearly identical in terms of hardware, but not in features. US users get support for DRM-protected WMA (good) and full Windows Media Player compatibility (good), but only when connected via USB 1.1 rather than 2.0 (very bad). They lose out on USB on-the-go (bad). In essence, the 2nd USB port that is used in Europe and elsewhere for USB on-the-go, becomes a Portable Media interface instead. It's rumoured that disgruntled US users can successfully use the European firmware to disable DRM and portable media support in favour of USB on-the-go (but don't take my word for it). However, it appears that European users cannot do the reverse, as there is some small hardware difference. All this is nonsense of course - the Portable Media interface should work through the USB 2.0 connection, leaving the other USB port free for on-the-go support.
Note that while the US version qualifies for Microsoft's "Plays for sure" logo, the version available in the rest of the world does not. Microsoft's Plays for sure web site does not make this clear; in fact, it's downright misleading. Shame.
H320 versus H140
I've used the H140 extensively, so I was interested to see how these two compare. The H320 has some nice enhancements, including colour screen, image support, the ability to record from the tuner, USB charging and USB on-the-go. The H320 buttons are easier to use than H140's joystick. For microphone recording, I found the H320 a little better than the H140 - maybe it supplies a little more plug-in power, or the microphone pre-amp is superior.
However, the H140 also has advantages. It feels more solid, with more metal in the case. It also has features lacking in the H320, mainly digital in/out and the ability to play and record uncompressed WAV. This latter could be critically important if you intend to process the recording, as files recorded with lossy compression are not suitable for this. The H140 also comes with the remote as standard.
There's a separate review of the H140 here
Putting it together
There are plenty of reasons to like the H320, which packs a great range of features at a good price. However, it feels like a product which could be a lot better given a little more work - proper WMA and Windows support, album art display, more intuitive navigation, and so on. Some of these issues could be solved with a firmware upgrade, so there is still hope that iRiver will deliver.
I believe several features are now essential for success in this market. These include excellent usability, the ability to play music purchased online, and seamless operation in-car as well as in-pocket. Despite its great specification, the H320 fails on all three counts. That doesn't mean the H320 is a complete failure, just that its natural market is a niche of users who know what they want and will put up with a little inconvenience to get it.
Summary
Good points:
Colour display
Includes FM tuner
Multi-functional, includes voice recording and data backup
Excellent sound quality
USB on-the-go and USB charging
Displays images and videos
Bad points:
Won't index files other than MP3
Not a "Plays for sure" device except in North America
Less intuitive to use than some competitors
include ("iriverlist3xx.php"); ?>
Copyright Tim Anderson 16th December 2004. All rights reserved.