Wikipedia goes dark for a day to protest against proposed US legislation
All Wikipedia English requests today redirect to a page protesting against proposed US legislation, specifically the draft SOPA and PIPA legislation.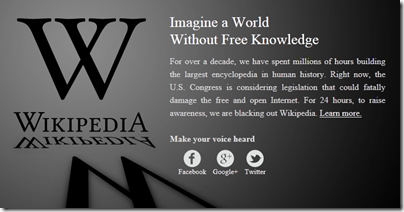 Other sites will also be protesting, including Reddit (a 12 hour protest) and Mozilla, the Firefox people.
Many web searchers will be discovering the value of the cached pages held by search engines. That aside, this is a profound issue that is about more than just SOPA and PIPA. SOPA stands for Stop Online Piracy, and PIPA Protect IP. The problem is that the internet is the powerful means of sharing information that mankind has devised. This brings many benefits, but not so much if it is your proprietary information that is being exchanged for free (music, video, ebooks, software) or if it gives easy access to counterfeit versions of your products, with designer handbags, watches, drugs and the like being particularly vulnerable, because intellectual property forms a large proportion of the value of the purchase.
If you consider this issue at the highest level, there are three broad solutions:
Do nothing, on the grounds that the world has changed and there is nothing you can do that is effective. Technology has made some forms of copyright impossible to enforce. Affected businesses have to adapt to this new world.
Introduce legislation that widens the responsibility for web sites that enable or facilitate copyright infringement beyond the sites themselves, to include search engines, ISPs and payment processors. One of the debates here is how much the owners of the pipes, the infrastructure on which the internet runs, should take legal responsibility for the content that flows through them. Such legislation might be somewhat effective, but at a heavy cost in terms of forcing many sites and services offline even if they have only a slight and tangential relationship to infringing content, and greatly raising the cost of providing services. At worst we might end up with a censored, filtered, limited, expensive internet that represents a step backwards in technology. The further risk is that that such legislation may put too much power in the hands of the already powerful, since winning legal arguments is in practice about financial muscle as well as facts, rights and wrongs.
Find some middle path that successfully restrains the flow of infringing content but without damaging the openness of the internet or its low cost.
There is of course a risk that legislators may think they are implementing the third option, while in fact coming close to the second option. There is also a risk that attempting to implement the third option may in practice turn out to be the first option. It is a hard, complex problem; and while I agree that the proposed legislation is not the right legislation (though note that I am not in the USA), there is no disputing the core fact, that the internet facilitates copyright infringement.
There are also aspects of today's internet that concern me as I see, for example, children relying on the outcome of Google searches to paste into their homework with little understanding of the distinction between what is authoritative, what is propaganda, and what is anecdotal or simply wrong.
In other words, the "no control" approach to the internet has a downside, even if the upside is so great that it is worth it.
Related posts: