"Windows 10's lack of stability is really starting to be an issue for me" says Mary Jo Foley over on zdnet.
The problems she experienced include the Store not working, the Mail app not syncing and then wiping her accounts after an update, and the PC randomly shutting down. She has now done a clean install and so far all is good.
I am using Windows 10 now for most of my work, having in-place upgraded from Windows 8.1. My experience has been better, with no random shutdowns, and the desktop environment has been perfectly stable. There are some bugs and annoyances though. Here are the ones that come to mind:
The Start menu bug is the biggest annoyance. This one deserves some reflection. If you have a lot (possibly more than 512, possibly some other factors) of Start menu entries, Windows 10 does not show them all. Even Cortana/Search does not find them. The entries exist though, and I use my Explorer workaround to find them.
I find this bug astonishing. It looks like poor coding in a hugely sensitive part of Windows, the first thing people mention when they explain why they dislike Windows 8. There is still no fix from Microsoft, though some users report improvement after various updates.
Another annoyance is that on my HP laptop I cannot disable tap-to-click. I can disable it temporarily but it reverts, certainly on the next start-up.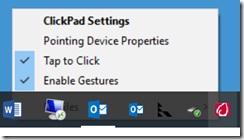 While some users like tap-to-click, I loathe it and do not think it should ever be on by default. In many Windows laptops the setting is hard to find and some users have ditched Windows because of it, and switched to Macs. The reason is that it is easy to tap the trackpad by mistake; and an accidental click can have dire consequences, such as sending an email by mistake, or clicking Yes in a dialog when you meant No. If you suffer from any sort of tremble it is a disaster.
I am not sure who is responsible for this bug; it could be the Synaptics driver, but it was fine in Windows 8.1.
Another annoyance relates to the new Windows calculator. On my desktop PC I am in the habit of pressing the Calculator key to open it (I have a Microsoft keyboard). In earlier versions of Windows the calculator appears instantly. In Windows 10 it may take several minutes or not appear at all. Of course what you tend to do is to assume that you did not press the key hard enough and press it again. Eventually lots of instances appear. I've looked into this a little; the Calculator does appear in the Task Manager process list, but with a status of Suspended. I've also had a scenario where the calculator appears but does not accept input until you click on it with the mouse, defeating the value of the key.
I am using the Edge browser but in practice it is not that good. I like the direction Edge is taking, but some sites do not work properly, and there are bugs. Favourites do not work when you have a long list; you click a sub-folder but the wrong entries appear, until it settles down and starts functioning correctly. You can pin the task pane (with Favourites, History etc) but the setting does not persist when you next start the browser. I also sometimes get long delays opening a web page; it is always hard to say what causes these and sometimes it will be a server issue, but Edge is worse than other browsers so I think it is partly to blame.
Some of the new apps show promise but are not 100% stable. Photos is good but I have had it exit silently when scrolling through a long list (perhaps related to OneDrive issues). I still prefer Paint for quick cropping and simple editing. The Music app has its attractions, but Foobar2000 is much faster, and Spotify is better if you want all the cloud streaming and social aspects.
Talking of OneDrive, the lack of placeholders in Explorer, where a file is listed but only downloaded on request, is an issue though I do not find it too difficult to work around. I have a OneDrive folder called synced which I sync on every PC I use. Photos of course does have a kind of OneDrive placeholder system.
So there are annoyances, and others will have different ones, but nothing I would describe as instability. Most applications run fine, and I have found application compatibility with Windows 7 and 8 very good. I like the faster boot and resume. I like the new Task View button and the multiple desktops. Overall it is working OK for me.
My general advice when consulted about whether to upgrade is to wait until next year, unless there are pressing reasons to go more quickly. I am also aware of numerous issues related to the in-place upgrade. One user for example upgraded from Windows 7 because of the annoying nags from Windows Update. The upgrade worked, but for some reason resulted in tablet mode being enabled (I cannot be sure whether this was a mis-click or an upgrade issue). This is on a desktop PC. Unfortunately, tablet mode is almost as confusing as Windows 8 was for a less technical user. The taskbar is hidden and it is not easy to find your applications.
I am sure Windows 10 will be the best version yet. It is taking time though and from a user perspective there is no rush (yes, it was released before it was ready). From Microsoft's point of view it is important that the worst bugs get fixed soon (Start menu, please); and the generally poor performance of the Universal apps is a concern, considering the strategic significance of the platform.
Update: a newer Synaptics driver on the HP site has improved the trackpad problem; at least, the setting has survived a reboot so I hope it is fixed.