Microsoft has made the Release Preview of Windows 8 available to download. So what's new?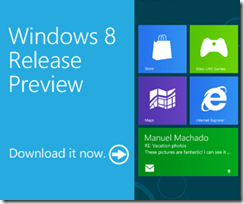 The press release:
Confirms that a "touch-friendly and power-optimized Adobe Flash Player" is integrated into Internet Explorer 10
Announces new Family Safety features
States that IE10 is "Do not track" by default
Announces new apps and improvements to existing ones
All of which will come as a disappointment to those hoping for any sort of change of direction following a mixed-to-negative reception for the Consumer Preview.
Windows chief Steven Sinofsky says:
If the feedback and telemetry on Windows 8 and Windows RT match our expectations, then we will enter the final phases of the RTM process in about 2 months.
My guess that feedback along the lines of "Bring back the Start menu" will not count as an obstacle.