I'm at Mobile World Congress in Barcelona and meeting people new to me who say, "who do you write for"? I've been struck by several separate occasions when people say, after I mention The Register, "Oh yes, I loved that Apple article".
The piece they mean (not one of mine), is this one by Kieren McCarthy. It recounts the Reg's efforts to attend the iPhone 7 launch; or more precisely, efforts to get Apple PR to admit that the Reg is on a "don't invite" list and would not be able to attend.
Why does everyone remember this piece? In short, because it is a breath of reality in a world of hype.
The piece also exposes hidden pressures that influence tech media. There are more people working in PR than in journalism, as I recall, and it is their job to attempt to manage media coverage in order to get it to reflect as closely as possible the messaging that that their customers, the tech companies, wish to put out.
Small tech companies and start-ups struggle to get any coverage and welcome almost any press interest. The giants though are in a more privileged position, none more so than Apple, for whom public interest in its news is intense. This means it can select who gets to attend its events and naturally chooses those it thinks will give the most on-message coverage.
I do not mean to imply that those favoured journalists are biased. I believe most people write what they really think. Still, consciously or unconsciously they know that if they drift too far from the vendor's preferred account they might not get invited next time round, which is probably a bad career move.
Apple is in a class of its own, but you see similar pressures to a lesser extent with other big companies.
Another thing I've noticed over years of attending technology events is that the opportunities for open questioning of the most senior executives have diminished. They would rather have communication specialists answer the questions, and stay behind closed doors or give scripted presentations from a stage.
Here in Barcelona I've discovered the Placa de George Orwell for the first time: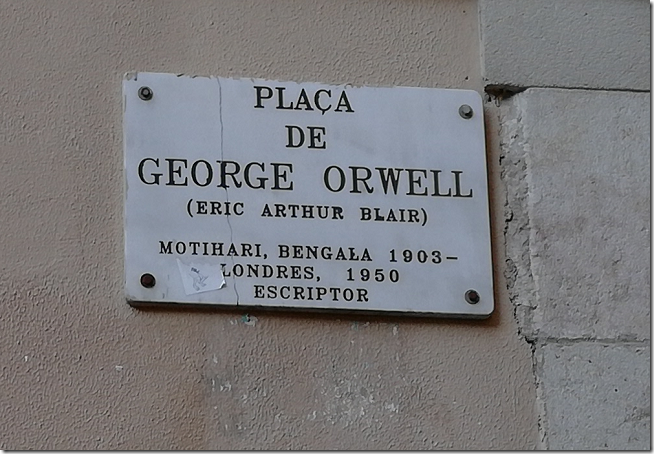 Orwell knew as well as anyone the power of the media, even though he almost certainly did not say what is now often attributed to him, "Journalism is printing what someone else does not want printed: everything else is public relations."
Still, as I move into a series of carefully-crafted presentations it is a thought worth keeping in front of mind.
Finally, let me note that I have never worked full-time for The Register though I have written a fair amount there over the years (the headlines by the way are usually not written by me). The more scurrilous aspect of some Reg pieces is not really me, but I absolutely identify with The Register's willingness to allow writers to say what they think without worrying about what the vendor will think.