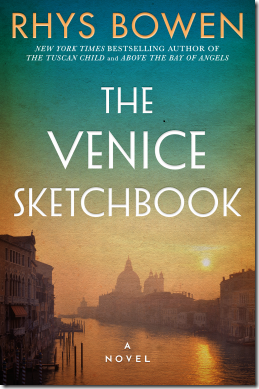 I loved this book; if anything it is too short. It begins with Lettie, a young English girl, and her visit to Venice in 1928, accompanied by her prim and stuffy aunt, who is determined to protect her charge from anything modern or lively, and especially from interacting with strangers. Needless to say the delightfully named Aunt Hortensia's does not altogether succeed in her endeavours and Lettie forms a brief but life-changing connection with a Venetian, leading us into a story that spans the decades, as we jump to the modern day and follow the story of Caroline, who is charged by her great aunt Lettie to visit Venice to uncover … something.
This is an easy and compelling read which I finished in one sitting. The bulk of the book concerns Lettie and her time in Venice as Europe was plunged into the tragedy of the second world war. The war is mostly at a distance but casts a shadow over everything, and author Rhys Bowen recounts some dark moments.
Reflecting on the book I am struck by how Bowen transports us to Venice, the city and its people, which in many ways is the heart of the story. She has obvious affection for this unique and wonderful place, its delicious food (if you know where to go), its beautiful works of art, its addiction to religion, and even its less savoury aspects, smells, frequent rain, and occasional "acqua alta" when the city is flooded.
The charm of the ancient and magical city more than makes up for what are perhaps slightly thin (though still likeable) characters. The only negative for me is that the ending was a little abrupt; I would have liked a little more detail about the aftermath.
No complaints though; I reviewed this book on a drab November day in lockdown and spending a few hours in Venice was a most welcome and enjoyable respite.
A Venice Sketchbook is published by Lake Union Publishing on 13th April 2021.