For many years I have used the Adsense program provided by Google to serve ads on websites that I run. In fact I was one of the earliest users. I have not earned a huge amount but have seen a regular flow of income, more than enough to provide my hosting costs.
Today I received a disturbing email, from a "no-reply" address. It reads as follows:
Hello,

This is a warning message to alert you that there is action required to bring your AdSense account into compliance with our AdSense program policies. We've provided additional details below, along with the actions to be taken on your part.

Affected website: sifa********.com

Example page where violation occurred: http://sifa********.com/drafted/enderby-filipina-teen-video/

Action required: Please make changes immediately to your site to follow AdSense program policies.

Current account status: Active
My first thought was that the email was not really from Google. However the email headers check out. And when I went to my Adsense dashboard I saw this: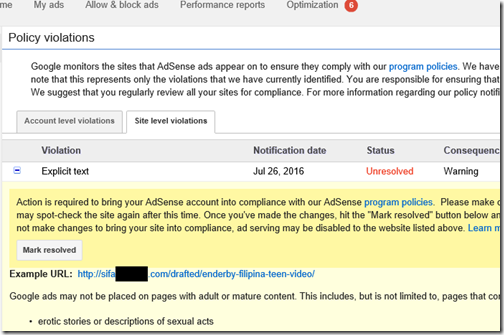 OK, I thought, maybe my site has been hacked. But the domain is not mine. Nor does the IP no resolve to one that is anything to do with me. I looked up the domain, of course it is impossible to contact the registrant: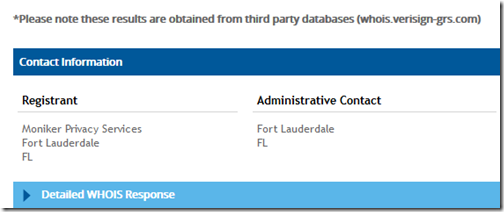 I traced the IP no to an ISP (UK based) and considered emailing its abuse email. However I have not visited the site and do not know if the content is legal or illegal, nor do I have any intention of visiting the site.
What about Adsense? Well, although I have this warning, the only site that shows up in my performance reports is itwriting.com. And the only domain authorized to serve ads is itwriting.com: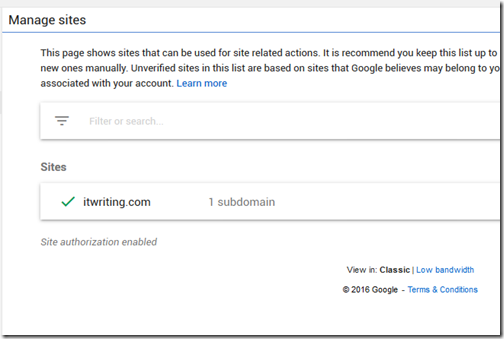 What do do then? Clearly I cannot fix the issue as it is not mine to fix. Possibly the owner of the site has entered my email address or other details as their own; I cannot prevent that.
So I need to contact Google's Adsense team. But I cannot. In fact, I cannot contact anyone at Google. There is not even an email address I can use (I suppose the abuse email might reach someone). There are telephone numbers for the London office but all the options cut you off unless you can provide an account number as an advertiser. The people who run the websites on which many of the ads appear? Google does not care.
I am therefore taking the only option available to me, which is to post this in public.
Dear Google, the website referenced in your warning is nothing to do with me. I have no control over it. I cannot therefore take any action about it; and in fact I am offended by the implicit accusation in your email and the warning in my Adsense dashboard.
I am also disappointed that you provide no means of contact beyond a useless peer-to-peer help forum that for all I know is not even monitored by Google employees (a brief glance shows no replies from them).
I suggest that you remedy this with some emergency option for longstanding business partners.
And if this is the end of our partnership, because of my inability to respond, so be it.
Update: The problem has been mysteriously marked as "Resolved":