This capture device is a neat device packaged in an unnecessarily bulky box – though to be fair the cables take more space than the capture box. It is called Ultra 2.1 because it supports HDMI 2.1, though not at the highest resolutions of which HDMI 2.1 is capable. However since an Xbox Series X or a PlayStation 5 supports up to 4K 120Hz, the Ultra 2.1 with passthrough at 4K 144Hz and support for HDR (High Dynamic Range) and VRR (Variable Refresh Rate) seems plenty good enough. I was able to capture at 3840 x 2160 at 60Hz using OBS (Open Broadcaster Software) with very low latency.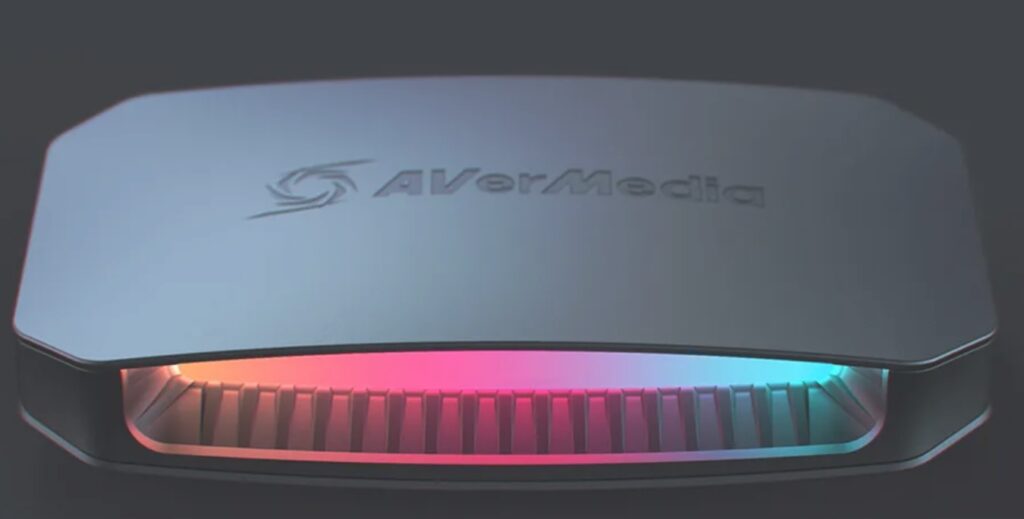 Some features of the product are not quite ready though. Support for Avermedia's easy to use RECentral software is not coming until the first half of 2024, according to the support page, and passthrough resolution will be enhanced to add 3440×1440 100hz in a forthcoming firmware update. Similarly, macOS support is promised before the end of 2023.
I got good results even with the product as it is though. The device is very easy to use (even if OBS is a bit fiddly) and I was glad to see that the supplied HDMI cable is fully certified. The box is USB powered, requiring a USB 3.2 Type-C port; it does not require any additional power. There is also a 4-pole audio cable supplied which can be used with a headset or controller, though I did not try this.
The box has lighting effects which to my mind are rather pointless but you can control this through the AverMedia Gaming Utility, a download from the AverMedia site. This utility can also update the firmware, which was the first thing I did. Downloads are available here.
A high quality capture box which gave me excellent results from a PS5.
Full specs:
Interface: USB 3.2 Gen 2 Type-C (10Gbps)
Input & Output (Pass-through): HDMI 2.1
Max Pass-Through Resolution: 2160p144 HDR/VRR, 1440p240 HDR/VRR, 1080p360 HDR/VRR
3440x1440p100hz and other ultrawide resolutions promised via firmware upgrade on Nov 16th with others to follow
Max Capture Resolution: 2160p60
Supported Resolution: 2160p, 1440p, 1080p, 1080i, 720p, 576p, 576i, 480p, 480i
Video Format: YUY2, NV12, RGB24, P010(HDR)
Dimension (W x D x H): 120 x 70 x 27.6 mm (4.72 x 2.76 x 1.09 in.)
Weight: 115 g (4.06 oz.)
System requirements:
Windows® 10 x64 / 11 x64 or later
macOS support promised by the end of 2023.
Desktop: Intel® Core™ i5-6XXX + NVIDIA® GeForce® GTX 1060 or above
Laptop: Intel® Core™ i7-7700HQ + NVIDIA® GeForce® GTX 1050Ti or above
8 GB RAM recommended (Dual-channel)