Amazon Web Services now offers Linux desktops as part of its WorkSpaces desktop-as-a-service offering.
The distribution is called Amazon Linux 2 and includes the MATE desktop environment.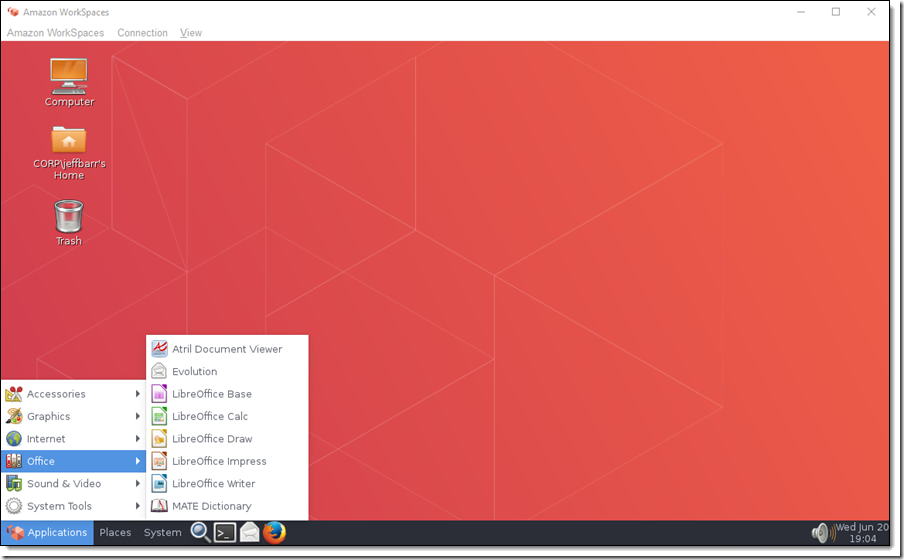 Most virtual desktops run Windows, because most of the applications people want to run from virtual desktops are Windows applications. A virtual desktop plugs the gap between what you can do on the device you have in front of you (whether a laptop, Chromebook, iPad or whatever) and what what you can do in an office with a desktop PC.
It seems that Amazon have developers in mind to some extent. Evangelist Jeff Barr (from whom I have borrowed the screenshot above) notes:
The combination of Amazon Linux WorkSpaces and Amazon Linux 2 makes for a great development environment. You get all of the AWS SDKs and tools, plus developer favorites such as gcc, Mono, and Java. You can build and test applications in your Amazon Linux WorkSpace and then deploy them to Amazon Linux 2 running on-premises or in the cloud.
Still, there is no problem using it for any user for productivity applications; it works out a bit cheaper than Windows thanks to removing Microsoft licensing costs. Ideal for frustrated Google Chromebook users who want access to a less locked-down OS.