Yesterday I was in Bologna for the press launch of Eurora at Cineca, a non-profit consortium of universities and other public bodies. The claim is that Eurora is the world's greenest supercomputer.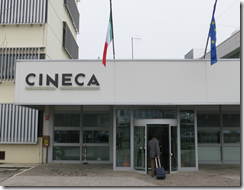 Eurora is a prototype deployment of Aurora Tigon, made by Eurotech. It is a hybrid supercomputer, with 128 CPUs supplemented by 128 NVidia Kepler K20 GPUs.
What makes it green? Of course, being new is good, as processor efficiency improves with every release, and "green-ness" is measured in floating point operations per watt. Eurora does 3150 Mflop/s per watt.
There is more though. Eurotech is a believer in water cooling, which is more efficient than air. Further, it is easier to do something useful with the hot water you generate than with hot air, such as generating energy.
Other factors include underclocking slightly, and supplying 48 volt DC power in order to avoid power conversion steps.
Eurora is composed of 64 nodes. Each node has a board with 2 Intel Xeon E5-2687W CPUs, an Altera Stratix V FPGA (Field Programmable Gate Array), an SSD drive, and RAM soldered to the board; apparently soldering the RAM is more efficient than using DIMMs.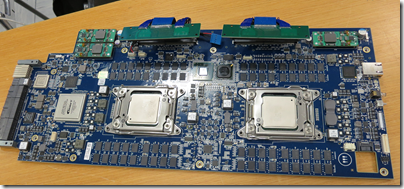 Here is the FPGA: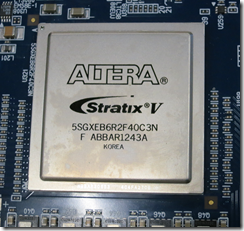 and one of the Intel-confidential CPUs: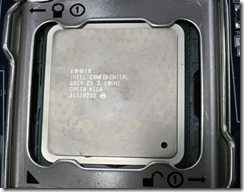 On top of this board goes a water-cooled metal block. This presses against the CPU and other components for efficient heat exchange. There is no fan.
Then on top of that go the K20 GPU accelerator boards. The design means that these can be changed for Intel Xeon Phi accelerator boards. Eurotech is neutral in the NVidia vs Intel accelerator wars.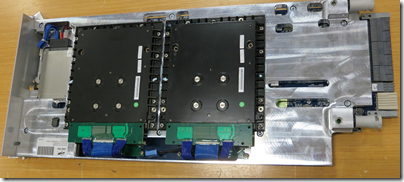 Here you can see where the water enters and leaves the heatsink. When you plug a node into the rack, you connect it to the plumbing as well as the electrics.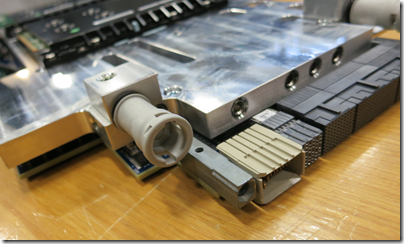 Here are 8 nodes in a rack.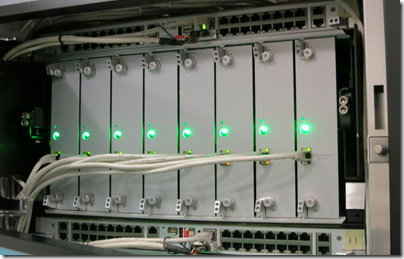 Under the floor is a whole lot more plumbing. This is inside the Aurora cabinet where pipes and wires rise from the floor.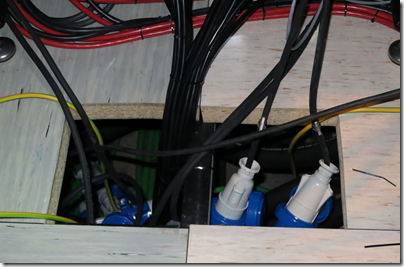 Here is a look under the floor outside the cabinet.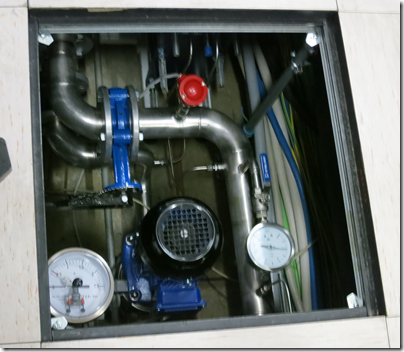 while at the corner of the room is a sort of pump room that pumps the water, monitors the system, adds chemicals to prevent algae from growing, and no doubt a few other things.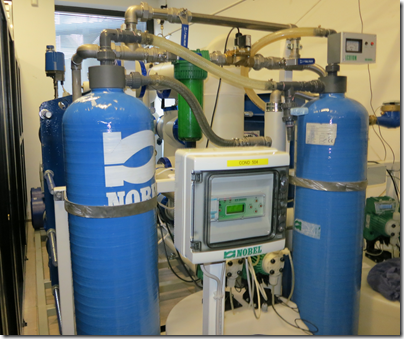 The press was asked NOT to operate this big red switch: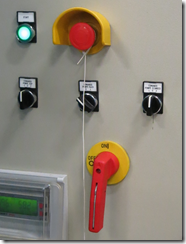 I am not sure whether the switch we were not meant to operate is the upper red button, or the lower red lever. To be on the safe side, I left them both as-is.
So here is a thought. Apparently Eurora is 15 times more energy-efficient than a typical desktop. If the mobile revolution continues and we all use tablets, which also tend to be relatively energy-efficient, could we save substantial energy by using the cloud when we need more grunt (whether processing or video) than a tablet can provide?