Who would want an expensive dedicated mobile music player in 2019, when any mobile phone is capable of excellent sound quality, more likely streamed from Spotify or Apple Music than played directly from music files on the device? It is a bit crazy; but Sony is still out there promoting high resolution audio and believes that smartphones are not the last word in audio quality. The new NW-A105, which retails at £320 in the UK, is not even the top of its range. The Walkman WM1Z Signature Series is £2500, complete with gold-plated oxygen-free copper chassis, making the humble A105 seem quite a bargain.
The audio world is replete with misleading claims about what makes for good sound, and you can make the case that you will not get any audible benefits from spending this kind of money. That said, I attend Sony events from time to time – the latest was IFA in Berlin earlier this year – and I am always impressed by the sound quality of Sony's high-end portable devices. I was glad to get the opportunity to review the NW-105 therefore. Who knows, it may not be quite the sonic equal of the WM1Z, but as soon as I tried it I was delighted by the almost uncanny realism of some of the best-recorded tracks I have available.
Which tracks? For example, I played Let me touch you for a while from the Live album by Alison Krauss and the Union Station, and was transported to the Louisville Palace in April 2002. There is space around the instruments, the guitars sound like guitars, you can follow the bass, the applause sounds like you are in the audience. Then Claire Martin's cover of Bowie's Man Who Sold the World. a demo track from Linn that is beautifully recorded, and you can hear immediately that the sound quality is a notch above what we normally hear. It is spacious, the instruments sound distinct and realistic, the vocals have great presence. Then the Cranberries, I Still Do, not demo quality this time, but you get the ethereal quality of the much-missed Dolores O'Riordan's voice, the dense instrumentation, the thunderous bass at the end of the track. I just wanted to keep playing, in a way that I have not done for a while.
The A105 (which is more or less the same as the A100 and some other models) is notable for running Android 9.0, unlike some of the other models which run Sony's own custom operating system. Running Android has pros and cons. On the plus side, it means you can run any Android app, such as Spotify, YouTube, Google Play Music, Apple Music, and so on. You can also connect to public wi-fi using your preferred web browser. The disadvantage is that Android consumes more space and drains the battery faster than Sony's dedicated firmware.
I love this device, but it does have a number of annoyances. Here are the main ones:
Just 16GB of on-board storage, which soon fills up if you put a few hi-res albums on there. In fact, available storage is less than 7GB thanks to Android. A DSD album in SACD quality is typically between 1.5 and 2.0 GB. Fortunately there is a microSD slot (supports microSD, microSDHC, microSDXC) which lets you expand storage up to a theoretical maximum of 2TB. I fitted an inexpensive 200GB card.
You can play music either from the Sony Music Player or from other Android apps. If you play from the Sony player you get maximum sound quality and volume is controlled only by the Sony volume control. If you play from Android apps you are limited to 48 kHz/16-bit and higher resolutions will be downsampled, and volume is controlled by the Android media volume as well as by the Sony control. It's best to turn the Android media volume to max and just use the Sony control.
The maximum volume is not that loud. If you have inefficient headphones and want to listen in noisy environments this could be a problem. I found that with Sennheiser HD 600 headphones, for example, it was not always loud enough. With other more efficient headphones, or with Shure earbuds it was fine. The volume depends on multiple factors, including the volume of the source, and whether you engage the "Dynamic Normalizer" sound affect.
The battery seems to drain quite fast if the unit is on standby. Turning wi-fi off helps, but you need to turn it off completely if you want to extend battery life. I recommend powering it off when not in use.
Format support is comprehensive, including MP3, FLAC, MP4 including Apple lossless, DSD right up to 11.2896 MHz, and MQA-encoded FLAC. DSD is converted to PCM. Hi-res is supported up to 32-bit/384 kHz
The home screen is standard Android with a link to a detailed manual, and three Sony apps: Music player, Sound adjustment and Ambient sound settings. The player app is basic but easy to use. The Sound Adjustment has various sound processors, including Dynamic Normalizer for normalizing volume between tracks, Vinyl Processor which supposedly "recreates the warm, rich playback of a turntable", Clear Audio +, graphic equalizer, and DSEE HX which supposedly makes CD quality more like hi-res, and DC Phase Linearizer which is meant to make low frequencies "more analog". You can also set Direct mode which bypasses all these and is my preferred setting. The Ambient control lets you enable noise cancelling and ambient sound mode (letting you hear external sounds through a headset); but these settings only work with a specific Sony headset.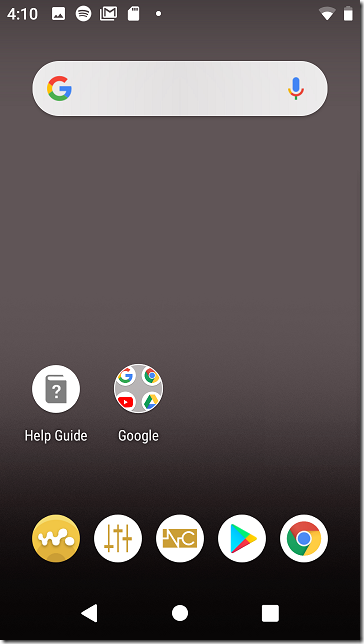 A fun feature is the cassette screen that you can set to appear on playback.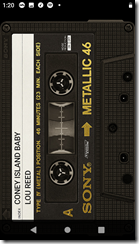 The quality of the cassette varies according to the format. You can even see the reels spin faster if you fast forward or back. An nice touch.
As I experimented, I installed Spotify, tried Google Play Music, and used some Bluetooth headphones. Everything worked, but I have to say that some of the magic seems to disappear with all these options. On the Bluetooth side, the unit supports Bluetooth 5.0 and the A2DP, AVRCP, SPP, OPP and DID protocols. Codecs are SBC, LDAC, aptX, aptX HD and AAC. The quality you will get does depend partly on whether your headset supports the best resolutions. Unfortunately I don't have a Sony headset that supports LDAC, a Sony-developed codec that supports 96 kHz/24-bit though with lossy compression. Perhaps that would make a difference. The sound is not by any means bad, just not as special as with a wired connection.
Similar reservations apply to the sound from Android sources other than the Sony player. I conjecture that the Sony player has some special support for the custom hardware that you do not get when playing via the Android sound system. Again, the quality is very good, but there is a noticeable difference to my ears.
The A105 supports Meridian's MQA, a controversial effort to improve quality by folding high resolution into space in the audio file that would otherwise be unheard. I have a number of MQA demo files and can report that they do sound exceptionally good on the Sony, though whether this is because of MQA or simply that they are demo-quality recordings is open to question.
Update: I tried this on a flight for the first time. I used some Jabra headphones which have both a wired and a Bluetooth connection. In a quiet environment the wired connection sounds better. On the plane though, with the background roar of the engine, the volume was barely sufficient with wired. I switched to the Bluetooth which overcomes this since you are then using the built-in amplifier in the headset. In the end I felt this was preferable. Wireless is also an advantage in a somewhat cramped environment. It certainly made the flight pass more pleasantly.
Hardware
Android is fast and responsive on this player, thanks to 4GB RAM and a 4x 1.8 ARM chipset. CPU information is below: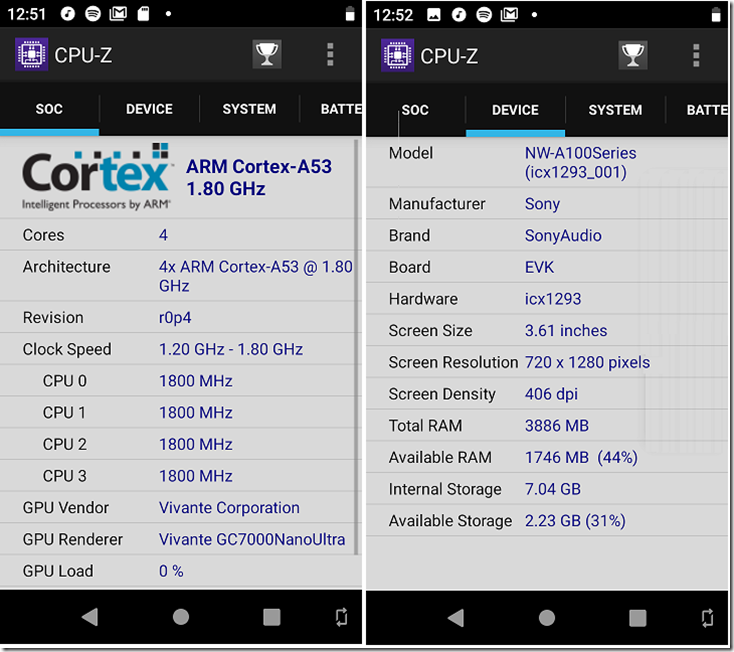 What has Sony done to achieve better quality? The specifications refer to things like the aluminium milled frame, film capacitors and "fine sound" resistors. There is also a circuit board layout optimized for sound with the audio. There is a bit more detail on the hardware here if you are curious. What makes a difference to the sound, and what is just marketing? Hard to say, but as I mentioned in the opening of this post, all I can say is that the sound quality is real.
Conclusion
Despite the high price (or low price if you measure it against other premium portable devices such as those from Astell & Kern, or higher in Sony's range), this is a great device and one which offers many hours of enjoyment. There are a few cautions though. The annoyances are real, including the short battery life and limited volume. I am not sure it is worth it if you plan to use wireless headphones most of the time. And if you are impatient with the idea of downloading files or rippling physical media, in this age of streaming, it is not quite so compelling. None of these issues are dealbreakers for me; I am just enjoying the sound.