Today is Apple iPad day in the UK; but the portable device I've been playing with is not from Apple. Rather, I downloaded the first release build of MeeGo, proudly labelled 1.0, and installed it on my Toshiba NB 300 netbook, which normally runs Windows. You can choose between the evil edition with Google Chrome; or the free edition with Chromium – I picked the Chrome version. I did not burn any bridges: I simply copied the image to a 2GB USB memory stick and booted from that. There was one oddity: the USB boot only worked when using the USB port on the right by the power socket, and not from the one on the left edge of the netbook. It is a common problem with USB, that not all ports are equal.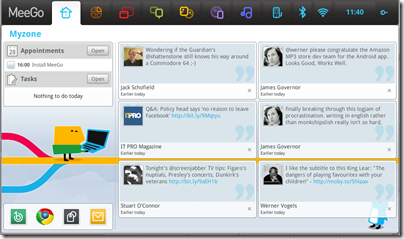 MeeGo is a joint project from Intel and Nokia, formed by the merging of Intel Moblin and Nokie Maemo. It is a version of Linux designed for mobile devices, from smartphones to netbooks, though this first release is only for netbooks. Further releases are planned on a "six-month cadence", and a wider range of devices including handsets and touch-screen tables is promised for October.
First impressions are mixed. Starting with the good news: performance is great, the user interface is smooth and polished, and less child-like and cutesy than the last Moblin I looked at. The designers have really thought about how to make the OS netbook-friendly. Applications run full-screen, making the best use of the limited screen size. Navigation is via a toolbar which slides into view if you move the mouse to the top of the screen. From here, you can switch between "Zones" – in effect, each zone is a running  applications. Not difficult but laborious; I found myself using Alt-Tab for switching between applications. I also miss the Windows taskbar, despite the screen space it occupies, since it helps to have a visual reminder of the other apps you have running.
There is also a home page which is a kind of local portal, showing showing current Twitter status (once I had added my Twitter account), application shortcuts, current appointments, recent web history, and other handy shortcuts.
Getting started was relatively quick. I soon figured out that the Network icon in the toolbar would let me configure wireless networking. It look me a little longer to find the system preferences, which are found by clicking the All Settings button in the Devices menu. Here I was able to change the keyboard layout from US to GB, though since it does not take effect until you logout, and I was using the live image which does not save changes, I was still stuck with the wrong layout.
A terminal – essential for serious Linux users – can be found in the System Tools section of the Application menu. I needed a password to obtain root access, which I discovered is set by default to "meego" in the live image. I presume this is a feature of the live image only, as this would otherwise be a serious security risk.
I soon found annoyances. This may be version 1.0, but it is described as a "core" release and seems mainly intended for software developers and I presume device manufacturers who are getting started. The selection of pre-installed applications is very limited, and does not include a word processor or spreadsheet.  There is a "Garage" utility for installing new apps, but although it seems to offer Abiword and Gnumeric, I could not get the links to resolve. I cannot find an image editor either. Without basic apps like this, MeeGo is not something I could rely on while out and about.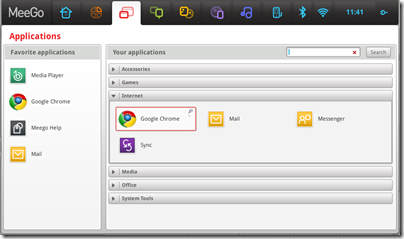 I was surprised to find no link to the Intel AppUp store, which will offer applications for MeeGo, and when I tried to install the AppUp beta I got failed dependencies. I optimistically tried to install Adobe AIR; no go there either.
There must be other ways of getting apps installed – this is Linux after all – but I was looking for a quick and easy route.
Adobe Flash 10.1 is installed and works, though not on my first attempt. Trying to play a Youtube video made Chrome unresponsive, and I could not get Flash content to play on any site. Rebooted and all was well.
A big irritation for me is that you cannot disable tapping on the touchpad. There is a checkbox for it in settings, but it is both ticked and grayed so you cannot change it. I detest tapping since you inevitably tap by accident sometimes, on occasion losing work or just wasting time. No doubt there is some setting you can change though the terminal but I haven't had time to investigate. It  is also possible that doing a full install to hard drive would fix it, as the live image does not save changes.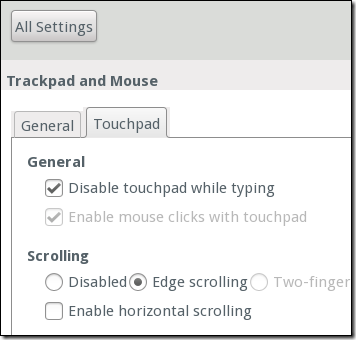 Nevertheless, the progress is encouraging and if development continues at this pace I can see MeeGo becoming a strong alternative to Windows on netbooks: faster, cheaper, and better optimized for this kind of device. Even against the Apple iPad, I can see the attraction of something like a MeeGo netbook: freedom, Flash, value for money, and a keyboard.
The big question though: what chance has MeeGo got in the face of competition from Apple, Google with Android, and Microsoft with Windows? It seems to me that all these three are safe bets, in that they are not going away and already have momentum behind them. Will the public also make room for MeeGo? I like it well enough to hope it succeeds, but fear it may be crowded out by the competition, other than for Nokia Smartphones.