A friend was having problems with Outlook on a new Windows 10 laptop. It had been set up with a POP3/SMTP email account. Everything worked fine at first, but then Outlook refused to open, displaying a message "Cannot open the Outlook window". The version of Outlook was the latest Outlook 2016, purchased via personal subscription.
Presuming database corruption, I created a new profile and entered the email settings. It worked at first and then exactly the same error occurred, after Outlook had been closed and reopened a couple of times.
I looked more closely and noticed something odd. Outlook was saving the .pst database for this account to OneDrive. This is not something you would notice, since the location of this database is normally invisible to the user. However you can see it if you go into Account Settings and then Data Files.
Note: this screenshot comes not from my friend's PC but from my own test install of Windows 10, which uses the defaults. I simply set up Outlook with a POP3 email account.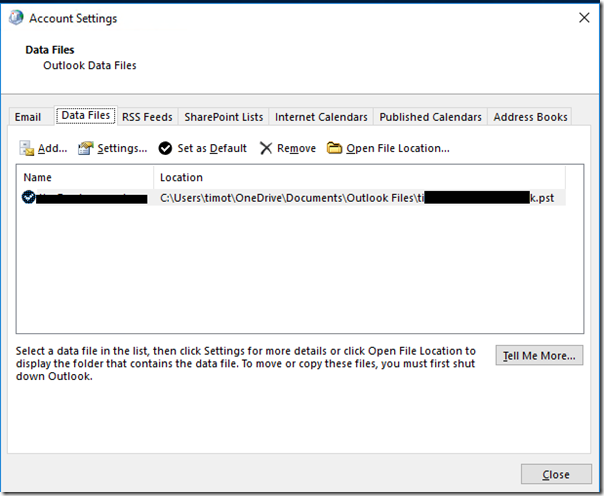 Why was this happening? It is because Windows 10 sets OneDrive as the default location for documents if you set it up with a personal Microsoft account, which is the default for non-business users.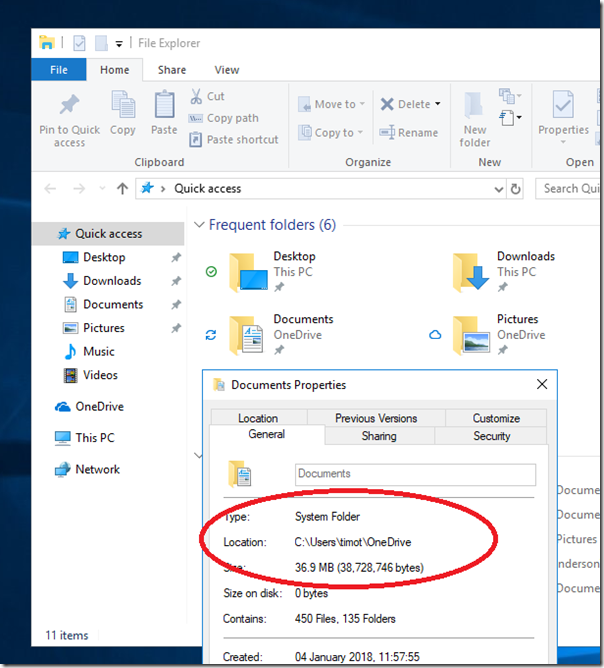 Outlook creates .pst files in a sub-folder of the special Documents location, called Outlook Files.
Note: Outlook does not do this for .ost files used for Exchange, Office 365 or Outlook.com. It is only something you will see if you use an old-style POP3 email account, or possibly IMAP (I have not tested this).
Saving active .pst files in OneDrive is not a good idea. Even if it works, it brings no benefit, since you cannot get multiple versions of Outlook on different PCs to use the same synced .pst.
Worse, it is known to cause corruption. Check out this ancient post on the subject from the experts at Slipstick systems:
The answer: It won't work in most services and is not recommended in any service. Outlook puts a lock on the pst file when the pst file is open. OneDrive (and other cloud solutions) continually syncs the local folder. It won't be able to sync the pst because Outlook has a lock on it and as a result, the pst file could become corrupted and data loss occur.
Unfortunately it is not that easy to persuade Outlook to save the .pst elsewhere. The method I used was:
1. Open the Mail applet in Control Panel (always the first port of call if Outlook will not open).
2. Select a profile, even one that doesn't work, and choose Properties.  Click Data Files tab and then Add. This lets you create a new, empty .pst in the location of your choice. Close this dialog.
3. When setting up the email account, choose Manual settings, and then select the option to deliver mail to an existing .pst. Browse to select the one you created.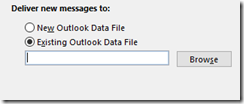 All of this is well buried and typical users will not find these settings.
The other solution is to reconfigure the location of the Documents folder to be on the local hard drive and not in the special OneDrive folder. Of course this will affect all your documents and not just Outlook. Saving everyday documents to OneDrive is not such a bad idea, since it gives you resilience in the case where your hard drive or SSD fails.
Note: There are multiple reasons for the "Cannot open the Outlook window" error so the above is not necessarily the fix you need, if you have come here in search of an answer. It only applies if you have this particular configuration and use POP3 email.