If you are in London before 30 November 2018, and any kind of Bob Dylan fan, then I highly recommend Mondo Scripto, an exhibition of his drawings and Iron Works gates.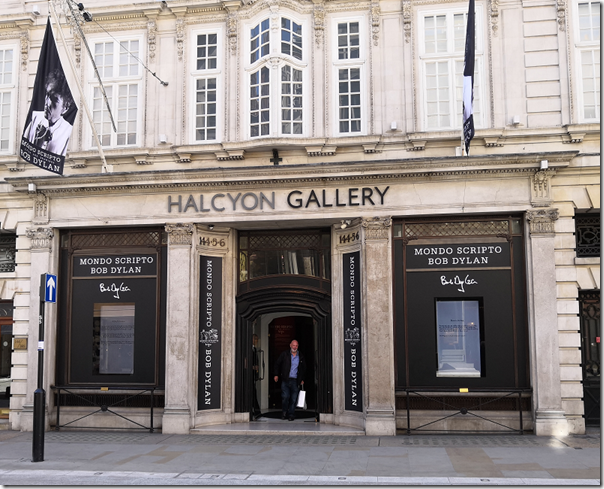 Let's start with the Iron Works. Way back in 2001 Dylan began constructing gates from scrap metal, as gifts for friends or for his own property. "Gates appeal to me because of the negative space they allow. They can be closed but at the same time they allow the seasons and breezes to flow. They can shut you out or shut you in. And in some ways there is no difference," he says.
Iron is part of Dylan's history because he was born and brought up in Hibbing, Minnesota, Iron country and near a large open pit mine. So for Dylan it is a return to roots as well as another way to exercise his creativity. His Iron Works were exhibited at the Halycon Gallery in London in 2013, and you can see them now peppered around the display of drawings and paintings in the current exhibition.
The gates look strong but quirky, symmetrical in some ways but not in others, painted in subtle shades that bring out the metalness and variety. There are gear wheels, chains, spanners at odd angles, animal shapes, pliers, roller skates, wheels and springs all jumbled together but making a cohesive whole. Somewhat like the way he uses language in his songs.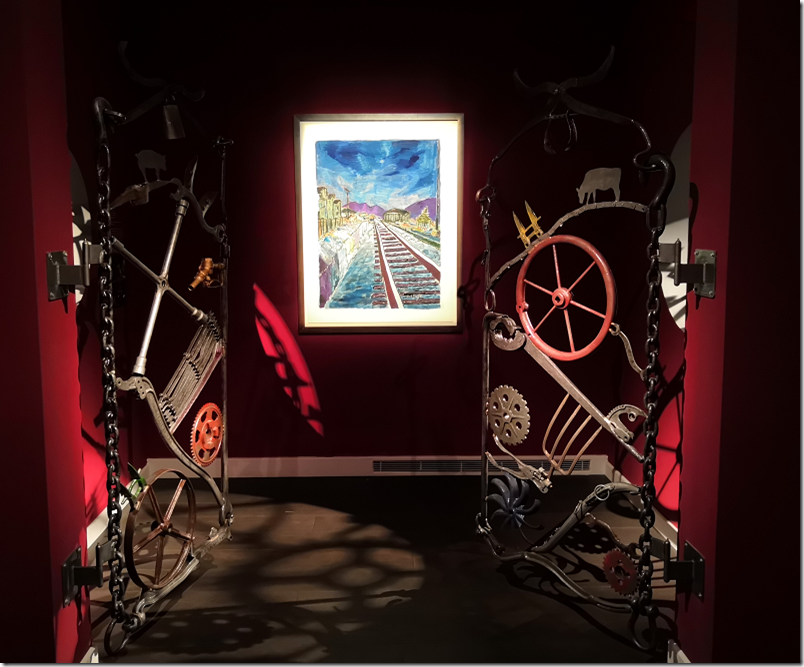 But what of Mondo Scripto? Dylan has taken 64 songs, written out the lyrics in blocks (so they are not particularly easy to read), and illustrated each one with a drawing. For example, here is one that I like, Just Like a Woman: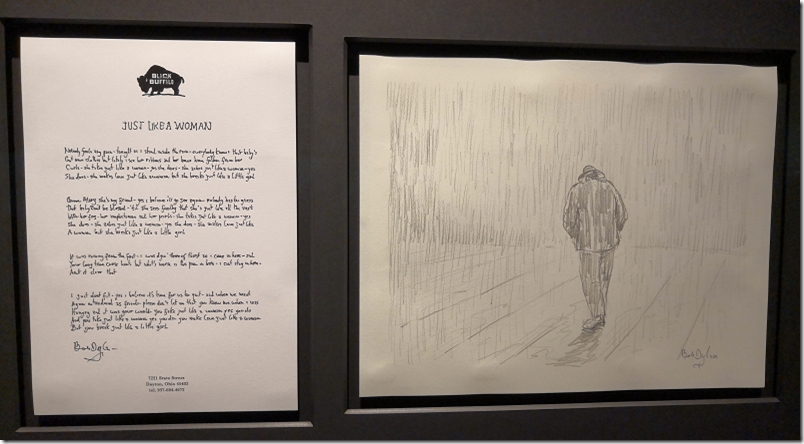 Maybe you would expect to see a woman in the drawing; but no, this is the line "as I stand inside the rain."
Note that the exhibits at the Halcyon Gallery are the actual drawings, not just the signed prints you can buy for £1895 each (10 songs, limited editions of 495 for each song).
I am not much interested in the collector's aspect here. I think that is a lot of money for a print and a signature. The orginals also look much sharper and better than the prints, which is disappointing if you have the print. You may be able to negotiate to buy an original but it will cost a lot more. I would quite like one of my favourites on the wall, or a Dylan gate in the garden, but the cost is too steep for me; if I were wealthy enough for it to be spare change, perhaps I would. Then again, the profits are enabling this amazing exhibition which is free to attend so it is not so bad.
What I am interested in is the choice of songs, the choice of images and the way they are executed, and little details like small changes in the lyrics. For example, Ballad of a Thin Man in the original:
There ought to be a law against you comin' around
You should be made to wear earphones
and in Mondo Scripto:
There ought to be a law against you coming around
Next time don't forget to first telephone
I was intrigued to see that in Subterranean Homesick Blues, Dylan has written out:
don't try 'No Doze'
which is the latest chapter in a story; the original is "don't tie no bows" but via humour and mis-transcription has become what it is. Maybe Dylan just copied it, maybe he likes it better now, who knows?
This is Dylan so there is variation everywhere. You can get a nice book/catalogue of Mondo Scripto for £45 (this one is a good buy), and this includes 60 songs written out with their drawings. However many of the drawings are different to those in the exhibition. Apparently the book was done first so those are the earlier versions. Just like Tom Thumb's Blues, for example, has a bottle of wine in the book ("I started out on Burgundy") and a cityscape in the exhibition ("Back to New York City"?).
Knockin' on Heaven's Door has special treatment. This has been done as a series of 16 drawings, pen drawings rather than pencil sketches, including a variety of different doors and techniques for knockin' on them. It begins with a hand knock, and ends with a rap from a cross. There is also a drill, a crowbar, a bottle, and so on.
Lovely humour, but also a meditation on death? Possibly, though Dylan has been singing about death at least since Fixin' to Die on his very first album, so we should not take this as any kind of final statement.
It is nevertheless true that Mondo Scripto is Dylan's reflection on his best-known songs, made new by drawings which bring out a striking image or thought and which reminds you how extraordinary they are.
One of the features of this beautifully laid-out exhibition is a wall of books, some by but mostly about Dylan.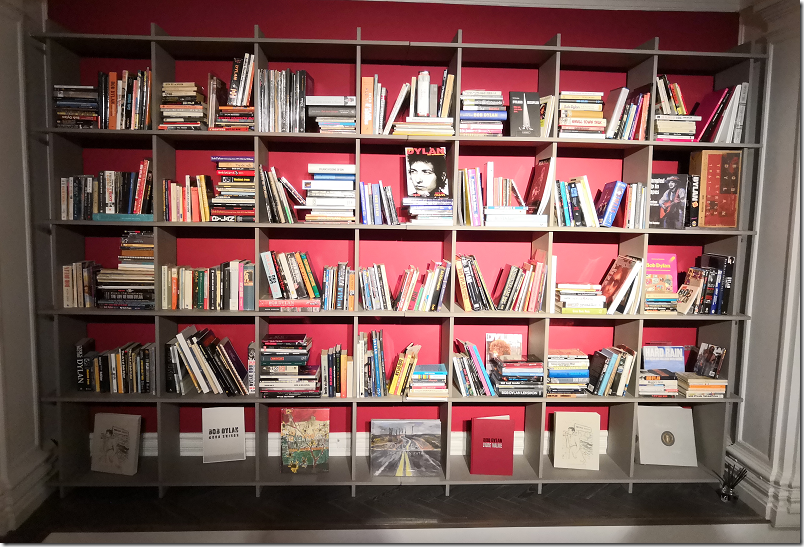 It is a reminder of how many of us have been entertained, absorbed and challenged by this body of work.
Mondo Scripto along with the Iron Works are remarkable, coming from a man who also tours incessantly and is of an age where many of us sit around doing nothing much at all.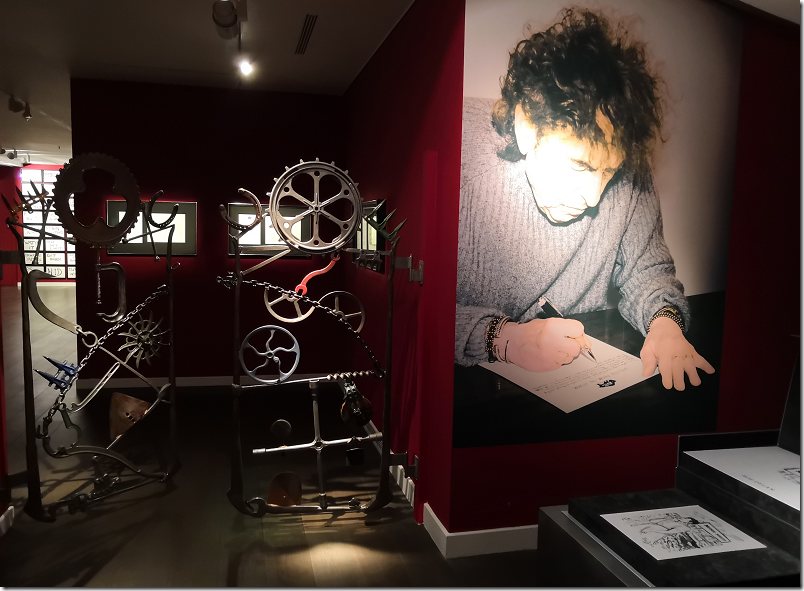 The Mondo Scripto song list
1. Song To Woody
2. Blowin' in The Wind
3. Girl From The North country
4. Don't Think Twicse, It's All Right
5. Masters Of war
6. One Too Many Mornings
7. A Hard Rain's A.Gonna Fall
8. Oxford Town
9. Tombstone Blues
10. Desolation Row
11. It's All Over Now, Baby Blue
12. It's Alright, Ma (I'm Only Bleeding)
13. Like A Rolling Stone
14. Mr Tambourine Man
15. It Ain't Me, Babe
16. Ballad Of A Thin Man
17. Just Like Tom Thumb's Blues
18. The Times They Are A-Changin'
19. Ballad Of A Thin Man*
20. All 1 Really Want Tc Do
21. Rainy Day Women #12 & 35
22. 1 Want You
23. Highway 61 Revisited
24. Leopard-Skin Pill-Bax Hat
25. Stuck Inside Of Mobile With The Memphis Blues Again
26. Visions Of Johanna
27. One Of Us Must Kuow {Sooner Or Later)
28. Subterranean Homesick Blues
29. She Belongs To Me
30. Maggie's Farm
31. Love Minus Zero/No Limit
32. Just Like A Woman
33. Chimes Of Freedom
34. Positively 4th Street
35. Tangled Up In Blue
36. "Knockin' On Heaven's Door" series
37. All Along The WaLchLower
38. Lay, Lady, Lay
39. The Man In Me
40. Tomorrow Is A Long Time
41. When I Paint My Masterpiece
42. I Shall Be Released
43. Forever Young
44. Knockin' On Heaven's Door
45. If You See Her, Say Hello
46. One More Cup Of Coffee(Valley Below)
47. "Subterranean Homesick Blues" series
48. Shelter From The Storm
49. Simple Twist of Fate
50. You're Gonna Make Me Lonesome When You Go
51. Gotta Serve Somebody
52. Isis
53. Jokerman
54. Every Grain Of Sand
55. Hurricane
56. This Wheel's On Fire
57. Man Tn the Long Black Coat
58. Isis
59. Things Have Changed
60. Workingman's Blues #2
61. Mississippi
62. Ain't Talkin'
63. Highlands
64. Make You Feel My Love