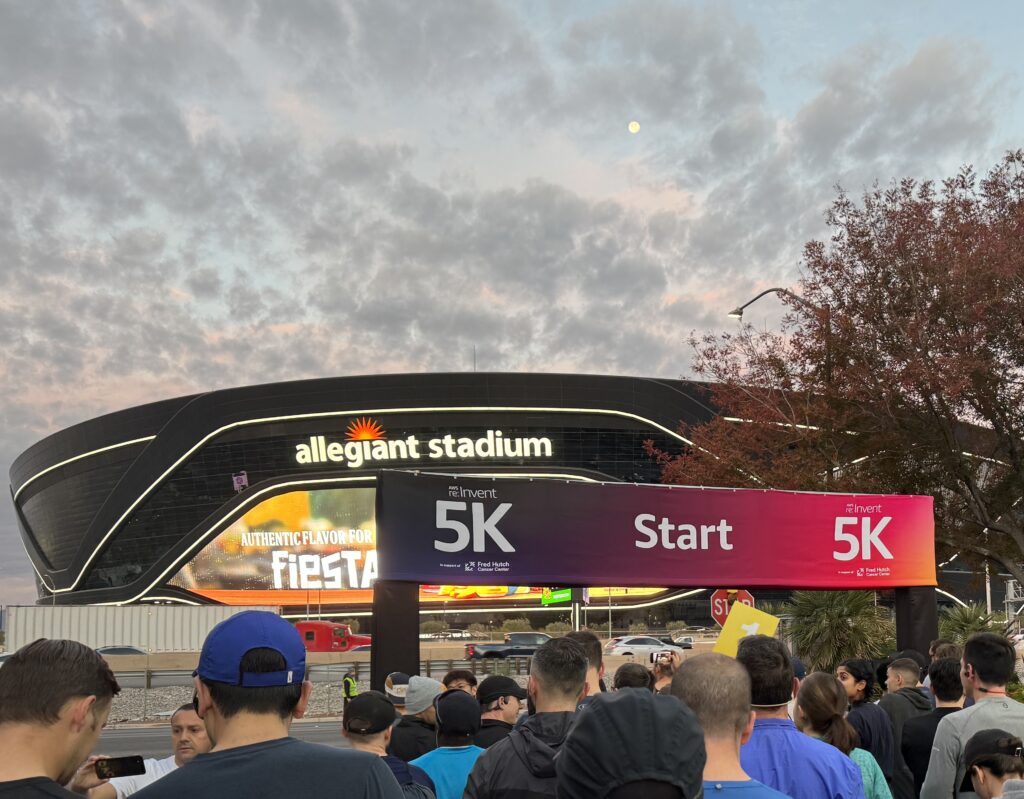 It happens that, a little later in life than most, I have taken up running, and during the recent AWS re:Invent in Las Vegas I was one of 978 attendees to take part in the official event 5K run.
If there were around 50,000 at the conference that would be nearly 2% of us which is not bad considering the first coaches to the venue left our hotel at 5.15am. The idea was that you could do the run and still make the keynote I guess – which I did.
I would not call myself an experienced runner but I have taken part in a few races and this one seemed to have all the trimmings. The run was up and down Frank Sinatra Drive, which was closed for the event, and the start and finish was at the Michelob ULTRA Arena at Mandalay Bay. Snacks and drinks were available; there was a warm-up; there was a bag drop; there was a guy who kept up an enthusiastic commentary both for the start and the finish. The race was chip timed.
We started in three waves, being fast-ish, medium, and run/walk. I started perhaps optimistically in the fast-ish group and did what for me was a decent time; it was a quick course with the only real impediments being two u-turns at the ends of the loop.
Overall a lot of fun and I am grateful to the organisers for arranging it (it does seem to be a regular re:Invent feature).
Here is where it gets a bit odd though. The event is pushed quite hard; it is a big focus at the community stand outside the registration/swag hall and elsewhere at the other official re:Invent hotels. It is also a charity event, supporting the Fred Hutchinson Cancer Center. All good; but I was surprised never to be officially told my result.
I was curious about it and eventually tracked down the results – I figured that with chip timing they were probably posted somewhere – and yes, here they are. You will notice though that no names are included, only the bib numbers. If you know your bib number you can look up your time. This was mine.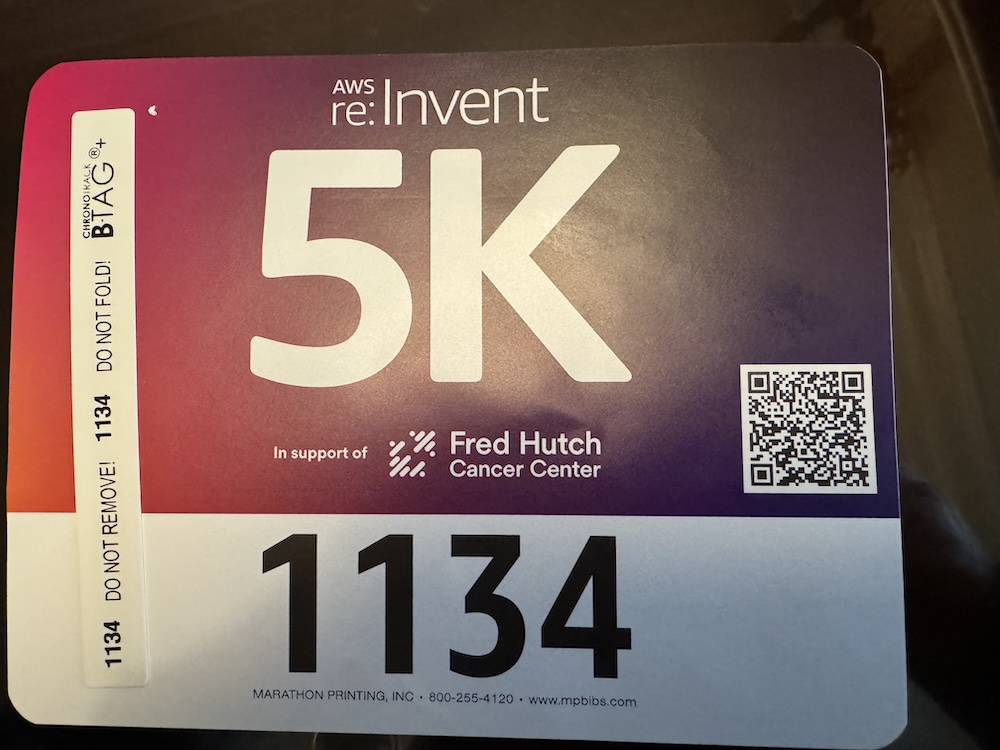 It seems that AWS do not really publish the results which would have disappointed me if I had been the first finisher who achieved an excellent time of 16:23 – well done 1116!
I can't pretend to understand why one would organise a chip-timed race but then not publish the results. Perhaps in the interests of inclusivity one could give people an option to be anonymous but for most runners the time achieved is part of the fun. I think we were meant to be emailed our results but mine never came; but even if I had received an email, I would like to browse through the full table and see how I did overall.