Belkin's Play Max wireless router combines several features. At heart it is a wireless-n access point combined with a 4-port router and simple firewall, though it does not include a modem so you will need either an ADSL or cable modem with an Ethernet network port to use it. In addition, Belkin has added a couple of USB ports. You can plug in an external hard drive and access it over the network, provided that the Belkin client software is installed on the PC you are using, and schedule backups to that storage. You can also use the unit as a DLNA media server, so that music files on an attached hard drive are available to DLNA clients on your network such as a PlayStation 3.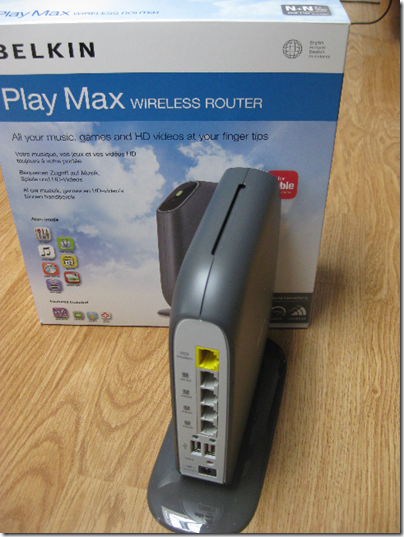 Sounds good; but with the current firmware and software it is hard to recommend this unit, unless you only need its basic features and have the knowledge to configure it. There are several annoyances.
Let's start with the setup. It is meant to be easy: attach the Belkin to your modem using the special yellow port, install the software on your PC, run setup, and you're done. The wi-fi is preconfigured with what I presume is an unique WPA password, making it somewhat secure out of the box, though uPnP auto-configuration is enabled by default and the admin password is blank, so I would not describe it as really security-conscious.
Setup probably is straightforward if you have a simple ASDL or cable modem; but in many cases these devices have their own built-in routers in which case setting up the Belkin is a little more tricky. If you need something other than the default networking configuration, the easiest way is to attach the Belkin to a laptop but not yet to the internet, log onto the browser-based setup, amend the settings, then connect it to your ADSL or cable modem or router. In my case I already have a router/modem, and I found I needed to give the WAN port on the Belkin a fixed IP address on the same subnet as the existing router/modem. In this scenario you should set the Belkin to be a wireless access point only and ignore the yellow WAN port. I also tried it with its firewall enabled, connecting the yellow port to the existing router, and manually setting DNS and gateway IPs: this worked too, but in this configuration you are doing double NAT (Network Address Translation) which is not really a good idea.
The underlying point is that Belkin leaves you on your own if do not want the default configuration, which means you will need some understanding of networking to get it working correctly.
That's fair enough I suppose; but my work was hampered by the Belkin seemingly needing a hard reboot after every change; the built-in soft restart often did not work. It also managed to reset itself to factory defaults on one occasion without being asked. Once configured though, it performed its basic task without any issues. That said, I did not find the range of the wireless N connection any better than my old Wireless G wireless access point, even with wireless N clients – though I was not able to test the 5Ghz wireless channel, only the 2.4Ghz channel. The speed of the network was very good though, faster than before.
I did all this without actually installing the Belkin client software. It had to be done though, so I went ahead. The software is for PC and Mac and installs as a package without any options: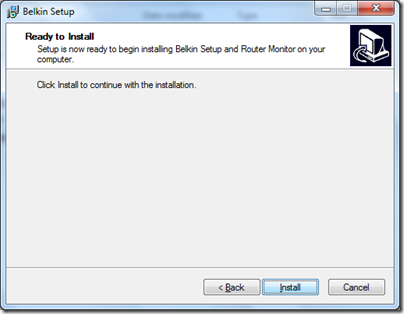 What you actually get though is not one piece of software but seven:
Belkin Daily DJ
Belkin Music Labeler
Music Mover
Belkin Setup and Router Monitor
Belkin USB Print and Storage Center
Bit Boost
Vuze bit torrent client
Installing a bit torrent client without asking is poor practice, though you can remove it using control panel afterward. There is also barely any documentation for the various extra features. I recommend you go to Belkin's official support site and search for the model number, in my case F7D4301; it is the only place you might find something useful.
I was interested in trying the media and network attached storage features. My first effort, attaching a 1.5TB external drive, seemed to crash part of the router; but after a restart I got it to show up in Windows Explorer and in the Belkin USB Print and Storage Center. However I was unsuccessful in sharing any folders for media streaming.
One support note says you need to use Music Labeler before media streaming will work, so I tried it. I also made sure there were only a few tracks present, in case it chokes on large libraries.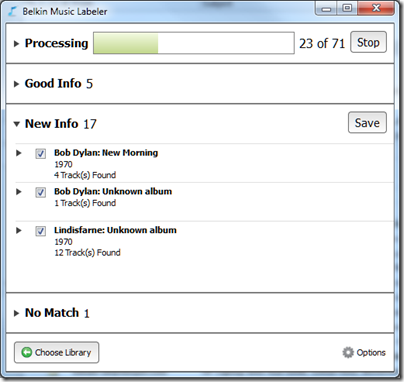 No great surprise: the Music Labeler, which claims to fix the metadata in your music files, was slow and ineffective with a baffling UI. Even in my small music library there were numerous unknown tracks. And after I ran it, the Music Mover application still could not find the folder for streaming.
I was determined to try this, so I set up a tiny network with just the Belkin, a laptop, and a small drive attached with some music files. It was frustrating: Music Mover reported no drive plugged into the router even when the Belkin USB Print and Storage Center showed two drives attached (actually one with two partitions):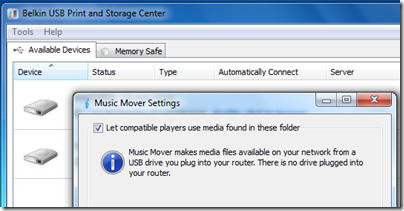 I rebooted the PC and lo, finally Music Mover detected the drives and the music folder.
I still did not get it to stream. I got close. I enabled streaming in Windows Media Player (Stream –> Turn on media streaming) and successfully connected to the library. However, when I tried to list what was available I got the message "The remote media library did not allow the connection."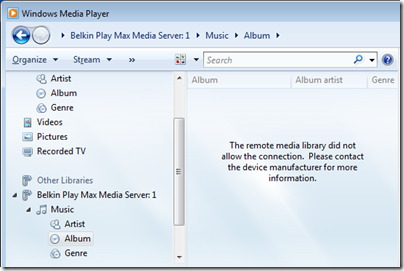 Well, I am willing to believe that in the right circumstances this might work. In any case, on Windows you could easily play the music directly from the networked drive, so it is no big deal.
There are other annoyances. The date and time in the Belkin is stuck on Jan 1 1970, with no way to change it; it is meant to retrieve the time from an NTP service but this did not work despite trying several different ones. The "self-healing" feature is simply a scheduled reboot, which I take as a vote of little confidence in the stability of the firmware. The client software is ugly and pops up a big dialog every time you start your computer.
In the end the device is reasonable value if you ignore the extra features. Both the software and documentation is poor though, and no doubt a lot of time will be wasted trying to use it.
Note: the rating below is your rating of the usefulness of this review, not my rating of the product.