All of the Good Ones are Taken (July 1983)
CBS 25379
US: 125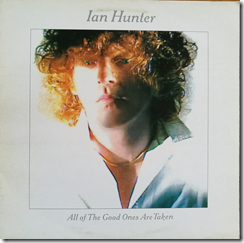 Short Back 'n Sides failed to set the charts ablaze and following tour dates both sides of the Atlantic in the latter half of 1981 Ian Hunter broke up his band and split with both Chrysalis Records and his manager Steve Popovitch. At this point things started to slow down from a musical point of view; a shame when you recall the great You're Never Alone with a Schizophrenic just a couple of years earlier.
Nevertheless, Hunter managed to get a new contract with Columbia and in late 1982 started work on a new album, at Wizard Sound Studio in New York. Tommy Mandel remained on keyboards, joined by Robbie Alter on guitar, Mack Clarke (ex Colosseum) and Hilly Michaels (ex Sparks) on drums. Other musicians included long-time collaborator Mick Ronson on one song, guitarist Jimmy Ripp on the title track and one other, Clarence Clemons on sax on a couple of songs. Producer was Max Norman, who had worked with Ozzy Osbourne of Black Sabbath fame.
Why so little from Ronson? I guess the enthusiasm was lacking on both sides; yet the track to which he contributes is the best on the album.
Hunter says, according to biographer Campbell Devine, that he returned to Columbia because "Dick Asher, Mott's old boss at CBS, was president. Then, four weeks after I signed, he was fired. It was one of the worst days of my life."
It can be tough being a "minor artist" at a big label, especially if your main sponsor leaves. A mighty way down rock 'n' roll.
What of the music though? Well, the album isn't misconceived in the same way as Short Back (too much Mick Jones) or Overnight Angels (wrong band, wrong producer). At the same time, it suffers from weak material and a sense that Hunter might just be making an album for the sake of it rather than from passion and self-belief.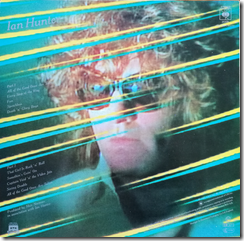 All of the Good Ones are Taken has a curious story. Hunter says he wrote it as a fast song, but "lost the tape of the session, and I could never get the groove back." So it became, in his mind, a ballad. But he was pressured to record a fast version for the sake of the album. So there are actually two versions, fast to open and slow to close.
The song is effortlessly catchy in the way Hunter is so good at, but a throwaway. Something about wanting a woman who is not available, but no Layla sadly.
Every Step of the Way is another super-catchy song, and I prefer it, despite being another song about nothing much. "Do you wanna dance … take a chance baby, take a chance." It has a funky beat that works pretty well.
Fun on the other hand is bad. A kind of pale imitation of Iggy Pop (Funtime or No Fun) but without the aggression or danger that makes those songs work. "Fun … Fun … Fun" intones Hunter.
Apparently this song was covered by the reformed Monkees in 1987!
Speechless is a song about television, according to Devine. "Every time I watch you, gotta switch you off, you surely can't be serious." Remember Hunter was living in the USA! This was covered by Status Quo in 1986. Faded rockers have to stick together! Bouncy.
Death 'n' Glory Boys benefits from two things. It is a song about something which mattered to Hunter, war, specifically the Falklands War of 1982. Like Bob Dylan, Hunter blames the masters of war for the suffering of the young. "Long live the leaders, long may they reign, may they live long enough to feel every single pain."
It's a slow song but hardly a ballad as Hunter yells passionately about the injustice of war.
Second, Ronson contributes smouldering articulate guitar that shows up the ordinariness of the music on the other tracks.
Love the reference to "you'd better pack up your troubles in your old kit bag".
That Girl is Rock 'n' Roll quickly dissipates any energy built up by the previous track, a lightweight and lustful track with faintly embarrassing lyrics.
Somthin's Goin' On is heavy by comparison, about nuclear warfare no less, according to Devine. You would not believe it from the cheery tune.
Next up is Captain Void 'n' the Video Jets, with video game noises that escaped from Short Back 'n' Sides. Dreadful stuff.
Seeing Double is where things come back together, a ballad about being low with insomnia and depression, with tasteful backing including keyboard from Bob Mayo and sax from Clarence Clemons. A moving song which many will relate to. "My head says yeah – my body says no."
Then we have the slow version of the title track. Passes pleasantly enough.
Bonus track on the reissue is Traitor, also released as an extra track on a 12" single at the time. It's better than most of the rest of the album, bluesy, almost rap, with a powerful groove. "I gave you love, what's the matter, ain't that enough? See you later, traitor." Strong keyboard from Mandel. Finishes with a desperate yell.
So there it is: the next chapter in Ian Hunter's inglorious Eighties. The album pretty much flopped, which may be partly to do with lacklustre promotion, but the indifferent quality of the music has to be part of the reason too.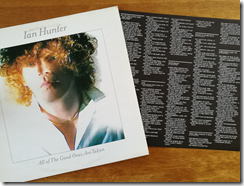 I play it more often than Short Back 'n' Sides. On the plus side it's catchy, Hunter is in good voice, it has Death 'n' Glory Boys, it has Traitor, it has Seeing Double. But you know he can do so much better, and getting through the weaker tracks takes some determination.
Note:
Perhaps because of its relatively low sales, All of the Good ones are Taken is one of the harder Ian Hunter albums to find on CD, if you missed the last reissue (?2010). You can always stream it.
Ideally, get the vinyl. No Traitor, but you get a lyric sheet including Hunter's poem in memory of Guy Stevens, who died in August 1981.
"I remember the guy with the electric hair
at that first rehearsal standing there
you gave your heart, you gave your soul
God bless you Guy – ROCK N' ROLL!"