Here's a bit of background. Note that much of my information comes from the fab book Mott the Hoople and Ian Hunter, All the Young Dudes the Biography, by Campbell Devine, which is a great read for any fan.
The name Mott the Hoople was taken from a book read by Island Records producer Guy Stevens who was also the band's first manager. The book, which is called Mott the Hoople, is a novel by Willard Manus, who later explained that Major Hoople was a layabout character in a comic strip called Our Boarding House. "Hoople", according to Manus, is also a slang word "meaning variously fool, rogue, buffoon, and even sucker. That's why my character Norman Mott sometimes thinks of himself as a Hoople."
Mott the Hoople evolved from a Herefordshire band called Silence: guitarist and songwriter Mick Ralphs, bass guitarist Pete Overend Watts, drummer Dale Griffin, organist Verden Allen and singer Stan Tippins. Stevens wanted to sign the band but felt Tippins was unsuitable as vocalist. They auditioned. I believe this was the ad, or one of them: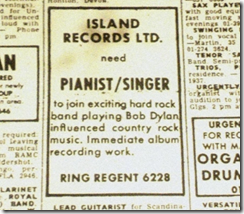 Watts recalls:
"The auditions were frighteningly awful. The first bloke looked like Les Dawson, with thick pebble glasses, his face was about an inch from the keyboards. We sat there despondently until about eight or nine at night and then Ian turned up. He looked grim, with short horrible curly ginger hair. He was very nervous but there was something about him. Afterwards he stood up and said, 'I've got this idea for a symphony. Can I borrow your bass?' He played this horrible bass line and we were all thinking, 'Oh God, how awful.' After he left we sat down and none of us were very impressed. But Guy said, 'Maybe if we get that last bloke in for a week or two, just to show Island you've got a complete group.' We reluctantly agreed."
The "last bloke" was Ian Hunter Patterson from Shrewsbury. Hunter had played with a Northampton band called Apex, then formed his own band called Hurricane Henry and the Shriekers. Then, according to Devine, Hunter happened to meet a "wild rocker" called Freddie Lee, who had worked with Screaming Lord Sutch. Lee joined the Shriekers and the band went to play in Hamburg, but never made much money. Returning to Northampton, Hunter joined another band called The Homelanders, then another called the Scenary. (Around this time, Hunter also met a guitarist called Mick Ronson at a club in London). Next Hunter worked again with Lee for a bit, before briefly joining The New Yardbirds, which never came to anything. So when he auditioned for Mott the Hoople (name not yet settled, Stevens also called the band Blue Egg, or Savage Rose and Fixable), he was at a low ebb.
Hunter recalls that "I sang in this odd Dylany voice because I couldn't sing properly." Fortunately Stevens was a Dylan fan and Hunter a good fit with what he had in mind for the band. Ian Hunter joined on 5th June 1969 and the band started rehearsing for an album.