Dirty Laundry (Norsk Plateproduksjon IDCD 44)
March 1995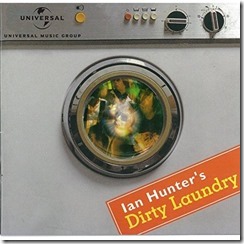 Ian Hunter was profoundly affected by the death of Mick Ronson. In this interview he talks about needing anti-depressants in the aftermath.
"I had it – those symptoms I was telling you about – then. Very badly. When it happens, I can't help it. After Mick died I was taking 15 or 20 milligrams.. [of some unknown medication]."
At the same time, it seems to have been a wake-up call for him. I can't find the reference right now, but he talks somewhere about realising that he had a gift and should use it. Campbell Devine quotes him, "When he died, it dawned on me that we were both lazy. We could sit around all day and not touch a guitar … I just thought, from now on, if anyone rings, I'm going. And that's what I did."
Hunter got together with keyboard player Casino Steel, formerly with glam rock band The Hollywood Brats, and planned a new album to be called The Gringo Starrs. In August 1994 sessions began, at Abbey Road studio in London. "When I got there, it all changed, and it just took off on its own," he recalls. "It turned into this raucous album, Dirty Laundry, which sounds like 62-era Stones … I loved every minute of it."
Other musicians on the album included (Honest) John Plain and Darrell Bath (ex UK Subs) on guitar and vocals, Glen Matlock (ex Sex Pistols and Rich Kids) on bass, Steve Ritchie on drums, Blue Weaver on keyboards, Lasse Hafreager on piano and organ, and Mitt Gamon on Harmonica.
Hunter/Ronson had a strong following in Scandinavia, touring there in 1989, 190 and 1991. Hunter also toured Sweden in summer 1992, and again in 1993. Hence Ian Hunter's Dirty Laundry was released by a Norwegian Label, Norsk Plateproduksjon.
In the USA it was released by Cleveland International. In the UK it was not fully released until 2007; but some of us went the extra mile and got hold of it on import.
Dancing on the Moon – very Stonesy, more Seventies than Sixties in feel though. Enjoyable too.
Another Fine Mess – maybe this is a bit more Sixties in feel, apparently about getting into scrapes on tour
Scars – a ballad, does take off Jagger a tad
Never Trust a Blonde – raunchy nonsense, song by Darrell Bath
Psycho Girl – at this point the mood changes and it sounds more like an Ian Hunter album, though the song is written and sung by Honest John Plain, good song
My Revolution – this could almost be a Mott the Hoople song, a reflection by Hunter on "a revolution for fun", note reference to the poem on the back cover of Mott.
Good Girls – sounds like something off All of the Good ones are taken, another Honest John Plain song. Even the theme "Where have all the good girls gone" echoes AOTGOAT. Fun song though.
Red Letter Day – sounds more like classic Hunter, simple subject matter about how great it will be to come home to loved one, probably heartfelt from one who has toured so much.
Invisible Strings – intriguing, tuneful song about a "girl in my bed" tugging Hunter's "invisible strings," maybe a groupie, maybe a muse.
Everyone's a Fool – Darrell Bath song, back to more of a Stones vibe.
Junkee Love – credited to Andrew Matheson (also ex Hollywood Brats) and Casino Steel, sounds like a glam/punk song
The Other Man – song about forgiving your woman but not forgiving "the other man". Strong lyrics and a quietly impassioned performance from Hunter.
I like this album; it's performed well, it does sound like everyone is having a good time and it is fun to listen to. It is curiously uneven though, veering from Stones-inspired rock (Dancing on the Moon) to glam/punk (Junkee Love) to classic Ian Hunter solo (Red Letter Day, The Other Man). I'm not sure why the title is Ian Hunter's Dirty Laundry; it is really more of a collaboration. Maybe it should be: The Dirty Laundry band with Ian Hunter?
It's not a great album; I see it as a bridge between the Hunter/Ronson years and the next wave of albums which starts in earnest with the Artful Dodger.
If you are an Ian Hunter fan, it's worth seeking out. It's on Spotify so not hard to find now.