Fingers Crossed (September 2016)
Proper Records PRPCD137
UK: 36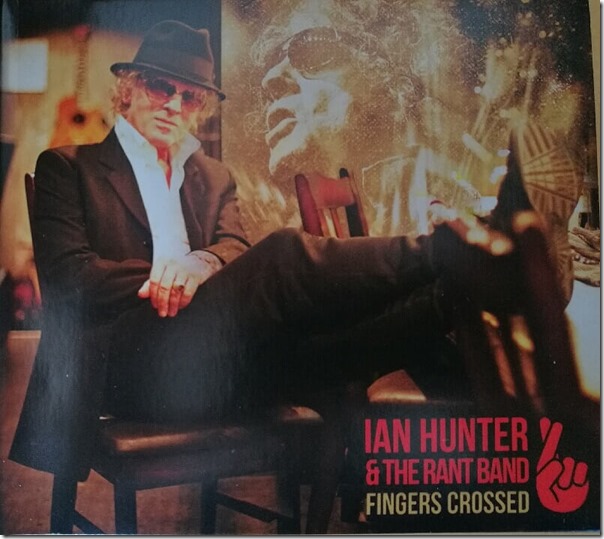 The most recent studio album from Ian Hunter and the Rant Band (at the time of writing) was released in September 2016. It was most notable for Dandy, Hunter's tribute to David Bowie, who died in January 2016. Hunter's song parallels his earlier song in memory of Mick Ronson, Michael Picasso, in that it does not mention its subject by name.
Fingers Crossed was recorded at Hobo Sound in New Jersey, a move away from A-Pawling Studios used for the previous album. It was mastered by Greg Calbi at Sterling Sound; despite this illustrious name, the album may be Hunter's worst in respect of excessive compression, robbing the music of much of its natural dynamics.
"Fingers Crossed, to me, is a [culmination] of the last four or five records," said Hunter in an interview. "I write from the point of view of personal quality control—that's how I do it. And this album is kind of consistent throughout. So I'm very happy with this one — I'm very happy with the people who played on it and the other people who were involved with it, like the engineering and stuff like that."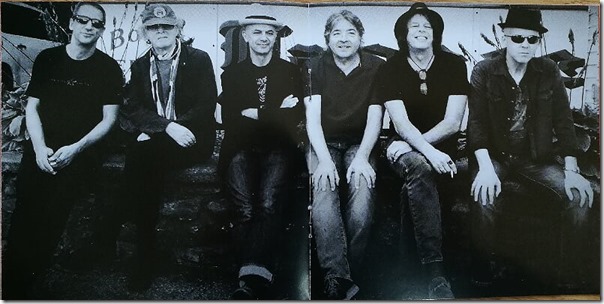 The Rant Band: Paul Page, Ian Hunter, James Mastro, Steve Holley, Mark Bosch, Dennis Dibrizzi (left to right)
That's When The Trouble Starts is a bluesy number in which Hunter reflects on the hazards of falling out of fashion. "After yorur 15 minutes of fame, look out here comes the driving rain." It doesn't seem particularly heartfelt though, more an opportunity to deliver an urgent, growling opener. A decent start.
Dandy: Hunter says, "David changed things around a little bit, and that's what it would mean to me. I hadn't seen him in God knows how many years. I was writing a song called "Lady" and this was last January (2016). And then I found out that he had passed, and "Lady" turned into "Dandy." It's written from the point of view of a fan going to see him in 1971, prior to Ziggy (Stardust), you know….very Technicolor."
The song is peppered with quotes from various Bowie songs and comes over as affectionate and respectful. "I guess I owe you one, so thanks for the memories," he sings, perhaps in reference to how Bowie famously rescued Mott the Hoople's career. Despite its subject though, this is a less personal song than Michael Picasso, reflecting the more distant relationship. Celebration rather than mourning.
This song also shows Hunter's philosophy, that music is a means of escape from a mostly grey and tedious life. "All we had to look forward to was the weekend. You made our lives worth living."
Ghosts, according to the record company's blurb, "was inspired by a November 2014 visit to Union Avenue in Memphis where Ian and the Rant Band were invited to jam in rock 'n' roll pioneer Sam Phillips' legendary Sun Studio." Plenty of ghosts there! One of the best songs on here for my money, sung with passion as Hunter pays tribute to great musicians of the past.
"I'm like some kid in a candy store – always been a fan.
It's all still here,
the atmosphere,
it's where it all began."
Fingers Crossed was composed, according to Hunter, when a line popped into his head. "It wasn't inspired by anything material. I've no idea where it came from as I simply woke up one day with the line – 'I was pressed into service, through no fault of my own' – and from there the song took its own course. It could only go one way. It's great when you get a strong opening line!"
What emerged was a song about sailors press-ganged into service in the 18th century. A slow song whose cheery melody belies its dark theme, "from the land of the living to the land of the lost."
White House is by contrast a light-hearted, up-tempo piece about a country house where Hunter lived, maybe. "Wally the Beaver" appears in the last stanza, apparently a real beaver. "He was most upset when we moved in. I think he thought we were taking over. There is a pond and a dam. He ran over my feet a couple of times. It was like 'you don 't belong here…this is my place.'"
Wally, says Hunter, has now "moved downstream."
The lyrics in the CD booklet are misprinted. Hunter clearly sings "Wally the beaver" and not "Eager Beaver"!
Bow Street Runners is a historical song whose origins are similar to Fingers Crossed. "The title just came into my head and I liked it….I've got a title and now I have to write a song about it. So that's when you Google and start checking things out," said Hunter. He disovered that "In the 1700s half-a-million people lived in London and there were no cops, so crime was rampant. It was crazy. One of the Fielding brothers was known as Blind Beak – he couldn't see but he could smell crime and recognized thousands of criminals by the sound of their voices – so the story goes. The brothers Henry and John Fielding formed the Bow Street Runners … Britain's first Bobbies!"
The song is pretty good, a mid-tempo track with a trademark catchy chorus.
Morpheus, says the blurb, "is framed around the Ancient Greek god who had the ability to mimic human form and shape people's dreams." It's a slow song about the joys of sleeping.
Stranded in Reality: I have no idea what this one is about, a daft story about a broken spaceship which transmutes into a rant against "the age of the deluded." Forget the lyrics though, this song builds nicely and passes pleasantly enough.
You Can't Live In The Past is a slow number with a reggae-tinged beat. Not entirely sure what is about, but it is a heartfelt song in which Hunter laments his inability to help someone who can't help themselves, remarking along the way that "I don't think I've ever understand man's inhumanity to man."
Long Time is a jolly track to close. There is some honky tonk piano, credited to Andy Burton on the CD insert, though Hunter said in an interview, "the piano player in that is John Mayer." Andy Burton seems more plausible.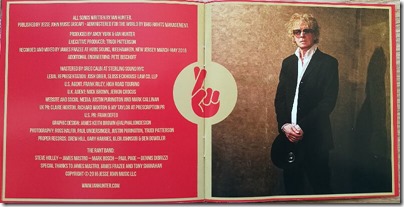 Overall it's not a bad album but doesn't hit the heights for me. Dandy is the highlight, and I really like Ghosts, but some of the others seems a bit like going through the motions, though I still enjoy them.
Kudos though to Hunter that he is still recording and performing with amazing energy.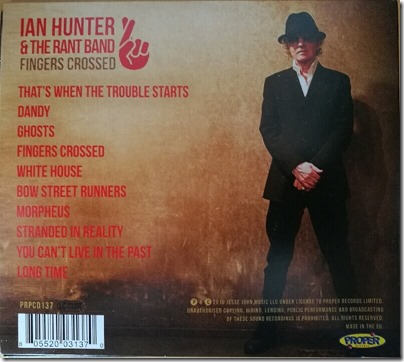 Interviews quoted above are from rockatnight, songwriter universe, and Proper Records.