Hunter/Ronson BBC Live in Concert
Windsong WINCD078 (1995)
Strange Fruit SFRS CD057 (1998)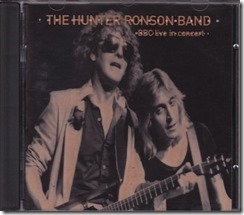 One of the Hunter/Ronson shows at the London Dominion theatre was recorded by the BBC and later released as a BBC Live in Concert CD.
It's actually pretty great. In many ways I like it better than Welcome to the Club; the focus is very much on Hunter/Ronson material with just one song from Mott days, All the Way from Memphis. The YUI Orta tracks are highlights, including The Loner, How Much More Can I Take, a blistering Beg a Little Love, Big Time and a performance of Following in Your Footsteps, introduced by Hunter as "the inevitably of the genes, the old father/son syndrome".
(Give me Back my) Wings is a new song that should really have been on YUI Orta; Campbell Devine lists in the studio as "unfinished". It contains the intriguing thought "First it was the mothers, then it was the wives; I think that God's a woman, I know she runs my life."
Of course there is stuff from Schizophrenic: Just another Night, Standin' in my Light and Bastard, the latter two beautifully performed.
If you like Mick Ronson's guitar work you must hear this concert as it is powerful and forward in the mix.
Also included is Sweet Dreamer, Ronson's instrumental version of a Patsy Cline song (Sweet Dreams). I love hearing this partly because it speaks of Ronson's character, even if it doesn't excactly fit with the "rockers and ballads" flavour which forms most of the show.
Note:
The CD is out of print but not that hard to find, or there are the usual streaming sources.