Ian Hunter – Ian Hunter (CBS 80710)
28 March 1975
UK: 21 US: 50
It all happened quickly. In November 1974 Ian Hunter had a breakdown in the USA, shortly before a UK tour was due to start. By the end of December Mott the Hoople had broken up. On 13th January 1975, Hunter and Mick Ronson started recording a solo album at AIR no 2 studio in London's Oxford St – studio time which according to Mott's biographer Campbell Devine was originally booked for Mott the Hoople. "I was writing as I recorded," said Hunter.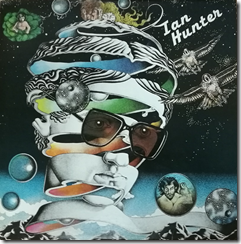 It wasn't surprising the Hunter had a lot to say, after a rollercoaster ride with Mott and with new energy from the partnership with Ronson. The album opens with "Hello", probably a reference to the closing "Goodbye" of Saturday Gigs, Mott's last single. Mott is over, he is saying, but I'm still here.
Solo Hunter, or perhaps one should say Hunter/Ronson, is quite a different thing from Mott the Hoople. The glorious chaos of Mott is gone; the feel of the album is tighter and more mature. Ronson's guitar work is always excellent, and they are joined by Geoff Appleby on bass, Dennis Elliott on drums and Pete Arnesen on piano.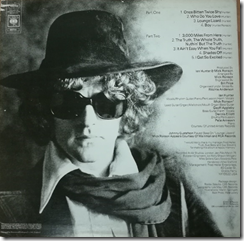 Once Bitten Twice Shy is the opener and the single. "I was saying something on Once Bitten but covered it up by using a girl" says Hunter, cryptically, quoted by Devine. So ostensibly the lyric is a put-down of a woman, but may be directed at someone else or an entity such as a record company. Who cares though; it builds beautifully with its infectious beat and includes a superb guitar solo. Hunter's vocals are great on this song and on the album overall; he has truly found his own voice.
Who Do you Love begins with a quiet female voice (I think) saying "do it", echoing Whizz Kid from Mott, and builds in a similar manner to Once Bitten, though with more prominent piano. Nothing too profound in the lyrics.
Lounge Lizard was first performed by Mott the Hoople and is a great vehicle for Ronson's wailing guitar as Hunter sings about, well, another woman.
Boy is the first ballad or quieter number on the album. The opening line seems to be a dig at the creator of Diamond Dogs – "genocidal tendencies are silly to extremes" – but Hunter says the song is about "two or three people", but predominantly Joe Cocker. Still, "put the coke away", "Boyee", "shoot a rocket clean out of your mind", it is hard not to sense quite a bit of Bowie in there. After all, Ronson was an ex-Spider and Hunter had worked with Bowie too. It comes over as affectionate but somewhat despairing portrait of someone with more talent than sense. Another fantastic song, something of an epic at nearly nine minutes, and with a strong finale.
3,000 Miles from Here is another ballad, and hey, you should listen to this one. I didn't realise for ages that the song is about a groupie and really powerful, as Hunter conveys the sadness, guilt and emotion of spending the night with a woman and leaving her behind the next morning. "I know that I've abused you but I only had a day."
The Truth, The Whole Truth, Nuthin' but the Truth is a slow bluesy number which was written to show off Ronson's guitar, which it does to great effect. According to Devine, Ronson had just seen a cruel review of his second solo album Play Don't Worry when he recorded the song, and some of that anger comes over.
The last two (or three) songs are almost one song in my mind. It Ain't Easy when you Fall is, according to Hunter, about Mick Ralphs, guitarist who left Mott the Hoople for Bad Company. "You ain't around, it's such a shame." Though Ralphs didn't exactly "Fall", but let's not be too literal about this.
It segues into Shades Off, a spoken poem which is also printed on the inner sleeve. Hunter says it was included to pad out the album as he was short of material! The poem is not that great, but is redeemed by the closing line, "sometimes when you've written a song, it's alright", which is immediately followed by I get so Excited, the light-hearted rocker which closes the album. "I wasn't singing that well," says Hunter, "So I added every echo in the book." Secrets of the rock star revealed!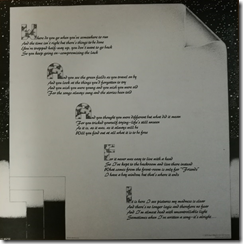 The cover art is wonderful, maybe the best of any of Hunter's albums. It is an image by Canadian Martin Springett which is based on an M C Escher drawing, recalling the artwork for Mott the Hoople's first album. Says Springett:
I got the gig because I had approached CBS records, now Sony, with a tape of the band I was in. They didn't care for the music, not commercial enough, but the art director Roslav Szybo, was taken with the poster I had created for the band. He then asked me to illustrate various L P covers, including an award winner for a Stravinsky album. Some of you will recognize the image on this cover, it's based on an M C Escher drawing. The art director was keen on using this along with Ian's signature dark glasses. It is still in print, and some folks in Europe consider this a classic album cover. I was recently contacted by a German music magazine to unlock some the odd visual mysteries in the cover. Why the baby in the cabbage? Who knows?​
The artwork on the inner sleeve is strong too, quite proggy in my view.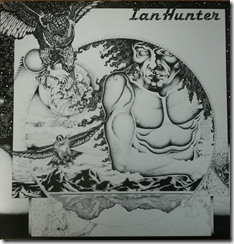 Overall this was a great start for the Hunter/Ronson solo act and feels like a progression from Mott the Hoople days, even if it does not quite hit the heights of Mott's finest.