Live in the UK 2010
Released in 2014, Rant Records JJM 001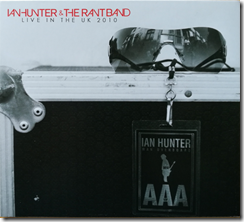 I am writing about this album now because it covers the 2010 (Man Overboard) tour although possibly When I'm President should be next because it was released first. Never mind, this is a reasonable document of Ian Hunter's live show with the Rant Band (Steve Holley on drums, James Mastro guitar, Mark Bosch guitar, Paul Page bass and Andy Burton on keyboards).
The album kicks off with Sea Diver taking us back to Mott the Hoople days (it's a track from All the Young Dudes) but there is also plenty of recent material, including Arms and Legs, The Great Escape, Flowers and Man Overboard from what was then the new album.
Tracklisting:
Sea Diver
Arms and Legs
Big Mouth (Words)
The Great Escape
Ships
Irene Wilde
Flowers
Soul of America
Man Overboard
Waterlow
Michael Picasso
Wash us Away
23a Swan Hill
Sweet Jane
All the Young Dudes
In fact, I give Hunter credit for doing his thing with new songs rather than slipping into doing a nostalgia show. And the four Mott songs are not exactly obvious choices, Dudes aside. Fantastic to hear Waterlow from the Wildlife album.
The album has an authentic feel to it; it isn't polished and Hunter's voice is on the gruff side at times, but it flows well and is enjoyable throughout. Some between-song chatter adds to the live atmosphere.
Highlights for me include Irene Wilde, Flowers (the best song on Man Overboard), and the aforementioned Waterlow.
If you can't get along to an Ian Hunter and the Rant Band concert, this gives you a good idea of what is like; and if you can, it is a nice souvenir.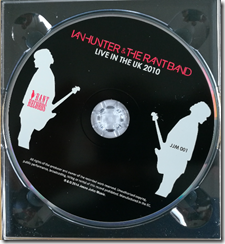 There is a string quartet on Live in the UK! It is nothing like Strings Attached (not that there is anything wrong with SA, but it is a thing of its own).
Here's the blurb on the album:
"In 2010 Ian Hunter and The Rant Band embarked upon an UK tour, accompanied by a string quartet.
The shows were recorded professionally using a 32 track mobile, the songs are completely live with no over dubs or fixes. The finished cd was mixed and mastered by Peter Moshay (Shrunken Heads, Man Overboard and When I'm President). The track listing mixes fan favourites from the Mott era – Seadiver, Waterlow, All The Young Dudes – with songs from throughout Ian's solo career – Irene Wilde, Michael Picasso, Wash Us Away, Flowers).
Ian has decided to release these recordings himself, eschewing the traditional record company process. Both he and Trudi have been involved in every aspect of putting this cd together, from track and running order selection, through to artwork and mixing / mastering. They have crammed the maximum music possible onto a single CD, running as it does to 75 minutes."