Man Overboard (21 July 2009)
New West Records NW6167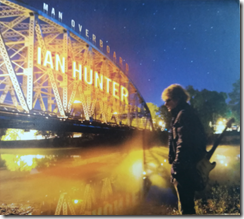 September 2008 sees Ian Hunter back at A-Pawling studios in Pawling, New York, to record a new album, Man Overboard. The Rant Band is not credited as such, but many of the musicians are familiar:
Andy York (Guitar)
Steve Holley (Drums)
Paul Page (Bass)
Jack Petruzzelli (Guitar)
James Mastro (Guitar)
Andy Burton (Piano and Organ)
Rick Tedesco, Cat Martino (Backing Vocals)
In addition, Mark Bosch turns up to play lead guitar on one song, Up and Running.
The CD was released by the small artist-friendly label New West Records, whose slogan is "Promoting music with integrity since 1998". Production quality is excellent, with a smart gatefold sleeve and a 12 page lyric booklet with colour photos.
The Great Escape, co-written by Andy York, kicks things off with a country vibe, a strange tale about a young man escaping from an imminent beating in a bar by jumping out of a window. "When you got to get away, you got to get away" sings Hunter, profoundly. He is in somewhat gruff voice, a characteristic of this album, but it is none the worse for it.
Arms and Legs is stronger, a love song with some typical Hunter bite "you are my illness, you are my disease, you're up there on that pedestal and I'm down here on my knees." Actually quite a sweet song, with one of Hunter's seemingly effortless catchy melodies.
Up and Running is a more energetic number, a kind of blues protest "I'm sick and tired of being pushed around." Some great lyrics, my favourite lines being:
I'm sorry if the wine ain't to your taste
Maybe there's just a hint of sour grapes​
We also get a reference to one of Hunter's past bands:
I think I need another boost
O' Mott the Hoople juice, I still got the legs​
The title track Man Overboard follows, a slow, Dylanesque song about being down and out, "out on the street where the cigarettes meet, abandon hope all who live here." It's a good song; though I'm not sure why Hunter is writing songs like this from his secure position as an elder statesman of rock.
Babylon Blues is addressed to a woman who seems to have some issues, "tangled up in the Babylon blues". Some fun wordplay again, "say you gonna quit, that's the end of it, but the pieces don't fit, what am I stupid, I don't buy it." The song motors along, lots of energy in the vocals.
The Girl from the Office is a melodic ditty about getting off with a pretty girl from the factory office. Mixed feelings about this one. Some find it too cute; I find it uncomfortably lustful as the factory workers obsess about "what's she like in bed". There is a theory that it is a tribute to the Kinks as it has a bit of a Kinks feel to it.
Flowers is really good though, as Hunter despairs that "no one learns from the lessons of history" as he muses about flowers left, I assume, to mark the sad untimely death of some victim of violence. "Every man killed is an insult to any faith," he sings, plain talking of the kind he is good at. Catchy tune too.
These Feelings is another gentle love song and nicely done. It's not easy to do these songs about still being in love after many years with conviction, but Hunter does it well.
Win it All is a quiet song about hope when times are hard. Sensitive accompaniment from Petruzzelli on piano and York on accordion.
Way with words stays with the quiet atmosphere, a pretty song about someone with a "way with words" that calms him down when "on a restless sea".
The River of Tears is a narrative about an ancient native tribe, "the Agoras", and a legend about the healing power of tears. I don't know if this is a story Hunter heard somewhere and worked into a song, but he means it I think as a song of hope.
Overall Man Overboard is lighter in tone than the two albums which precede it. Many Hunter fans find it weaker than other albums from the last ten years or so, though the songs are decent enough. It is a bit lacking in energy especially in the second half.
My favourites here are Up and Running and Flowers.
"I think 'Man Overboard' is a very good album but certainly not as good as it's predecessor 'Shrunken Heads' and especially the one that followed 'When I'm President' which is one of the best albums Ian has ever released," said one fan (tomcaulf) on the Ian Hunter forum.
It was also noted that the album was overshadowed by the 2009 Mott the Hoople reunion, which drew Hunter back to the past.