A double live album called Missing in Action that came out in 2000 on Burning Airlines/NMC (PILOT 52) – but I am not sure of its official status.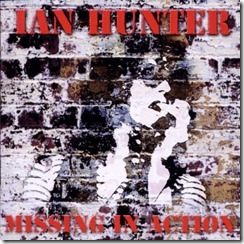 I will quote from the official site:
"This album is a compilation of previously unreleased live material from various periods in Ian's solo career (Long Island NY 1979; Chicago IL 1979; Essen Germany 1980; San Jose CA 1989; Toronto Canada 1987/88). The bonus disc, Collateral Damage, contains more live material from those shows, and was included with the first 5000 copies."
The reason I am dismissive of this album is that it has more the feel (and sound quality) of a bootleg than an official album. I hope Hunter was paid something; that would be the test I guess. The first CD has live tracks that are good to hear, including American Music, (I'm The) Teacher, Tell it like it is, but in poor quality; the second CD is less interesting but has better sound quality. Sources are FM broadcasts and even audience tapes, from the sound of it. It is not of professional standard and I don't recommend the CD other than for the most ardent fans.
I hope nobody was unlucky enough to get a copy without the 2nd CD!