There are a ton of Mott the Hoople compilations, beginning with Island's Rock 'n" Roll Queen greatest hits – a not unreasonable attempt to cash in on the band's new-found popularity after it left the label. The band has also suffered from many cheaply produced collections, many of live material with poor sound quality, so buyer beware. The most interesting collection though is the 1998 3-CD Anthology All the Young Dudes, an effort to collect rarities from the band's history along with other key tracks. It is nicely packaged with a detailed booklet, and came out around the same time as Campbell Devine's biography of the band.
The Anthology includes many rarities though some of it has been made redundant by other releases. The opening track is a fragment of a Like a Rolling Stone cover which you can only find here. Other highlights are an alternate take of The Journey, Movin' On which was later done by Bad Company, the single version of Roll Away the Stone with Mick Ralphs, and of course essentials like Foxy Foxy and the Saturday Gigs.
One odd thing about Anthology is that the second CD is mostly just a compilation of CBS tracks that you already have, whereas the first CD covering the Island years is all rarities. I wonder if this is because it is a Sony release?
The third CD is a mixture of stuff ranging from pre-Mott material from the Doc Thomas Group to Verden Allen's Nightmare and late material like Mott's version of Lounge Lizard with Mick Ronson (of course this song also appears on the first Ian Hunter solo album).
There are also several tracks from the famous Croydon live recording.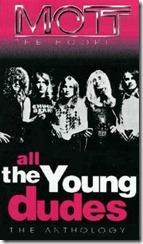 Although there's plenty of good stuff here, it would not be on my list until I had all the official albums plus a couple of the Live CDs and perhaps a cheaper compilation like The Ballad of Mott for the singles – though if you get the CD albums with the bonus tracks you don't need that either.