Mott the Hoople
ILPS 9108 released November 1969.
Chart position: UK 66, USA 185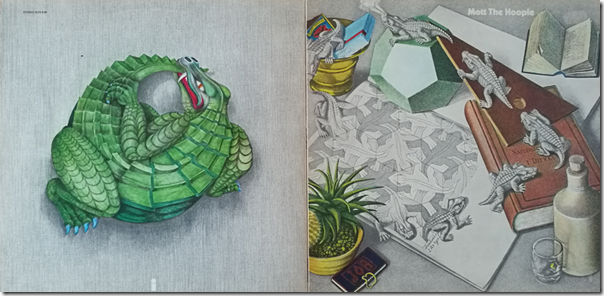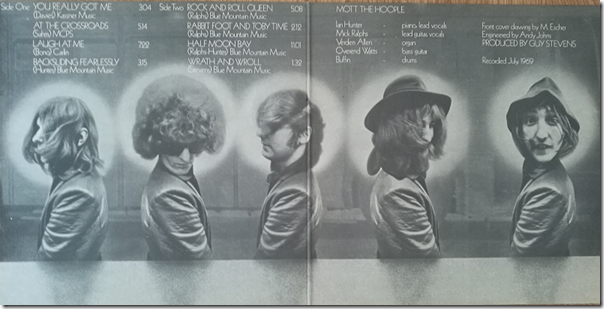 The striking front cover is a drawing by Maurits Cornelius Escher (1898 – 1972), selected by Guy Stevens. The original drawing is black and white. In Devine's book, Dale Griffin expresses doubt over whether Stevens had permission either to colour in the drawing, or to use it at all.
The inner gatefold shows the band members, though the heads are all superimposed on Mick Ralph's body (same picture). The names of the band members were adapted by Stevens to sound more mysterious, so Terence Allen became Verden Allen and so on.
The original LP has the famous pink Island label with a white i logo.
Track listing:
You Really Got Me
At the Crossroads
Laugh at Me
Backsliding Fearlessly
Rock and Roll Queen
Rabbit Foot and Toby Time
Half Moon Bay
Wrath and Wroll
Verden Allen is quoted by Devine: "That was the best one for me really. It was recorded on eight track and there was no messing about. We had one track each and that was it."
The album has an inescapable Dylan influence, not only in Hunter's voice, but also in Allen's organ, yet does not really sound like Blonde on Blonde or Highway 61 Revisited; it is more muscular and more manic (in places).
The opening track is a powerful instrumental rendition of the Kinks' You Really Got Me.
Next comes At the Crossroads, by Doug Sahm, which incidentally was my introduction to Mott the Hoople thanks to its inclusion on the fine sampler, Nice enough to Eat. It sounds like a different band, being a gentle ballad, though with growling background organ that hints of a more aggressive undertone. Hunter is at his most Dylanesque but it is a fine track, lilting and evocative.
Laugh at Me is by Sony Bono but Mott takes it more slowly and makes it a passionate plea for the right to be who you are. "I don't care, let them laugh at me". Hunter said it was related to the people laughed at him for wearing shades, which became his trademark.
Backsliding Fearlessly is called by Devine "a thinly disguised rewrite of Dylan's Times they are A-Changing. One of the weaker tracks on the album, though not without appeal.
Rock and Roll Queen opens side two, the second rockier number and a fine song by Mick Ralphs. Devine says that Ralphs wrote it in a hurry after Stevens panicked that there were not enough tough rock songs on the album; it was recorded late, in early September. Built on a great riff, there are echoes of the Stones and pre-echoes of Free.
Rabbit Foot and Toby Time is a bit of a throwaway, a rocky instrumental by Mick Ralphs.
Half Moon Bay on the other hand is a tour de force, credited to Ralphs and Hunter, and clocking in at over 10 and a half minutes. Hunter says:
"Guy got me writing by getting us to do strange things. I was actually playing songs backwards and reversed chords. Guy was egging me on, and Verden Allen waded in there, 'Moonlight Sonata' and all that, and before we knew were we were, we had our first epic."
He says it was one of the best things Mott did and "the essence of Mott because it has everything in it."
The actual Half Moon Bay was on a sign between LA and San Francisco.
It is a song of musical textures and evocative words and perhaps as much prog as rock.
Closing the album is Wrath and Wroll, credited to Guy Stevens. This is actually from a jam at the end of You Really Got Me; apparently the whole take was 15 minutes and absolutely manic. I'd love to hear the whole thing one day, perhaps it is in the archive?
So that's it; it sounds almost accidental, but it was a great album, though the band's efforts were not really rewarded by sales. This was a band that knew how to rock, on top of which you had spooky organ Blonde-on-Blonde style, and Ian Hunter's ability to sound world-weary, tender and tough at one and the same time.
I was sold as soon as I heard At the Crossroads on Nice Enough to Eat.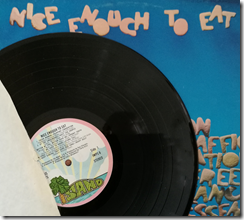 Acknowledgement: some quotes above are from Mott the Hoople and Ian Hunter All the Young Dudes The Biography by Campbell Devine.