Rant (2001)
Papillon BITFLYCD0016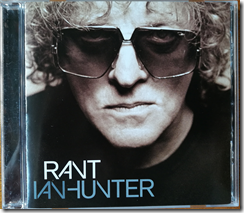 Rant was produced by Andy York and Ian Hunter. Musicians include Andy York (Guitar, Bass, Background vocals); Steve Holley (Drums, Percussion); Robbie Alter (Piano); Mickey Curry (Drums) and John Conte (Bass).
The UK release was on the Papillon label, whereas the US release was on Fuel and has a different cover and order of tracks. I think of the UK version as the true one but that it because it is the one I have! According to post from Ian19 on the Ian Hunter forum (now scrolled off):
"If memory serves right Ian said at the time that the US record label had told him that people don't buy albums with black and white covers!!"
The general theme seems to be that England is going down the drain. I don't know the backstory here but suspect it is to do with personal feelings as well as some kind of political statement. Hence the title, Rant.
Ripoff is a mid-tempo rocker on this theme. England "turned into a wilderness, it turned into a third world country." Perhaps the key line here is the last one, "I'd love to live in England, but it gets to me." A reluctant alien.
Musically it's good but not great.
Good Samaritan is an unusual track sung in a near monotone, ostensibly about a sexual encounter in which the man wants a deeper relationship. Echoes of Hunter's previous sad reflections on one night stands with groupies but with the tables turned perhaps.
Death of a Nation is a return to the England theme; Hunter dreams of "having a drink with Prince Charles 'n' the Queen" and reflects on how this "cradle of civilization" is "falling apart." Rather negative but actually a pretty ballad.
Purgatory is about rich people with nice lives "sent to destroy us." As with Good Samaritan, effects are used on Hunter's vocal, in this case giving almost an industrial groove. Not really sure what Hunter is on about here but it cooks nicely.
American Spy is about fleeing to the USA to escape the daily grind. This is a more good humoured song though, tongue in cheek. However, when Hunter sings about "sleazy little snobs, I don't want to know 'em, I don't trust them suckers as far as I can throw 'em," I am not convinced that the word is suckers!
Dead Man Walkin' (Eastenders) is an impassioned song about, I think, being a faded rock star. "The silence is deafening – the phone never rings. It doesn't really matter any more – Dead man walkin'".
I really like this song. Hunter is just past sixty, he has plenty to say but is perceived as someone whose best work is all in past. "What am I supposed to do now, sink to the bottom of obscurity?" He sings it perfectly, to a sensitive accompaniment.
Wash us Away sounds almost upbeat but has another sombre lyric about the transience of things.
Morons is a faster number, another class warfare thing – or is it about the record industry? – with Hunter playing the part of the working class kids (or musicians) dismissed as "morons" "from the day we were born,", complete with manic background laughter. Quite a bleak lyric "we're starving – it's something that needs to be said." The closing line is key, "we were morons, but then again no, no, no." There's also a reference in there to "I'm 60, and what have I got? Surrounded by morons, don't tell me I'm free when I'm not." Marionette and Crash Street Kids come to mind.
Soap 'N' Water is another impassioned song, though I'm not sure what it is about. It's about someone whose words are cruel, maybe a relationship, maybe fans, maybe managers. "All you do is drag old memories through the dirt." Good song though.
Knees of my Heart is a love song, maybe to Trudi, and a welcome bright spot. Title some kind of pun on "from the bottom of my heart" I guess. "For ever and ever, till death do us part, I will be yours, from the knees of my heart." Pretty melody, nicely sung.
No One is another love song though with a twist, it's about being jealous but reassured that "that's there's no one else".
Still Love Rock and Roll is the most Mott like of the songs here, and to my mind much better placed here at the end, rather than being the album opener as on the US release. The title says it all, and it lightens the mood at the close of an album with some bleak themes. Right at the end Hunter sings "that's all" quietly which proves it!

I realise I have written more about the lyrics than about the music but that is because they dominate for me, though the band is excellent, they know how to rock as well as providing a sparse and sensitive accompaniment when appropriate.
Listening to it I am reminded of punk rock albums like the first from The Clash, some of the themes are similar though Hunter has the perspective of the older musician rather than the young punk.
It is an album that repays repeated listens; my favourites are Death of a Nation, Dead Man Walkin', and Knees of my Heart.
The monochrome artwork fits the album perfectly.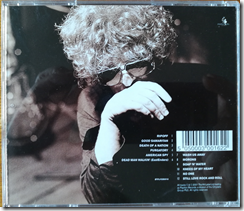 Hunter talks a little about the album here.
He says it took three years to write the songs for Rant. "Usually the first year or so I'll think I've written great stuff but two weeks later I don't like it. It's a quality control thing. You just keep writing and writing and discarding and discarding. But all the time you're writing the writing muscle improves. After a couple of years all of a sudden it starts kicking in and you start getting things that you really don't want to get rid of. The first song I felt was too good to not go on the record was "Morons." That was recorded in my basement apart from the drums. A guy called Robbie Alter was stating with me, he plays on a couple of tracks. He said, "Why don't you write one of those things that you used to write in Mott?" And I said, 'What's the point to that?" And he said, 'Well, you're the only person that can do that." So when he left, I hadn't touched a piano in about ten years, the album before I did all on guitar. So I started playing piano and that was the first one that came out. The first line, 'We were morons the day we were before.' That was it right there. I knew I'd captured something that was running around in my head for a long time."
And on Dead Man Walkin':
"It came about because there's a song on Rant called "No One", it's the last track on the record. It's a four-chord song in B flat. I was playing "No One," when I came to the fourth chord of the sequence, instead of going to the F chord, I went to E flat by mistake. That's how "Dead Man Walkin'" was born. It just developed from that. The sound of those four chords is so eerie to me that I ditched "No One" and carried on writing that. Andy York had heard "No One" on a cassette and he said we should do that one as well. "Dead Man Walkin' is my favorite track on the album."
You and me both, Ian, but what's this about No One being the last track!
He describes the line, "What am I supposed to do now, sink to the bottom of obscurity" as "Brutal self-assessment. If I cast myself back to when I wrote it, I had no label. I had no musicians, I had no access."
On the making of Rant:
"I couldn't get a record deal. Rant was done on a very small budget. It came in under seventy grand, largely due to people helping me out. People working for cents on the dollar. A pro tools guy who worked on the record figured out that I was paying him seven cents on the dollar (laughs). But what can you do? That's what was confronting us? I really didn't like the Eighties. I really didn't try in the Eighties. I wasn't very good. I only got really serious about it again after Mick Ronson died. I thought that I should be doing something with my life. I said to myself, You get a free pass in life and you're really abusing it, you should get serious and do something about it. That's been the motivation behind this. The motivation wasn't to sell a load of records and be a big star, that wasn't the motivation at all. The motivation was to get back up to the level, which I set myself earlier on and then lost."
and on Wash us Away:
"It seems to be a generational thing, a decade thing comes to mind. It's about the succession of liaisons that take place throughout life. They become more adult but they all pass."