Short Back 'N' Sides (August 1981)
Chrysalis CHR 1326
UK: 79 US: 62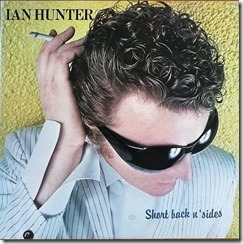 Following the release of Schizophrenic in 1979 Hunter had a pretty good couple of years, touring extensively with Ronson, releasing Welcome to the Club which did OK, and enjoying the combination of strong new material combined with reprising some Mott the Hoople songs – and not forgetting the Ronson tracks like Slaughter on 10th Avenue and F.B.I.
In order to sustain any kind of momentum though, the next album had to be a good one. Recording started in December 1980. Now, bear in mind that Hunter is old school rock, but since he started playing, punk has happened (arguably Mott was itself early punk), reggae is big, and there is some pressure to change with the times. Often these efforts do not work out well.
On the new album then, Hunter gets some help from Mick Jones, guitarist with The Clash. There is a rock family link, since Mott's first producer Guy Stevens has worked with the Clash on the album London Calling. Sadly Stevens died in August 1981 aged just 38. Jones is joined by Topper Headon, the Clash drummer.
Jones is a big admirer of Hunter and Mott the Hoople so more than happy to help; in fact, Hunter was sometimes uncomfortable with Jones being too much of a fan.
What about Ronson? Somehow, the Hunter-Ronson chemistry has dissipated. Hunter, quoted by Campbell Devine in his biography, says that he was "there but he wasn't really there" for the sessions. "So it became more Mick Jones."
Just as they started recording the album, John Lennon was shot dead in New York, putting a damper on spirits.
Hunter out of sorts with Ronson, a search for new musical direction, Stevens gone, Lennon shot: it is not surprising that the album is disjointed and uninspired. "Everyone hated the result but I thought it was quite interesting," recalls Hunter, who clearly likes it better than Overnight Angels. Nevertheless, a disappointment after the excellence of Schizophrenic.
That said, Hunter's way with words and gift for catchy tunes remains evident.
Central Park 'N' West. Lightweight rocker but actually quite a good start. "I like it" says Hunter. "Lots of little sounds I'd never have thought of". Apparently started life as a poem. Not sure that the video game noises help here.
Lisa Likes Rock 'N' Roll. Lisa is Mick Ronson's 4-year old daughter. More odd noises. Bouncy, reggae-tinged number that sounds experimental and Clash-inspired. The experiment is not altogether a success.
I Need your Love. A ballad that doesn't quite gel. "I never got it how I heard it in my head," says Hunter, who now regards it as "dreary." Just the wrong band and vibe for it perhaps.
Old Records never Die. Conceived as a tribute to Elvis Presley but overshadowed by the death of Lennon. Lyrics: "Yesterday I heard them say, a hero's blown away … Oh me, I did not see, the danger every day." One of the best songs on the album.
Noises. A bit of a jam with Hunter rapping against a lively background of keyboard, bass and various bangs and shouts. Not dreadful but it is filler.
Rain. "It's kind of like misery in a way," says Hunter. He's recalling Northampton, a UK midlands city, in the Sixties. The song recalls various characters with a theme of "we gotta leave this town," though Hunter also says "it was a great town at the time," perhaps in an effort to placate Northampton residents and fans. One of the better numbers.
Gun Control. A take-off of the US attitude to firearms, which seems bizarre and dangerous to the rest of the world:
Stick to your guns, boys, stick to your guns.
We'll make a lot of money if we stick to the guns.
The president's with us boys, so join in the fun.
We can make a lot of money if we stick to our guns.​
"It will eventually stop but look at the losses," says Hunter. Still timely, though the song could be better; it is OK but lacking energy.
Theatre of the Absurd. Hunter does Reggae. Strongly Clash-inspired and a disaster in my opinion.
Leave me Alone. Hunter says "everyone's allowed to f_ up now and again. What an alarming lack of taste." Actually quite catchy. About fancying someone else's girl.
Keep on Burnin'. Slow number about nothing in particular. Here's an example of how it goes wrong:
Lost lovers in a moonlit night,
broken lovers in a starless night.​
Classic Hunter, should be belted out though a bit tame here
I lay my clothes down at your feet
'cause all I want is for you-hoo-oo
To keep on burning​
At which point some vocalist goes "hmmm hmmm", destroying the build up.
Ho hum indeed.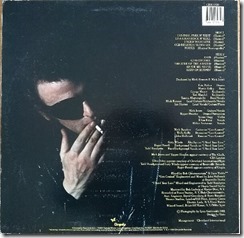 So there it is, an album that is uneven at best, uncertain of its direction and poor in its execution. One of my least favourite Hunter solo albums, but yes, there are redeeming features.
Unfortunately this album kind of killed Hunter's career, barely nudging into the top 100 charts both sides of the Atlantic. Maybe, if the next album was really really good, it could come back together?
Hunter says this about Short Back 'n' Sides:
"That was interesting. We were dead. We had to make a record, we were contractually obligated, and we weren't in the right mood, shall we say. Mick Jones basically saved our rear ends because there was nothing really there. We were doing a song called Theatre Of The Absurd and we knew it was reggae but we'd never actually got involved in reggae. And we knew he knew all about it, coming from Brixton. So I said, 'Mick,' – cos he'd been a fan of Mott – 'can you come in and do this?' So he came in and he took over, wound up doing the whole record, which was fine by us because we were at a loose end."
There was a tour to promote the album, but Ronson did not take part. He says here:
"I remember we went out on a couple of tours after the Schizophrenic album,' Ronson recalls, 'and it was good, but I kind of felt like I wanted to do something else. So when it came round to booking another tour, I said 'Look, I'm not doing it, I can't do it.' I didn't feel right, I didn't feel like I was being honest with myself. I didn't want to play the guitar that badly. I didn't want to go out there and play All The Young Dudes again."
​
Note:
If you want to get hold of this album on CD, you can either search for the out of print 1994 issue with bonus CD "Long Odds and Out-Takes", or get the very reasonably priced Chrysalis Years box, "From the Knees of my Heart", which has the whole album plus 7 of the 13 outtakes. Or you could get the expensive Proper Records box Stranded in Reality, on which there are 4 different outtakes on the Short Back CD, and the rest of them on the "rarities" CD "Tilting the mirror." So you can get your fix of Na Na Na (Extended Mix) – if you must!
Some of the outtakes are worth hearing. There's a song called China with Mick Ronson on vocals which is decent. A demo called I Believe in You which could have been worked up into a better song than many on the album proper. You Stepped into my Dreams, which Hunter says "could have made an album," miles better than Theatre of the Absurd. Venus in the Bathtub, of which Hunter declares "band didn't get it." And Detroit, "an ode to the American car industry when it was losing out to Japan," doesn't quite work and too much Clash influence.