Shrunken Heads (May 15 2007)
CD Jerkin' Crocus JERK9
Shrunken Heads Bonus EP JERK9BONUS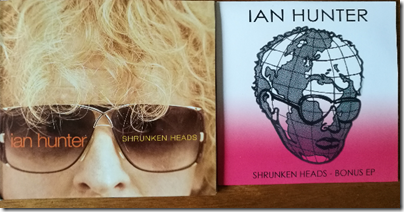 Ian Hunter released Shrunken Heads in May 2007, his first new studio CD since Rant in 2001, but had not been as inactive as that long gap implies; there was his orchestrated Strings Attached project recorded in 2002 and released in 2004, and extensive tours in 2004 and 2005. Bear in mind too that he was 65 years old in 2004, so you can forgive him for having some time off.
Shrunken Heads was mostly recorded at A-Pawling Studios (haha) in Pawling, New York. The core band is Jack Petruzelli (Guitar), Andy York (Guitar and Keyboard), James Mastro (Guitar), Steve Holley (Drums), Graham Maby (Bass), Andy Burton (piano and organ). James Tweedy joins in on backing vocals on three tracks.
Hunter talks briefly about the album here [Ian Hunter Discusses His New Album, "Shrunken Heads" ]. Why "Shrunken heads"? It's a political things, "all about small heads voting for small heads," says Hunter. If Rant was loosely focused on the state of the UK, in Shrunken Heads he turns his attention to his adopted country, the USA.
I have realised, doing this album by album thread, that Hunter is a poet as well as a musician. Fans will remember Shades Off, a spoken poem on his first solo album, as well as the song 21A, Swan Hill where he sings of writing a poem and showing it to his dad (who gives it a frosty reception).
The words on Shrunken Heads are printed on the enclosed booklet and worth a look; there are some excellent songs here.
Words (Big Mouth), which opens the album, is a wry reflection on saying the wrong thing at the wrong time. "Words, little beads of poison, letting out the venom, one thing for certain, babe, I got a big mouth." It's pretty funny too, with "yakkety yaketty yacketty" sung in the background towards the end. A strong mid-tempo start.
Fuss about Nothin' ups the tempo a little and seems to be directed at business people looking after their own interests and diverting attention from their misdeeds. "You're making a fuss about nothing".
When the World was Round is a slower number which is something to do with information and misinformation. I like the song which has a strong melody even though I'm not sure I understand it – something about "flat earthers" who reject reality and peddle lies?
Brainwashed is a bit more of a thrash, about consumers being sucked in by brand and TV marketing, sung over a chugging rhythm. "I can't tell you anything, you won't listen to it," sings Hunter despairingly. A fun bit of ukulele played by York.
Shrunken Heads is a commentary on the state of things where "the rich get richer and the poor get sorer." The song has an epic feel; it's depressing but not without humour, "pockets full of shrunken heads" is a nice way to describe coins.
Soul of America would not have been out of place on All American Alien Boy. Hunter looks for the spirit of America and finds it not in high places but in the common people "putting up with the latest indignities". It rocks too.
How's Your House is about the flooding in New Orleans after the deadly Hurricane Katrina in 2005, set to a powerful beat. "Can anybody help me?" he sings.
Guiding Light is a classic Hunter ballad, a love song to the "Guiding light" in his life. "We'll shoot for the moon together babe." Pretty and moving.
Stretch on the other hand is a rocker, where "stretch" is doing time. A classic Hunter theme, the rebel who goes wrong. I think.
I am what I hated when I was Young is a merry-sounding song about getting older, accompanied by banjo. "Sounds as slight and tossed-off as the title suggests, with a hootenanny jug-band arrangement underscoring just what a thin joke it is," says this review – it is slight, but I don't mind it at all.
Read 'em 'n' Weep slows things right down for the close, a lament about a failed relationship and the letters it left behind. Accompanied by piano it is eloquent and moving.
The initial release of Shrunken Heads came with a bonus EP, with three additional songs. The cover is a take-off of Mott.
Your Eyes is nothing special but not bad, the kind of rocker Hunter can toss out in his sleep.
Wasted on the other hand is great, and should have been on the main album, about losing a friend to alcohol (I think). "I hate it when you get wasted, wasted, wasted again."
Real or Imaginary is another quiet song, maybe about a young solder writing home who "wonders if I got it wrong." About fighting for a meaningless cause?
I really like Shrunken Heads and regard it as one of Ian Hunter's best. The themes are mostly dark but as usual the music is more upbeat, the band is good and it's a great listen. I think it works better than Rant, and I think the quality of the lyrics is particularly high, it seems Hunter took great care over them.
On the back of the bonus EP is a quote from T S Eliot:
"Those who say they give the public what it wants begin by underestimating public taste and end by debauching it"
I see in this a reflection on the bad Eighties years when Hunter tried to please his public and his record labels. By the time of Shrunken Heads, released on the "Jerkin' Crocus" label (cf the All the Young Dudes album), Hunter seems to be following his own artistic vision instead, and the album is all the better for it.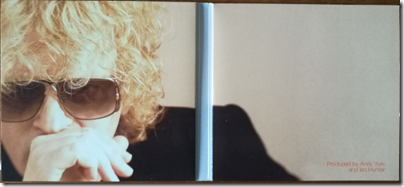 I like the way Hunter references his past on Shrunken Heads. There is the artwork for the bonus EP (and the "head" illustration in the booklet for When the World was round) and lyrics like:
I'm the original mixed up kid
I ain't proud of what I did
Now I'm older, calmed down some
I hate what I used to be when I was young
(the song is I am what I hated when I was young).
Original Mixed up Kid is a song from the Mott the Hoople album Wildlife.
Songwriting secrets revealed! From Graham on the Ian Hunter board:
Shrunken Heads decide my fate
It used to be 10, now it's 10: 08
(which Ian later confirmed came from him getting stuck for the next line – he looked at the clock – 10 o'clock, then sat there trying to think of a line, nothing came , he looked again and it was then 8 minutes past ten – he had his line).