Stranded in Reality (October 21 2016)
Proper Music SHADES1
Also Sampling in Reality EP (PRPEP003)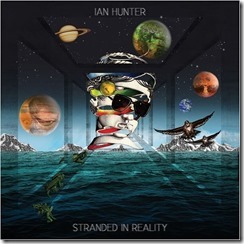 Stranded in Reality is a big box, a 30 disc set (including 2 DVDs) which covers Ian Hunter's musical output from his first solo album to When I'm President. It also includes a book with notes on every song (well, all the main songs at least). And a Shades magazine in the style of NME (New Musical Express) or Melody Maker back in the day, which has reviews and ads previously featured in Melody Maker, Sounds, NME and Zigzag. Would have been useful for this thread, but unfortunately I do not have the box, though a friend brought it round for me to see so I had a quick hands-on and watch/listen.
There is a YouTube video with an unboxing in which Hunter (looking somewhat bored) together with someone (I presume) from Proper Records gives a bit of background. In particular, he explains that much of the research and content is down to Campbell Devine, author of the Mott the Hoople biography which I quoted extensively in the earlier part of this thread. "It's a fan job … Campbell Devine's a fan," says Hunter.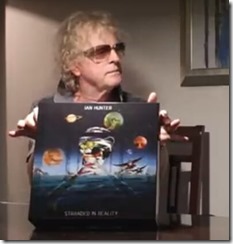 The song-by-song commentary, for example, was done by Devine after interviewing Hunter. Some of the commentary is also familiar from compilations where Hunter has written notes before.
The contents
Albums:
Ian Hunter (30th Anniversary edition)
All American Alien Boy (30th Anniversary edition)
Overnight Angels (with bonus track England Rocks)
You're Never Alone With A Schizophrenic – 30th Anniversary Edition
Welcome to the Club (2CD)
Short Back n' Sides – With Bonus Tracks
All of The Good Ones Are Taken – With Bonus Tracks
YUI Orta
Ian Hunter's Dirty Laundry
The Hunter Ronson Band: BBC Live In Concert
The Artful Dodger (with bonus track)
Rant
Strings Attached (with bonus tracks) (2CD)
Shrunken Heads (with bonus tracks, most from the EP)
Man Overboard
When I'm President
Ian Hunter and the Rant Band: Live in the UK 2010 (2CD)
Rarities:
Tilting The Mirror – Rarities (2CD)
If You Wait Long Enough for Anything, You Can Get It On Sale – Live 1979-81 (2CD) (Hammersmith 1979, San Francisco 1981, New York 1979)
Bag Of Tricks – Live Rarities (3CD)
Acoustic Shadows – Live (Dartford 2008)
Experiments – Previously Unreleased Recordings
It Never Happened (2DVD) (Live tracks and promos)
There is also Sampling in Reality (PRPEP003) (EP, two unique tracks American Music (Early Version) and Sweet Jane (Ian Hunter and Tribes).
The box costs £249.99, and is a limited edition of 2,500 (though it is still on sale though they were not exactly snapped up). Still, Hunter has said that it sold well.
It is a nice piece for Hunter fans, except that they may have most of the contents already. The rarities are nice to have, but perhaps not £249 worth. If you are new to Hunter's work, of course, the box is a great buy.
It was rather annoying and unnecessary to make fans buy the Sampling in Reality EP as well as the box if they want everything.
Note that the box is not quite complete, in terms of released work. Omissions include:
'The Truth The Whole Truth And Nothing But The Truth' 2CD live release
Just Another Night DVD (Astoria Theatre, May 2004)
Fingers Crossed (released separately just before the box)
Two tracks from Mick Ronson Memorial Concert (Hammersmith Apollo 1993)
Easy Money from The Secret Sessions CD
The box is nicely produced but existing albums are not generally remastered, they are the same as before plus on occasion with new bonus tracks.