The Artful Dodger (September 1996)
Polydor 531 794-2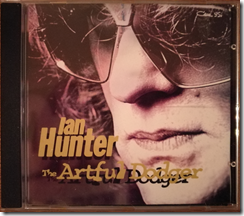 Ian Hunter enjoyed working with Norwegian producer Bjorn Nesso on the Dirty Laundry album, and in May 1995 started work on a new solo album. Sessions began at Time Machine studios in Vermont, but this didn't work out well, and most of the album was recorded at Nesso's studio in Trondheim. Musicians were Darrel Bath, Torstein Flakne, Frode Alnaes and Robbie Alter on guitar, Per Lindwall on drums, Sven Lindwall on bass, Kjetil Bjerkestrand on keyboards. Honest John Plain appears on several tracks, as do Dennis Elliott (drums) and Pat Kilbride (bass) – and not forgetting The Vertavo String Quartet on the title track.
"It took four guitar players to replace [Mick] Ronson", said Hunter.
The album was initially released in Norway, then in the UK in April 1997 (some of us could not wait and got the import).
Unlike Dirty Laundry this is very much an Ian Hunter album. It also marks the beginning of a new phase in Hunter's musical career, if you regard Dirty Laundry as transitional. This phase, from 1996 to the present day, is characterised by a slower release cycle and made on Hunter's terms, rather than being driven by music industry demands.
Too Much – the album starts well with the rich, atmospheric intro to Too Much, a thoughtful love song, with some ambiguity about whether the love is requited. "All I ever wanted was you, is that too much?". Almost a Dire Straits vibe. Includes the memorable lines, "I never miss an opportunity to miss an opportunity, watch me screw up this one too."
Now is the Time – a tribute to Freddie Mercury. "The killer with the kiss, he was a friend of mine … say goodbye, my funny Valentine." Excellent swirling keyboard sounds, Dylanesque.
Something to Believe In – sounds like a follow-up to God (Take 1) on All American Alien Boy. Same husky vocals. "One man's God's just as good as another, gotta have something to believe in."
Resurrection Mary – A ghost story. "The song's all factually correct," says Hunter, quoted by Campbell Devine in his biography. Hmm. A decent song though. Quiet, atmospheric and melodic.
Walk on Water – the first rocker. Credited to Ian Hunter and McNasty – not 100% who McNasty is, but he also co-wrote Beg a Little Love on YUI Orta, so possibly a leftover song. Robbie McIntosh? Unknown subject, but something to do with a "tormented soul" who goes a bit wrong in the rock n roll world. A groupie? A musician? A weaker song.
23A, Swan Hill is a mid-tempo song with a personal subject, the title being the address of a flat where Hunter lived for a time as a child. Something to do with a loveless childhood and a drive to escape. "Wrote this poem … he said you must have stole it from a book." Powerful lyrics. I suspect there are some clues here about a theme throughout Hunter's work, that life is a grey business much of the time and in music there is some temporary release and redemption. Regularly performed in concert.
Michael Picasso is the Mick Ronson tribute, sung quietly with sparse instrumentation and really moving. "People used to stare at the Spider with the platinum hair, they thought you were immortal." "He was always there for me". Great song.
Open My Eyes is about New York. Quiet opening, more energetic chorus, contrasting images of the city from "violent night" to "coffee in cups". "****'s going to happen whether you like it or not. That's just the way it is," sings Hunter. Co-written with Darrel Bath.
The Artful Dodger is one of two songs which sound like something off Dirty Laundry. "These two tracks were the back end of Dirty Laundry and sneaked onto this record," says Hunter. I don't mind them but they are bit out of keeping. Hunter impersonates a city rogue, song breezes along easily enough.
Skeletons (In your closet) is credited to Hunter, Bath, and Honest John Plain. The song is about salacious stories in the press, and the way mud raked up by journalists ends up as Sunday morning entertainment. "The lyric to Skeletons is quite serious, if you get past the fun of it," says Hunter.
Still the Same is a change of mood. A melancholy song about still loving someone who has moved on. "All I need's a bottle and the memories come flooding back". A strong though downbeat song to close.
The Artful Dodger overall is a little uneven but still an excellent album, though only Hunter's biggest fans discovered it or picked it up. It's a fair distance from Mott the Hoople or even YUI Orta, but probably his best album since Schizophrenic. The band is sensitive and tasteful backing some of Hunter's most personal-sounding songs. No really weak tracks, though I could live without Walk on Water. Best song is Michael Picasso, if you can bear it.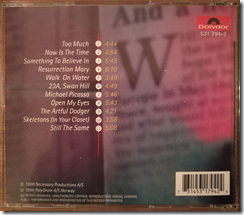 I get the impression that The Artful Dodger was a bit of a disaster financially, despite its excellence. It had a staggered release around the world, not really a good idea in terms of promotion. More seriously, Ian Hunter had been under the radar for so long that making a big impact was not really possible. At times the CD has been hard to get hold of, but is easily available now as well as being on Spotify etc.
Reissues include the bonus track F%&k it up, said to be inspired by PJ Proby living quietly in a London suburb. I am not sure what Hunter is on about here as the song is also about a marriage breaking down.
"How could you look me straight in the eye
Knowing full well you've got a bit on the side"
The song has a coda which sounds like a Sixties song (of the kind PJ Proby might have performed) but I can't identify it:
… she said I'll leave you alone
she packed her bags and went home…
The song is pretty good.