Welcome to the Club (Chrysalis CJT6)
April 1980
UK: 61 US: 69
After the release of Schizophrenic in May 1979, Ian Hunter and Mick Ronson took the band on tour. There were US tours in June and October/November, with just one UK data, at London's Hammersmith Odeon, towards the end of November. The November tour included 6 nights at the Roxy in Los Angeles, showing that Hunter/Ronson had a considerable following.
The band was Hunter (guitar, piano, vocals), Ronson (guitar, vocals, Moog, Mandolin, Eric Parker on drums, Martin Briley on Bass, Georgie Meyer on keyboards, and Tommy "Mad Dog" Morrongiello on guitar and keyboards.
The obvious next step was to release a live album, but in order to make the package more attractive, the duo went into a New York studio in January 1980 to record new songs for what would be the 4th side of a new double album otherwise taken from live recordings.
While there were there, the two also got involved in a new album by the Iron City Houserockers, called Have a good time … but get out alive. Ronson produced and arranged the album, while Hunter played and sang on some tracks.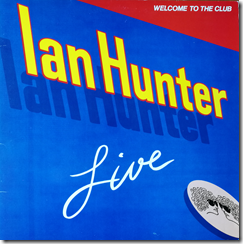 The new album was released as Welcome to the Club. The working title was From the Knees of my heart; I am not sure of the history of this but the song Knees of my Heart appears on later album called Rant.
Tracks:
F.B.I.
Once Bitten, Twice Shy
Angeline
Laugh at Me
All the Way from Memphis
I Wish I was your Mother
Irene Wilde
Just another Night
Cleveland Rocks
Standin' in my Light
Bastard
Walkin' with a Mountain/Rock 'N' Roll Queen
All the Young Dudes
Slaughter on Tenth Avenue
We Gotta Get Out of Here (Studio)
Silver Needles (Studio)
Man 'O' War (Studio)
Sons and Daughters (Live Roxy LA, previously unreleased song)
The 1994 CD release adds bonus tracks:
One of the Boys
The Golden Age of Rock 'N' Roll
When the Daylight Comes
Once Bitten, Twice Shy/Bastard/Cleveland Rocks
Two of these tracks had previously appeared on a limited edition double single of We Gotta Get Out of Here, released to promote the album.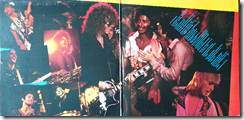 So how is it? It's all very enjoyable but with hindsight there was also some loss of momentum in terms of Hunter's artistic growth and commercial prospects. The band was fine but not as good as the collaboration with the E Street Band on Schizophrenic. The songs are well performed but the energy is well down from Mott the Hoople on a good night. Dare I say, Hunter is slipping towards being a bit of a nostalgia act at this point, when he performs the old Mott the Hoople numbers.
Another problem is that the new songs are not that good.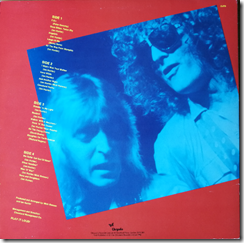 We Gotta Get out of Here, with Ellen Foley and Suzie Ronson on backing vocals, is about getting out of the disco to somewhere with real Rock and Roll, probably, but it's a bit jangly.
Silver Needles is a sombre song about drug addiction, it's not clear whether directed at anyone specific. Some assumed it was about Sid Vicious who died in early 1979, but Campbell Devine says the song was rehearsed by Mott back in 1973.
Man O'War is an indifferent rocker.
Sons and Daughters is perhaps the best of them, a reflection on how children can suffer after a divorce, referencing Hunter's own memories.
I don't intend to be too negative. Hunter is in great voice, Ronson plays with his usual skill, and I always enjoy the album. Slaughter on Tenth Avenue is rather good here. Laugh at Me is great, so is the Standin' in my Light/Bastard sequence. The CD sounds better to me than the vinyl, and the bonus tracks are welcome.