When I'm President (2012)
Proper Records PRPCD104
UK 97 US 151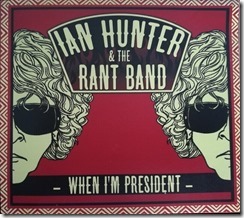 January 2012 saw Ian Hunter and the Rant Band – Steve Holley (Drums), Paul Page (Bass), James Mastro (Guitar), Mark Bosch (Guitar), Andy Burton (Keyboards) – return to A-Pawling Studios in New York to record a new album. It was co-produced by Hunter and Andy York, with York also making musical contributions on several tracks.
Hunter said that "The last two albums were pretty political, just because I thought the Bush years were horrible, and thankfully that's passed. But I don't go looking for songs; I have to wait for them to come to me. I had a spurt there in the summer of 2011, and that grew into this album. I'd get up every day with something ringing in my head, so I'd try to catch it and get it down. Songwriting's always been a mystery to me in that way. Now and again you're nearer the sun, and you have to be ready to capture it."
The consensus is that he was successful. "This has to be a contender as his best album since Ronno left us, and up there with his best ever," says Graham on the Ian Hunter message board. It sold pretty well too, relatively speaking.
If Hunter is all about rockers and ballads, this album is tilted towards the rockers, though not exclusively so.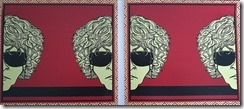 Comfortable (Flyin' Scotsman) kicks off; of course we all love a train song. Possibly the train is a metaphor for something else, as Hunter sings about "slipping into something more comfortable … hit the sack, hit the sack." And why not indeed, if you are "fully operational", as Hunter insists!
Fatally Flawed slows down the tempo and is one of those sad, reflective songs about, I don't know, a destructive personality or something like that. Hunter's slightly gruff voice suits the song, and some great bursts of energetic guitar make this a song of contrasts. Excellent song.
When I'm President returns to an old Hunter theme, the alien in the US of A. Light-hearted song about how he will change everything when he gets to the White House, except that "something happens to you up on the hill – it's business as usual." Pleasant number.
What For is a rant song about various evils of the modern age. "Get off that cellular phone, ain't you got a mind of your own." The song motors along nicely.
Black Tears is Hunter at his most poetic. "Black tears falling like the leaves, little flakes of nakedness twisting in the breeze." This one seems to be about a male perplexed by female emotions, "I don't know when your fakin' it and I don't know when you're not, that's some kind of power you got." Funny! Fine song though with a lovely guitar solo from Mark Bosch.
Saint is about a musician with one leg and a tin, presumably for collecing money! It brings to mind John Martyn who wrote an instrumental called Ain't No Saint, had a leg amputated, and was of course a fantastic musician (he died in 2009). But I don't know if this is what Hunter had in mind.
Just the Way you Look Tonight channels Bruce Springsteen "I fell in love with a working girl", a sweet song about a woman.
Wild Bunch is a narrative song based on Sam Peckinpah's 1969 film of the same name. "Somebody really oughta make a movie called the Wild Bunch", the song concludes. Not my favourite here.
Ta Shunka Witco (Crazy Horse) I like much better. "Ta Shunka Witco" means Crazy Horse in Lakota, a native american tribe, and refers to a leader who fought for his way of life against the US government in the nineteenth century. He died at the hands of US troops, but is honoured as a hero. "Tell your great white father up in Washington, I got a knife between my teeth for that fork in his tongue." A great song by Hunter about never giving up the fight for justice.
I Don't know What you Want is a bluesy song, Hunter ranting about something or other, possibly a song about aging. OK but nothing special.
Life is a song Hunter often performs as the final number in his set, for which it is fitting. "Hope you had a great night." It's a song full of Hunter's common-sense philosophy, "laugh because it's only life," and reflection that "I can't believe after all of these years, you're still here and I'm still here." That was five years ago; and he is still touring, long may he continue.
When I'm President works because of consistently strong performances from Hunter and his band, and some excellent songs. My top picks are Fatally Flawed, Black Tears, and Ta Shunka Witco.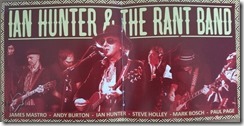 Interviews
Hunter was interviewed just before the release of When I'm President:
Ian Hunter (ex – Mott The Hoople) Interview
On influences:
"Nothing and no one influenced the new one. I'm old enough not to need influences. This is what it is. I've been reading up on stuff, it turned into lyrics, there's the melody and it is what it is. I don't listen to anybody anymore, I read, but I don't listen. If I listen to anybody these days it would be Bob Dylan because he's the yardstick. You write a song like Jokerman or Every Grain of Sand it's hard to get anywhere near the same league. That's the only guy I would listen to today because I think he's amazing."​
On the band and arrangements:
"They put a lot into the arranging, I just let them get on with it. Andy York usually had to direct things but this band had it down from the start. You don't have to tell good people what to do, you know. It's never a good idea to tell good musicians what to do! If you have to tell them they're not good people, they're average people."​
On the recording:
"I find studios boring, so to go in with good musicians means I can get out quickly. We were done in four days. It was fabulous … Well yeah, almost all the tracks were first or second takes, so you haven't drilled the songs or people playing them into the ground. It doesn't become an exercise in agony."​
On Americana:
"I got into American history, because it's a lot nearer. You know, when you live in Britain, history goes back so long you can"Ëœt figure out who did what, here it's like I was born in 1939, which is 10 years after Wyatt Earp died before so you can reach out and touch it. So I got into a lot of civil war stuff, a lot of the 1800's, you know 19th century American History, so I pulled a lot of inspiration from that, but the record is still a Rock n Roll record!"
And another interview:
10 Questions for Ian Hunter | The Arts Desk
On Comfortable (Flying Scotsman):
"I had a Scottish guy say [puts on gruff Glaswegian accent], "Ian, are you talking about your cock?" No! The Flying Scotsman? I like a bit of wry humour, but no…."
​On the theme of the album:
"We wanted to do it really quickly. Me and the Rant Band had just come off a tour and it was like, we want power and we want passion. We were in and out in four days. We knew what we were going to do and we did it. You go through phases. … But after the whole "Greed is Good" era there's no guilt attached – it's just, I want to be in, I want power. It's business, but people are still fooled by it, which I find so stupid – but that's democracy, what can you do? Eugenics!"​
​