YUI Orta (late 1989 US, 22 January 1990 UK)
Mercury 838 973-1
US: 157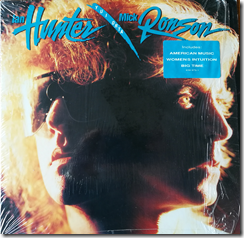 Five years after All of the Good Ones are Taken, and both Ian Hunter and Mick Ronson find themselves wanting to get back on the road. Hunter has been working on some song demos, and Ronson gets the urge to play again:
"I rang up Ian, who I always talk to whether we're working together or not, and said, 'Look, I gotta do something. I want to play the guitar again and get out there.'"
In June 1988 they tour for two weeks in Canada. It goes well so they book a more extensive tour of the US and Canada from late September to early December. Then in February 1989 they perform at the Dominion Theatre in London for two nights (I was there). The set list includes both old and new songs. Here's the tracklist for a November 1988 boot from Boston:
1 Beg a little love*
2 Just another night
3 Mick Ronson instrumental (?Sweet Dreamer)
4 Give me back my wings**
5 Standing in my light
6 The loner*
7 Bastard
8 Big time*
9 All the way to Memphis
10 Cleveland rocks
11 All the young dudes
12 Roll away the stone
13 Ships that pass in the night
*Released on forthcoming YUI Orta
**Released on BBC Live in Concert
One of the London concerts was recorded by the BBC and is now available on CD as "The Hunter Ronson Band – BBC Live in Concert." Songs include How Much More Can I Take and Following in your Footsteps, also on YUI Orta.
The success of the tour caught the attention of various record companies, according to biographer Campbell Devine. CBS, RCA, Phonogram and Epic are mentioned. Hunter/Ronson signed a deal with Phonogram for a new album.
In June 1989 sessions begin at the Power Station in New York. The band is Hunter/Ronson, Micky Curry on drums, Tommy Mandel on keyboards, and Pat Kilbride on bass.
The album benefits from the fact that many of the songs had already been performed live.
Overall the album is upbeat and pacey, and the best release since Schizophrenic ten years earlier.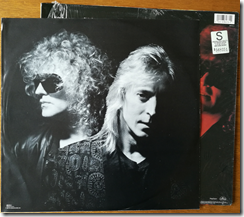 American Music is about hearing amazing US music on the radio as a boy in England. Hunter wasn't happy with the song. "I didn't want to call it American Music because it would sound like a commercial. But it just came that way, and any time I tried to change it, it wouldn't have it." An insight into the intuitive way Hunter composes; it is almost as if the muse possesses him.
The song is great though, melodic but still I think qualifying as rocker rather than ballad.
The Loner rocks a bit harder. Hunter calls it "one of the best songs I ever wrote," one of about 20 he so describes! He says it is reminiscent of Free and it does have a touch of that clean Seventies sound.
Women's Intuition is one of my favourites here.
It opens with "Why you I ought a …", apparently a rhetorical technique called aposiopesis where we hear unspoken words of anger even though the phrase is truncated. The specific phrase comes from a comedy team called The Three Stooges, and became the title of the album in a slightly cryptic guise.
The song is Stonesy and is an angry song about an unhappy relationship. The girl should have listened to her "women's intuition." "It's men and women," explains Hunter. "aggression versus possession."
Not sure about the psychology lesson but it's a good raunchy song.
Cool is a rock/funk track with a near Rap style of singing. At times it is oddly reminiscent of Bob Dylan's Gotta Serve Somebody:
You might be a celebrity-everybody sits up and begs
You might be the sexiest thing since God invented legs
You might be a dictator, a dealer or a saint
Cool is here to tell you when you're cool and when you ain't​
Big Time was written in 1985, according to Campbell. It is one of those songs that sounds familiar even if you have never heard it before. At times it sounds like a sped-up Once Bitten Twice Shy. Energetic and fun.
Livin' in a Heart is a Hunter ballad which he describes as "an apology for a mistake I made many years ago." It sounds like an apology for putting other things ahead of family.
Sons 'N' Lovers is another psychological study, about the way a boy moves on from loving his mother to loving a partner. It's sad but not desolate as Hunter sings that "that's alright ma, you can still love him." Musically it's a medium-tempo song, enjoyable without hitting the heights.
Beg a Little Love is more of a major piece, credited to Hunter and "McNasty", who is Robbie Altar according to Devine. "It's the diary of a guy floundering in the middle of his life," says Hunter. A rocker in which Hunter channels Mott the Hoople, quoting some words from Mad Shadows. "when all of my mind's gone." Listening to it you actually wish Hunter had let himself go a little more. You can imagine that, had Guy Stevens been in the studio, Hunter would have been goaded into even wilder raving.
Tell it like it is has a T-Rex vibe and rocks nicely.
Sweet Dreamer is a Ronson instrumental and a fitting closer. Shades of The Shadows. Credited to Ronson and Don Gibson, since it is an adaption of a Gibson song.
Bonus tracks on CD only:
Following in Your Footsteps – a ballad about Hunter's relationship with his father. Excellent.
Pain – pounding rocker written with Donnie Kehr
How much more can I take would have fitted well on All of the Good Things are Taken. Catchy rocker.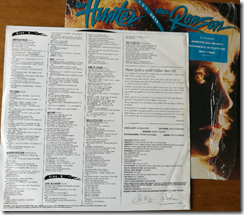 YUI Orta is a good album, but the fact that Hunter/Ronson could tour successfully did not translate into record sales. Phonogram was disappointed and dropped the duo, putting a damper on plans for a revived musical career.
Maybe the album could have done with more promotion. I recall it appearing with little fanfare; I didn't spot it until some time after its release. For some reason my copy is an import from the USA.
The extra tracks on the CD are worth having and I was a tad annoyed, having bought the vinyl, to find that I had to buy it again.
How good is it? It's a solid release for sure, with nothing terrible and plenty of good songs. It does lack a strong single though, reprising Mott the Hoople's commercial problems in the early days.
If you missed this one though, I do recommend it. It's also perhaps the most Mott the Hoople-like of all Hunter's solo albums.