Today I learned that Personal Computer World is to cease publication. This is a long-established UK magazine to which I have been a contributor since May 1993. For PCW, that counts as its latter days. Today you might think that the PC in the title means "PC rather than Mac", and perhaps in a way it does, but that was not the case when the first issue appeared in 1978, for obvious reasons (the first IBM PC did not appear until 1981). No, the computer on the cover of the first PCW was the self-assembly and long forgotten NASCOM 1.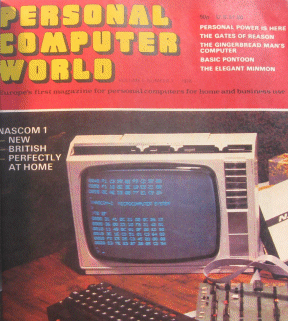 Although the cover stated "Europe's first magazine for personal computers for home and business use", PCW was really an enthusiast's publication; and in those days being a computer enthusiast meant being relatively technical and willing to do your own programming.
The story of personal computing is about how these devices evolved from a geeky hobby into a tool and plaything for everyone; and the magazine morphed accordingly, becoming steadily more mainstream as time went by.
The early years were particularly engaging, thanks to the variety of new devices that appeared and disappeared with bewildering speed. Some had more staying power than others, like the 1981 BBC micro, for example:
One of my favourite PCW covers was that for Windows 3.0 in 1990. Sub-titled Child's Play, it was prophetic in identifying how Microsoft's OS would bring personal computing to the masses.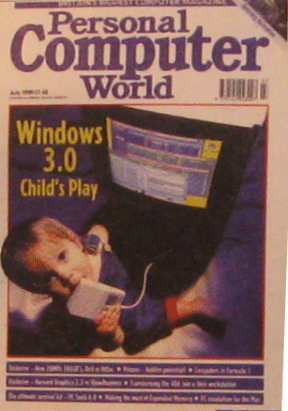 It was Windows which inspired my first piece for PCW, a massive survey of 17 Windows database managers in May 1993. Not long after I reviewed Visual Basic 3.0, correctly predicting that its built-in data access would make it popular in businesses. I went on to do a series of Visual Basic tutorials, and then a programming column that evolved from Visual Basic to all things related to software development.
Last year PCW celebrated its 30th anniversary.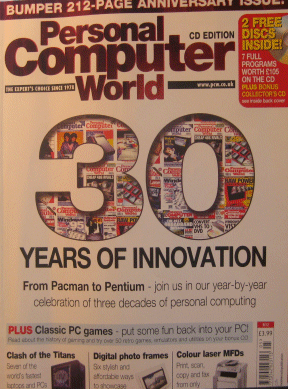 So why has it ended? According to this Press Gazette post:
Managing director of Incisive's professional services division Graham Harman said … "Sadly, no amount of hard work or innovation was going to turn around the structural decline in advertising and newsstand sales. The depth of this recession and the ease of access to information online has only served to accelerate the long term downward trend within this particular sector."
PCW's last published circulation figure (Jan-Dec 2008) was 54,000, which is respectable, and more than double that of some rivals, like Future's PC Plus which recorded just over 22,000 for the same period. The bigger problem, as you will see if you browse through a recent issue, is the decline in advertising. Before the days of the world wide web, magazines like PCW were critically important to computer manufacturers and retailers, but that is no longer the case.
Another problem, as one of the editors explained to me a few years back, is that PCW found itself caught between the demands of an aging readership which had grown up with the magazine, and that of a new generation.
It still has a considerable reputation and I'm surprised that the publishers have not found a way to make it work for a little longer, though the long-term trends have been against it for years.
Still, it has had a good run, and no doubt future researchers will have a lot of fun going though its archives as they explore the days when computing became personal for the first time.