I installed the Visual Studio 2008 Feature Pack today – which, by the way, you will not find if you use Check for Updates on the Visual Studio 2008 Help menu – and noticed this paragraph in the setup agreement: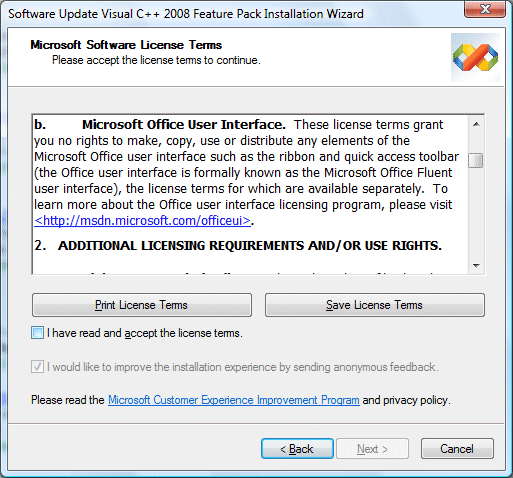 What's this all about? Microsoft has not said so, but it seems likely to be part of the company's war against OpenOffice. The efforts of Sun and others to improve OpenOffice, along with all the XML standardization brouhaha, prodded Microsoft into delivering the most significant Office upgrade for many years. One of its intentions was to increase the differentiation between Microsoft Office and OpenOffice. The strategy would not work if some future OpenOffice just copied the feature, hence the license.
The unintended consequences concern me.
Until now, you could pretty much use the out-of-the-box UI components in Visual Studio and not worry about licensing. That has now changed. According to Microsoft if you use any element of the Office user interface, for which the feature update supplies new classes, then you have to agree to a separate license.
Is this a burden? Well, the licensing page is now out of date, because it says "The program does not involve code", but the feature pack provides what it calls "MFC C++ library source code for the Microsoft Office Fluent User Interface." However, Microsoft says that the license is free and covers:
…applications on any platform, except for applications that compete directly with the five Office applications that currently have the new UI (Microsoft Word, Excel, PowerPoint, Outlook, and Access)
What does it mean, to "compete directly"? It sounds like the sort of thing lawyers could have fun with. Further, if you read the license details and FAQ, it is clear that you take on a further obligation, which is to comply with Microsoft's Office Design Guidelines, and even to update your application if Microsoft changes them:
Your Licensed UI must comply with the Design Guidelines. If Microsoft notifies you that the Design Guidelines have been updated or that you are not complying with the Design Guidelines, you will make the necessary changes to comply as soon as you reasonably can, but no later than your next product release that is 6 months or more from the date you receive notice.
OK, so let's say you are developing some software for a customer. You deliver the app; customer pays you. Now Microsoft brings out Office 2009, changes the guidelines, and says you must update the app, even though the customer is happy with it as-is. Who will pay? I guess you would need to agree beforehand; but it is a disincentive to using the fluent UI.
Presuming you do not want to sign up, avoid all the CMFCRibbon* classes. Microsoft has helpfully commented these with a paragraph that says:
License terms to copy, use or distribute the Fluent UI are available separately.
Would any of this stand up in court? I have no idea, but I'd be reluctant to sign up or to use these classes lest I might have to find out.