Adobe has released the free Adobe Reader 9. This includes an AIR application to support Acrobat.com, a document management and collaboration site now in beta. Since Reader gets installed on most of the world's active computers, this strikes me as a significant moment for Adobe's new desktop runtime.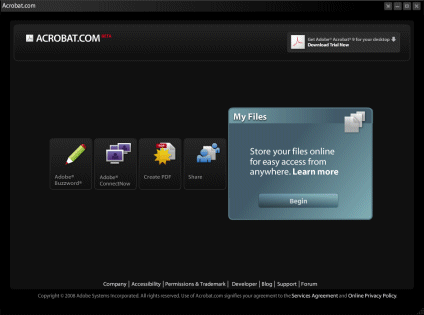 The actual application is disappointing. It does not do the main thing laptop users would like it to do, which is to synchronize documents for offline use. Nor does it include a desktop version of Buzzword; the link simply opens your web browser. Finally, the obsession with Flash seems silly. I saved a document as RTF and uploaded it to Acrobat.com by drag-and-drop. Then I double-clicked the document in the list, hoping it would open in Word (or whatever editor is registered for RTF). No luck: the app creates a Flash preview, rather slowly.
In other words, to edit a document I have to download it and then open it. If I want to have the revised version in Acrobat.com, I have to save it and re-upload it.
What's odd is that Buzzword can open RTF files. So why isn't there an option to "edit in Buzzword"?
Even going first to Buzzword does not help. Click the Buzzword link, Buzzword opens in your web browser. Go to your documents: you get your Buzzword document store, not your Acrobat store. Wait – there's an option "to access your other Acrobat.com files click here". Click. Now I'm in Acrobat.com. Open. No luck: it's still a Flash preview. Do I really have to download, go back to Buzzword, and re-upload to edit this online?
Microsoft's SharePoint does this much better. I presume Adobe will fix the Acrobat.com – Buzzword integration, though going further and enabling smooth offline editing and saving in native applications such as Word may be too difficult.
Never mind. This is going to get AIR installed everywhere.