I've complained before about the quality of Microsoft's Live Search vs Google; but today's example seemed too good an illustration not to mention.
I needed to update Windows XP to SP3. In particular, I wanted what Microsoft calls the "network" download; that is, the entire service pack, not the launcher app that initiates a piecemeal download tailored to the specific machine.
I pulled up Live Search and entered "windows xp sp3 download".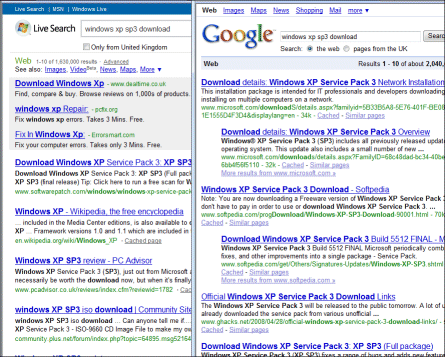 To my surprise, Live Search offered me only third party download sites in its first page of results. Actually, that's not strictly true. At number 8 is the download for "Windows XP SP3 RC2 Refresh" (obsolete); and at number 10 the general home page for XP downloads:
Find popular Windows XP downloads, including PowerToys, trial software, tools and utilities
I tried Google. Same search. The official network download is in first place. The official piecemeal download is second.
I know: you can argue that this is just an isolated search, and that some other search might show Google in an equally bad light. However, I find this constantly: Google gets me much better results. Further, this case is particularly telling, since a third-party download site is not what you want when patching Windows. Quite likely those other sites do point you to the correct official download eventually; but getting Microsoft downloads from Microsoft's site is safer.
I am not surprised Microsoft has a tiny share of the search market; and I don't believe this is simply because of Google's clever marketing.
Update PS: The above screen grab still matches what I get today. However, users in different countries may get different results; from the comments below I suspect that US users get better results in this instance. Maybe Live Search is worse in the UK than in the US; I'd be interested to know.