Embarcadero has released RAD Studio XE4, its suite of development tools for Window, Web and for the first time, Apple iOS. iOS support first appeared in an earlier release, but in preview, and the current effort works using a new LLVM-based ARM compiler so is somewhat unlike the preview. Individual products such as Delphi XE4 are also available separately.
Looking at what's new in Delphi and C++ Builder in XE4 it is apparent that iOS support is by far the main change since RAD Studio XE3, though there are two other significant changes:
Prism, a version of RemObjects Oxygene that compiles a Delphi-like language to .NET (and soon other targets) has been removed. Oxygene lives on at RemObjects.
I ran up the new RAD Studio on a Parallels VM on a Mac, a VM on a Mac being the best way to try cross-platform development for OS X and iOS. The new IDE immediately presents you with instructions on setting up for iOS development (though I am not a fan of videos, preferring clear text instructions) but I no problems configuring the Mac agent (called PAServer) which makes this work. Start a new mobile app and you can pick a starter template or begin with a blank canvas.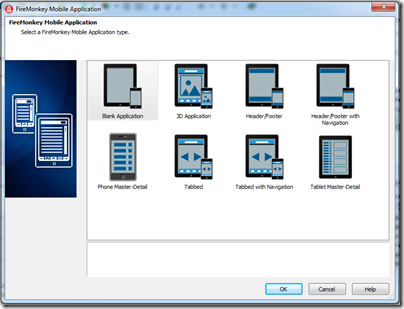 I picked the Tabbed Application and was soon trying out my new app on the iOS simulator
So far so good, though the ability to run up a quick app is no proof of the quality of the development tool. Still, a few reflections.
As I noted earlier, it seems to me that Delphi developers are either Windows developers using the tried and trusted VCL (in which case there is very little for them in XE4), or developers who are targeting mobile platforms and using the cross-platform FireMonkey framework in order to share code between Windows, Mac and mobile. I guess it is also possible that developers targeting iOS alone will be so taken with Delphi or C++ Builder that they will come in as new users.
VCL developers now have 64-bit compilation and a mature framework, and given that the efforts of Embarcadero are now focused elsewhere, and that even Microsoft is going slow on new features for what it now calls "desktop Windows", there is little reason for such developers to upgrade.
The key questions then are about the quality of the FireMonkey framework and the iOS support. It is hard for me to be objective, since I know Delphi from of old and it is a familiar environment. Delphi or C++ Builder for iOS has obvious attractions for such developers. I would be intrigued though to know what an Objective C or even a JavaScript developer would make of Delphi, coming to it fresh. I am sceptical whether an Xcode developer would find enough productivity benefit in Delphi and FireMonkey to want to move over, and suspect also that many would not be impressed by the FireMonkey approach to iOS controls, which are generally custom drawn rather than true native, or faked completely like the Segmented Control which you are meant to put together from SpeedButtons with segmented styling, as explained in the Delphi iOS tutorial: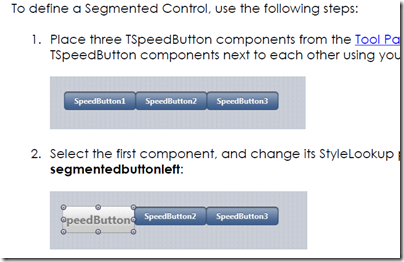 Embarcadero is making a big play of being "true native" but native is not just about the executable code (I have written more about this elsewhere) and cross-platform always involves compromise.
There is also some disquiet in the developer community about the cost of keeping up to date with RAD Studio. The full RAD Studio XE4 Architect edition currently costs £2,892.60 ex VAT for a new user, or £1,927.80 to upgrade. If you just want basic Delphi, Delphi XE4 Pro is a more reasonable £642.60 for a new user, or £352.80 to upgrade – but you do not get iOS support for that, that is another £320.40 for the Mobile Add-on, and FireDAC if you need it a further £285.00. When XE3 came out, Embarcadero promised that iOS and Android support would be available later at a "low cost"; of course that is a relative and subjective term, but I can understand if some feel that the price is on the high side. Or you can buy software assurance and get upgrades free; I don't have prices for that but the cost is significant.
It is unfortunate for Embarcadero that there is intense competition in the iOS tools space, not only from Apple's excellent and free tools, but also from the likes of Xamarin and Titanium.
None of the above is intended to detract from the achievement of bringing Delphi to iOS, with Android promised, which is considerable.