Windows 10 and HoloLens: quick thoughts and questions following the January reveal
Microsoft is revealing its Windows 10 plans in stages, presumably in part to build up expectation and get feedback, and in part because some pieces are ready to show before others.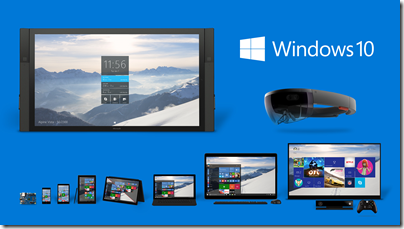 Today in Redmond Microsoft shared a number of new features. In quick summary:
Windows 10 will be a free upgrade for all Windows 7 and 8.x users, at least for the first year.
Comment: this is necessary since the refusal of Microsoft's user base to upgrade from Windows 7 is a strategic roadblock. For example, Windows 7 users cannot use Store apps, reducing the market for those apps. It is more important to persuade users to upgrade than to get upgrade revenue. Windows 10, of course, will have to be compelling as well as free for this initiative to work, as well as providing a smooth upgrade process (never a trivial task).
Windows to evolve to become a service Executive VP Terry Myerson says this in this post:
Once a Windows device is upgraded to Windows 10, we will continue to keep it current for the supported lifetime of the device – at no additional charge. With Windows 10, the experience will evolve and get even better over time. We'll deliver new features when they're ready, not waiting for the next major release. We think of Windows as a Service – in fact, one could reasonably think of Windows in the next couple of years as one of the largest Internet services on the planet.
And just like any Internet service, the idea of asking "What version are you on?" will cease to make sense – which is great news for our Windows developers.
Comment: What does this mean exactly, beyond what we already have via Windows Update? What does Myerson mean by "the supported lifetime of the device"? What are the implications for the typical three-year Windows release cycle? I hope to discover more detail soon, though when I enquired whether there will be, for example, a "Windows 11" I was told, "We aren't commenting beyond what's stated in post that you reference."
Project Spartan (a code name) is a new browser developed as a universal app – this means an app built for the Windows Runtime ("Metro") environment, though in Windows 10 these also run in a window on the desktop, blurring the sharp distinction you see in Windows 8. Project Spartan features, according to Microsoft's Joe Belfiore, a new rendering engine along with features includes the ability to annotate web pages with keyboard or touch/stylus, and the ability to save pages for reading offline. There will also be "enterprise mode compatibility for existing web apps", which means that old IE will live on.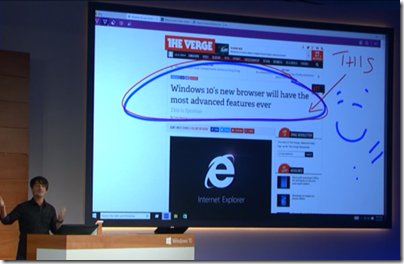 Comment: Creating a new browser is a bold step though it may be as much for marketing reasons as anything else, since IE has a tarnished reputation. The advantages of the new rendering engine, and the way compatibility will be handled, are not yet clear. Another point of interest is compatibility issues caused not only by the new engine, but also by running in sandboxed universal app environment. Looking forward to more detail on this.
Page 1 of 4 | Next page
Related posts: