Following Scott Guthrie's remarkable announcement about jQuery getting integrated into Visual Studio and ASP.NET, I took a look at the jQuery site and blog. I mix and match with my browser usage, and on this occasion was using IE7. The page was badly scrambled: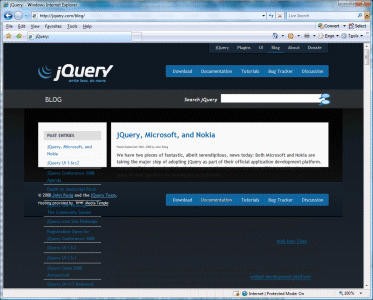 It is meant to look like this, as it does in IE8: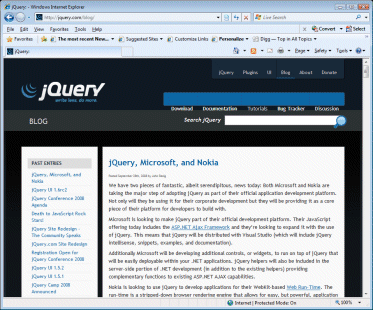 I tried the site with IE7 on another machine and it was fine, so this is not a problem with all IE7 installations, though it is fully repeatable on this particular box. I don't know what is causing the issue.
Still, it reminded me of a significant change on the Web, which is that IE is no longer the safest choice if you are pragmatic and simply want sites to look right. In fact, there are more occasions when I have to close IE and use Firefox or Chrome to view a site properly, than the other way round.
I also notice a sharp decline in IE usage in my browser stats. 80% of visitors run Windows, but only 40% use IE in this month's figures. A year ago that was 82% and 58%.
My stats are not representative of the web as a whole, which gives IE a larger share, but everyone seems to be reporting a decline. IE8 may slow the decline, but I doubt it will reverse it.