A freelance journalist since 1992, Tim Anderson covers a wide range of technical topics. He is able to write for specialist readers in areas such as programming and web development, but also has the ability to engage the general reader. His work has appeared in publications including Guardian Technology, The Register, bbc.co.uk, Computer Weekly, Hardcopy, v3, IT Expert and ITJOBLOG, as well as the popular blog at ITWriting.com. Some examples are linked at the foot of this post.
Tim also covers gadgets and mobile at gadgets.itwriting.com.
"Scary thorough, totally gets enterprisey" – James Governor, Redmonk
"Tim Anderson is one of the very few tech journalists who really, really gets the RIA space. He knows all of the technologies from the major companies and how they're meant to be used." Ryan Stewart, Adobe
"[Joe Wilcox] and Tim Anderson are the only writers I've felt stick to the basics and less about soapboxing" Scott Barnes, Microsoft
"Kudos to Tim Anderson for the very nice article." Marco Cantu, Delphi programming specialist
"The article by Tim Anderson – Windows 7 vs OSX 10.6 – is one of the best reviews I have ever read. Unbiased to the extreme. Bravo!" Sergie Kaponitovicz, Register reader.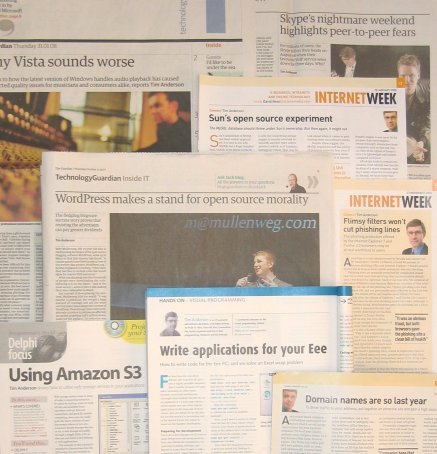 Email: tim(at)itwriting.com
Twitter: http://twitter.com/timanderson
Links to example articles:
Professional
First look: Visual Studio 11 beta leaner, meaner for Metro (InfoWorld)
Ten years of .NET – Did Microsoft deliver? (The Register)
Azure: it's Windows, but not as we know it (The Register)
First MeeGo Linux needs love and scrub up (The Register)
Microsoft attempts to cement Azure values at TechEd Atlanta (Computer Weekly)
Consumer
How CDs are remastering the art of noise (The Guardian)
Audyssey Lower East Side speakers: remarkable sound quality in a compact package complete with DAC (Gadget Writing)
Review: X-mini KAI, a Bluetooth audio dock you can put in your pocket (Gadget Writing)
How Captcha was foiled: Are you a man or a mouse? (The Guardian)
Getting to grips with Windows 7 (The Guardian)
The PDF is dead, long live the PDF (bbc.co.uk)
IT Writing web site designed and hosted by OnlyConnect Systems Ltd