I haven't – only samples and demos. Which makes Jonathan Schwartz's claim of 100,000,000 downloads, presented as "JavaFX Hits 100,000,000 Milestone!", suspect. Still, I reckon there is an easy explanation. JavaFX is now included with the JRE, the standard Java runtime download. So what Schwartz means – please correct me if I am wrong – is that there have been 100,000,000 downloaded updates to the JRE (no doubt partly thanks to Sun's auto updater on Windows), since JavaFX became part of it.
In order to test this theory, I fired up a virtual machine (using Sun's excellent Virtual Box) which runs Vista but does not have Java installed. Then I went to Java.com and went for the free Java download. At the end of the install, I saw this dialog: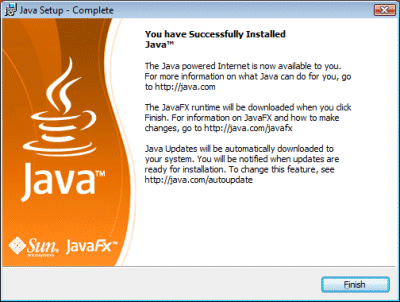 Note: it says "The JavaFX runtime will be downloaded when you click Finish". There are no buttons aside from Finish, unless you count the close gadget. Therefore, I got JavaFX by default with the JRE.
I have nothing against JavaFX, but meaningless PR spin will do nothing to help the technology.